---
Blakemore's Lane
Elsewhere on this site Bev Parker describes the small family-based enterprises that marked Darlaston in the first half of the nineteenth century. All sorts of nails, screws, bolts, tubes, bridle bits, latches, locks, and particularly gun locks were made in backyard workshops by families specializing in a particular trade. The 1841 Census indicates that Blakemore's Lane, close to the centre of town, was typical of the area. There were over 230 inhabitants living in some 43 dwellings. It was a young population, with almost half under 20 years old.
| | |
| --- | --- |
| Blakemore's Lane. Based on Joseph Welch's 1838 map of Darlaston. | Ninety-six are listed as employed, four of them apprentices: 12 labourers, mostly agricultural, 13 gun lock filers, 6 lock filers, 7 shoe makers, 8 bit makers, 4 screw makers, 4 "nailers," several lock, gun lock and screw forgers, 5 charwomen, a tailor, a latch maker and – a musician. Quiet it was not! (The musician William Hawkins, it emerges from later census data, was a violinist, and blind from the age of two). Several of the families in the Lane were inter-related by marriage. They included the Barbers, the Wilkes' and the Longmores. |
Death of Joseph Foster
These families appear in a Staffordshire Advertiser report on Saturday 19 March 1836 of the trial of Edward Wilkes for murder. It concerned a family spat fuelled by drink which led to the death of a man called Joseph Foster the year before. Based on the article, and the census of 1841, the key participants were as follows. Thomas and Hannah Barber, aged 39 and 29, lived in Blakemore's Lane with 5 children, including the 1 year old Charles – my great grandfather – and infant Hannah. He was a gun lock filer. A couple of doors away lived Hannah Barber's parents, James and Hannah Longmore, in their sixties; James, a lock filer, was one of only two or three freeholders with property worth £10 in the Lane who had obtained the right to vote following the 1832 Reform Act. Living with the Longmores was another of their daughters, Elizabeth, and her husband Thomas Wilkes, aged 25, with two children. Thomas Wilkes' father, Thomas Sr., lived in the Lane, and like his son was a bridle bit maker. Thomas Jr. had a sister Elizabeth recently married to a man called Clewitt, a shoe maker, also living in the Lane. His unmarried brother Edward Wilkes, 23, lived near-by, possibly with the Longmores. Others living in the Lane will have moved away by the time of1841 census. Joseph Foster had married Hannah Nightingale in 1829, and doubtless had a family, but it's not clear where they lived. Tracking the participants is not easy because names Foster and Wilkes are among the commonest at this time in Darlaston: and the first names Thomas, Hannah and Elizabeth crop up frequently in the story.
| | |
| --- | --- |
| The old cottages at the northern end of Blakemore's Lane. | |
A Drinking Session
During the morning and afternoon of Wednesday, June 10th, 1835, some half a dozen friends were drinking together. They included Joseph Foster, a big man aged about 26, his brother-in-law Daniel Nightingale, a gun lock filer, Thomas Clewitt, the shoemaker, and three others. They consumed 9 quarts of ale in the morning, then moved on and at about two in the afternoon drank a further 6. All except Clewitt continued drinking till the evening, when he re-joined them in Thomas Barber's house. Why were they not at work? Was it a holiday? In 1850 the Morning Chronicle in an account of the West Midlands gun trade reported that the lock forgers and filers "frequently idled away the Monday and Tuesday of every week... in drinking and card playing." This particular group of friends seem to have extended their long week-end as far as Wednesday!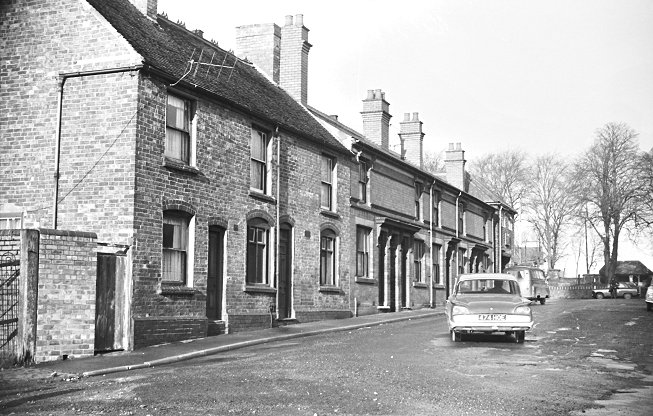 Blakemore's Lane in the 1960s.
The Fight
Some time after 9 pm, while he was at Thomas Barber's, Clewitt heard a row in Blakemore's Lane; he hopped out of the window and found his wife Elizabeth and her brother Thomas Wilkes Jr. "having words". Thomas Wilkes got into a fight with Clewitt and they fell to the ground. A large crowd gathered, including Thomas' brother Edward who joined the fight. Joseph Foster came out of Barber's house and helped a witness called John Rubery to pull Clewitt from under Thomas Wilkes. In doing so according to other witnesses he pushed Edward Wilkes to the ground, saying "Damn your eyes, what have you to do with it?" Thomas Wilkes Sr., the Wilkes brothers' father, appeared on the scene along with Thomas Barber who allegedly struck "old Wilkes" with a 'drill bow' (part of an old-style manual 'bow drill'); Wilkes Sr. exclaimed that Barber should be ashamed, took the 'bow' and broke it over his knee.
According to Hannah Barber, Edward Wilkes tried to throttle her husband. Witnesses for the prosecution claimed Foster gave no provocation, but those for the defence claimed he was raging drunk when he knocked Edward Wilkes down. No-one could deny that Edward Wilkes then went to James Longmore's house and returned with an iron bar. It was given to him by one Eliza Parkes, according to a single woman, Sarah Wilkes (a nailer who lived in the Lane, probably unrelated to the accused); she and another witness saw Eliza take it from under her apron and give it to Edward Wilkes, who hid it under his leathern apron.
Foster was by now standing hatless 4 or 5 yards from Longmore's house on the outside of the crowd. Halting for a second, Edward Wilkes rushed forward and struck Foster on the head twice from behind with the iron bar. A witness John Hinds recalled "It rattled on his head like a blow on a hollow turnip." Foster staggered and was caught by Rubery; someone was heard to cry, "Oh Lord, you've killed Joe Foster!" or, perhaps more authentically, "Oh Ned, thee hast kill'd him." Wilkes was said to have replied, "If I ha'nt, I will before I've done with him!" Hannah Barber testified that he told her, "That big man, Joe Foster, who has been sitting in your house, I will kill before I go out of the lane."
Foster was then carried to Thomas Barber's house, Wilkes returning to Longmore's. Foster was not in fact dead; he was patched up, and went home. Some of the participants in the fight were taken before the magistrates two weeks later; Foster also appeared drunk on this occasion, according to the defence, and "wet through," and fell over. He went to work the next day and the following day he saw a doctor. He later went to the doctor again to ask for a sick note; then the doctor was called to see him a few hours later, when he became very ill and showed symptoms of inflammation of the brain. He died six weeks after the fight on 25th July.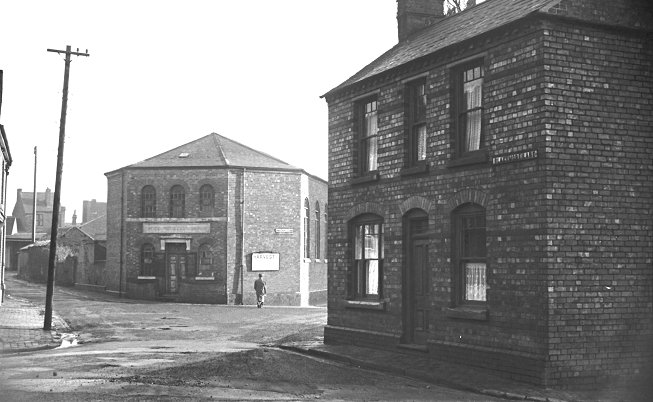 Looking from Blakemore's Lane to the United Methodist Church in Great Croft Street.
The Trial
Following the coroner's inquest at the beginning of August 1835, Edward Wilkes was committed to Stafford County Gaol for the wilful murder of Joseph Foster. His trial took place 9 months after the incident, in the Crown Court at Staffordshire Assizes on Wednesday 16th March 1836. The newspaper report paints a picture that will be familiar to followers of court-room dramas today. The Wilkes family closed ranks and Clewitt, who Foster was trying to help when he was killed, appeared as a witness for the defence of his brother-in-law: he gave details of the drinking, and of Foster's falling down drunk when called before the magistrates. Thomas Barber did not apparently testify, perhaps because of his part in the fight, but his wife Hannah was one of over half a dozen witnesses for the prosecution, several of whom saw Wilkes strike Foster and threaten to kill him.
Two surgeons, Abel Rooker, who had treated Foster after the attack, and Edward Best had both assisted at a post mortem, and maintained their belief that his death resulted from the blows to the head. In cross-examination the defence suggested that an excess of drink, or Foster's being cold and wet through later in the month, or having suffered a blow to the head when he fell on that occasion, could have accelerated his death. The doctors showed that though Foster's skull was not broken, the damage to his brain was typical of the effect of blows from the iron bar. None of the defence witnesses had seen the attack on Foster, but claimed there was provocation by the deceased. Counsel for the defence tried to discredit Sarah Wilkes' evidence, pointing out that she had three illegitimate children. The judge Mr Justice Williams told the jury that they must choose who to believe, and to determine if the blows had caused Foster's death, and if the attack was unprovoked. The jury clearly decided that Wilkes was provoked, and their verdict was guilty of manslaughter. Wilkes was sentenced to 6 months in gaol.
Aftermath

Edward Wilkes presumably served his sentence. Eliza Parkes, who handed him the iron bar, stood by her man, and they were married in December the same year.

By the time of the 1841 Census, the families were still all living close together in Blakemore's Lane: the Clewitts, Thomas Wilkes Sr. and family, the now widowed Hannah Longmore with Thomas Wilkes Jr., his wife and family of five children, the Barbers close by with seven children, and not far away Edward and Eliza Wilkes and their new daughter Ann. The Wilkes brothers became bolt and screw makers, the Barbers continued in the gun trade.

Hannah Longmore died in 1845: she was 73. Her daughters died young: Elizabeth Wilkes at the age of 30 in 1843, and Hannah Barber aged 54 in 1859 – having given birth to twelve children. Edward Wilkes died in 1862, aged 50; by 1871 Eliza Wilkes was living with some of her children in neighbouring Great Croft Street, her son Edward Jr. described as a bolt and nut maker employing 6 people.

Foster's widow Hannah ended up living with her mother Nancy Nightingale and died in 1858. I have not found what happened to any children she may have had; her will was proved on the oaths of her two brothers, Edward and Daniel Nightingale.


The area in 1901.
With thanks to
Bev Parker
Ancestry.co.uk in association with The National Archives
The British Newspaper Archive
FreeREG.org.uk for Parish Records
---