| | | |
| --- | --- | --- |
| | | |
---
After the war the school could finally get back to normality. When the school reopened after the summer holiday on 11th September, 1945 there were 390 pupils and a new teacher, Miss Marshall, who had recently qualified at Bingley Training College.

Thoughts were turning towards the provision of a school playing field, and this is recorded in the school log book. Mr. Gorse H.M.I. was called to a meeting at the school on 3rd October 1945 to discuss the matter. It seems that this would have been unlikely to happen during the war, and so the school took the first opportunity to explore the possibility.

Teachers and classes in the 1940s:
Head Teacher - Mr. Thacker
Class
Teacher
8
Miss Constable, Mrs. Foster née Gibbs
7
Miss Proverbs, Miss Fletcher
6
Mrs. Hill
5
Miss Sharpe
4
Mrs. Walters née Marshall
3
Miss Haigh
2
Miss Higgs, Mr. Scarth
1
Mr. Hudson
The class numbers were in reverse order, starting with class 8 for the newly admitted infants, through to class 1 for the final year juniors.
1946 saw the introduction of free school milk, a measure to improve the health of under 18 year olds, who were entitled to one-third of a pint each day. It proved to be a great success, contributing to a reduction in rickets, and child deaths from diphtheria, measles, scarlet fever and whooping cough. The importance of school meals was made apparent in October, 1947 when a meals enquiry revealed that 220 out of 345 children would require school meals if enough were available.
The many health visits from the school doctor and school nurse continued. Newly admitted infants were examined, as were the final year leavers. All pupils were checked for cleanliness, particular attention being paid to hands and hair. Dental tests and eye tests were also carried out and any child doing badly in the eye test would be sent to the eye clinic to see a specialist.

A view of the school from the top of the old pit bank.

There were also the selection tests for the leavers, consisting of two intelligence tests, tests in arithmetic and English, and an oral exam for scholarship candidates.

The second stage selection test for boys and girls was often held at Slater Street Secondary Modern School.
The school log book records one of the county's coldest winters, which began with two short spells of severe weather.

The first cold spell around the 16th December, 1946 was followed by a heavy fall of snow on 6th January, 1947, the first day at school after the Christmas break. Things went from bad to worse when heavy snow and very low temperatures persisted from 21st January until 16th March.

During the cold snap the attendance figures were poor, due to outbreaks of chicken pox, measles and colds. Members of staff were also absent and on the 11th and 12th of February there was no school milk because Walsall Coop assumed that all schools were closed. The log book records that it was still intensely cold on 24th February, and a very heavy snow fall occurred on 26th February.

Mr. Thacker. Courtesy of Sue Harper, Gill Broomhall and Maureen Page.
On 5th March a blizzard raged all day causing many members of staff to be late arriving. Problems were also caused on the 13th March by snow and ice on the roads. The weather problems were aggravated by the fuel and food shortages which remained for some years after the war. It must have been a great relief when spring finally came, just before the Easter holiday. On the school's return from holiday, in April, Mr. Thacker had to turn down an application from parents in Moxley who wanted their children to be admitted to the school. At the time the school had 401 children and so could take no more.
Although the following winters were not so severe, poor attendances were not uncommon. In January 1951 there were outbreaks of measles, chicken pox, whooping cough, colds and influenza.

One school tradition that I haven't yet mentioned is the annual sports afternoon. This would be an important occasion for children and parents alike. Many events would be organised and there would be great competition between the school's best athletes, proudly watched by their parents. Prizes were awarded to the winners and an enjoyable time would be had by all. In the school's early years the event either took place in George Rose Park, or the school playground, and in 1938 and 1939 the school competed in Darlaston Junior Schools Sports.
It appears that during the war years the event didn't always take place, as it isn't recorded in the school log book in 1943, 1944, 1945 or 1946. In the following years the event would often be held on Guest, Keen and Nettlefolds' sports ground in Hall Street, the first such occasion being on 11th June, 1947. By 1950 it had become a popular event as that year around 200 parents came along. It was described as a great success. In June 1953 the school won the athletics cup at the Darlaston Inter-Schools Sports, to be followed in July by another success when Anthea Waring retained the Primary Girls' Championship Cup for the school at the S.E. Staffs Swimming Gala.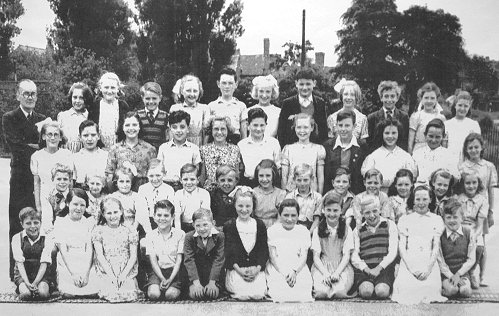 Mr. Scarth and his class from 1951. Courtesy of Valerie Allen, Sue Harper, Gill Broomhall and Maureen Page.

Names Left to Right:
Back Row Mr. Scarth, Valerie Carter, Betty Lowe, Brian Mann, Pauline Wilkes, John Dangerfield, Valerie Halsbury, Peter Hickin, All Carless, Harold Fielder, Pat Partridge, Doreen Ridge.

3rd Row Irene Brookes, Peter Shirley, Irene Parker, Godfrey Baker, Maureen Hammond, Keith Marsden, Marion Fiddler, John Dowen, ?, Alan Butler, Anthea Wearing.

2nd Row Stan Cannadine, Linda Holland, Jean Dent, Brian Webster, Harry Cornforth, Stanley Beardsmore, ?, John Millard, Brian Hesson, Derek Hingley, Brenda Talbot, June Sidebottom, Janet Lloyd.

Front Row Michael Arblaster, Valerie Rose, Dorothy Bedworth, Billy Mansell, Colin Cherrington, ?, Pauline Siverns, Pat Thompson, Billy Rollinson, Pat Spencer, Keith Statham.
The traditional September harvest festival continued after the war, and in 1947 a sale of produce raised £13.18s.0d. which went towards the Christmas tea party, where there was a plentiful supply of food, thanks to help from the parents. In December 1949 a series of plays were presented to the school by different classes. Plays took place on 14th, 15th, 16th, and 19th of the month. The idea was repeated on 15th December, 1952 when performances of plays were given to the school by classes 4, 6, 7, and 8, and on December 16th by classes 1, 2, and 3.
During the Whitsuntide holiday in 1948 a tragic event took place. One of the younger children, J. George Page from class 8 drowned in a local canal. Another important school event was the annual school trip. On 23rd June, 1948 children from classes 1 and 2 went on a coach trip to Kenilworth and Stratford-upon-Avon, with Mr. Hudson and Mr. Scarth in charge. On 22nd June, 1950 the two classes went to Ludlow and Bewdley. It is reported as being a very interesting and profitable journey. The following year they travelled again to Stratford. Another interesting event took place on 19th October, 1948 when students from Nelson Hall Training College gave a display of Morris dancing to the children, in the hall.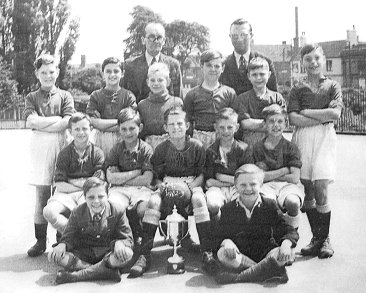 Pinfold Street School football team 1952 to 1953. Courtesy of Sue Harper, Gill Broomhall and Maureen Page.

Names Left to Right:
Back Row Mr. Scarth, Mr. Hudson.

3rd Row Bill Bradley, Colinn Pincher, J. Millard, Alan Cooper, Jeff Lowe, A. Bytheway.

2nd Row Ken Dangerfield, ?, Len Moreton, John Russell, Tony Cooksey.

Front Row Mickey Arblaster, Roy Howell.
Other events included a successful and highly enjoyable visit to the Festival of Britain exhibition in London, on 31st May 1951. 19 pupils and their parents attended along with some of the staff. Three weeks later on 20th and 21st June open days were held at the school for pupils and parents. In 1953 the school managers formed a Coronation sub-committee to arrange events to celebrate the Coronation, and the L.E.A. provided a grant of £38.8s.7d. towards expenses. Events included a Coronation party on 28th May, followed on the 29th by an open day for parents, who were entertained by the juniors with a concert of songs and poems. The events ended on 22nd June with a school visit to the Regal Cinema to see the Coronation film "Elizabeth is Queen".
Further events included a display about road safety, held in the playground on 23rd June, 1953 which used dogs. The annual school trip on the following day went to Whipsnade Zoo. 112 children and their parents attended, along with members of the school staff.
All of the children took part in sports lessons, then called P.T. (physical training). There were athletics in the playground and gymnastics in the hall. The school acquired P.T. mats, rounder posts and bases, and eleven 18inch skittles. The lessons were occasionally observed by the visiting P.T. supervisor, Miss Blanchard. She also organised swimming classes at Darlaston Municipal Baths. In 1949 the girls commenced their course of swimming instruction on Wednesday afternoons at 3.30, followed by the boys on Fridays at 1.45.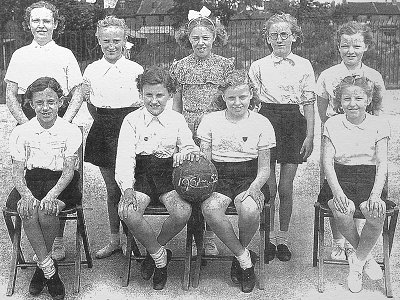 The 1951 to 1953 school netball team. Courtesy of Valerie Allen, Sue Harper, Gill Broomhall and Maureen Page.
Names Left to Right:
Back Row Marion Fiddler, Valerie Malsbury, Gillian Folls, Irene Brookes, Sheila Hurley.
Front Row Anthea Wearing, Pat Thompson, Pauline Davies, Gladys Randall.
In 1949 schools in the area began to appoint clerical assistants to greatly ease some of the headmaster's duties. In May Mr. Thacker attended a meeting at Slater Street School about clerical assistance and on 13th June Mrs. M. Wallis was appointed to the new post. She commenced her duties on 20th June and worked on Monday and Thursday mornings.
Mrs. Wallis stayed at the school for 5 months and was replaced by Mrs. M. Hudson, who stayed for just over a year. On 19th February, 1951 Mrs. Lewis began her duties as school secretary. She worked at the school for many years and will fondly be remembered by a large number of ex-pupils including myself.
Telephones are now an everyday part of life and it would seem very strange without them. This was not the case however in the 1950s and this can be seen from a couple of entries in the school log book. The school was without a telephone until 13th September, 1951. The first telephone call was made to Wednesbury on October 1st. The school continued to invest in technology with the purchase of a radio licence on 5th October, which cost £1.
On 20th May, 1953 the school received its first flagpole which was given by the chairman of the school managers, Mr. E. Ward.
The school saving scheme had continued to operate since the late 1930s. On 9th December, 1952 Mr. A. G. B. Owen visited the school to present the flag for national savings to the most successful class. This was class1 who saved a total of £151.16s.6d.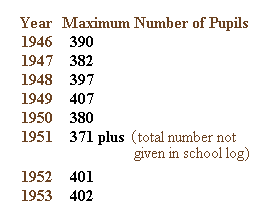 The variation in post-war pupil numbers.
By early 1951 Mr. Thacker was beginning to suffer from prostate problems. His entries in the school log book record the deterioration in his handwriting, presumably due to his illness. On the 8th of May he entered Dudley Road Hospital, Birmingham for an operation. He returned to the school after his operation and convalescence on 16th July. He had not properly recovered and was still very weak. His illness persisted until his resignation on 14th May, 1953. In his absence his wife was presented, with a cheque for £21 and a chiming clock on behalf of the school. In June 1954 Mrs. Thacker presented the prizes at the school sports.
Mr. Thacker passed away after his long illness in May 1956. His funeral was attended by Miss Haigh, Mr. Mayland and Mr. Scarth. Wreathes were sent by the staff and pupils. He was a popular headmaster and is well remembered by many old pupils.
---