Prehistoric times
The Black Country and most of South Staffordshire was covered by dense woodland, interrupted only by local rivers and streams. Travelling through the area would have been extremely difficult and so it remained largely unoccupied until Saxon times.
There is some evidence of prehistoric rambling taking place. In 1928, half a sandstone axe head from about 1,200 BC was found in the Wolverhampton Grammar School playing field and a bronze palstave axe from 600 BC was found in a garden in Finchfield. Similar tools have been found at Ashmore (Wednesfield), Bushbury, Cannock and Wrottesley. A polished flint axe head was found in Stafford Street, Willenhall around 1920 and in 1963 a flint scraper from around 6,000 BC was found on Goldthorn Hill, Wolverhampton. Ancient flint tools were found at Bourne Pool in Aldridge, and what is believed to have been a Bronze Age barrow (Low Hill Barrow) once stood at Bushbury.
Prehistoric man certainly had a small presence in the area.
Roman Britain
There is no evidence of Roman settlement in Dudley itself, but Romans were certainly in the locality. Watling Street skirted the northern edge of Walsall and Brownhills. It ran beside Wall, the Roman fort on the southern edge of Lichfield. Wall, originally called Letotceum, provided accommodation and a change of horses for travellers, and had an inn and a bath house. Another road ran from Wall to the fort at Metchley and went through Sutton Coldfield. Part of it, known as Icknield Street, can still be seen in Sutton Park.
There were Roman forts at Greensforge, about a mile and a half east of Kingswinford. Two are situated by the Navigation Inn, on either side of Mile Flat. They were semi-permanent military dwelling places beside a small civilian settlement. Nearby were four marching camps, used as overnight stops for armies that were on the move. The site held the largest local population up to that time and was linked by a number of roads to other forts and centres of population. The road to Droitwich, Worcester and Gloucester lay to the south, the road to Watling Street and Pennocrucium to the north and the road to Bridgnorth, Wroxeter and Wales to the north west.
Traces of a Roman road have been found at Bilston and Roman coins from the first century were found at Wednesbury in 1817, including examples from the reign of Nero, Vespasian, and Trajan. Another Roman coin was found at Wood Green during the excavation of the railway cutting, a piece of Roman glass came to light in Monway Field, Wednesbury and a Roman brooch was recently found at Aldridge. Other Roman coins have been found in Bilston, Perry Barr, Great Barr, Barr Beacon, and at Stonnall near Walsall Wood.
Anglo-Saxons
Angles and Saxons first reached our shores during the Roman occupation and were mentioned by the Roman historian Ammianus Marcellinus, who considered them as barbarians along with the Picts and Scots. He mentions raids in 365, and the mid-fifth century Gallic Chronicle records a large raid in 410 after the Roman army had departed.
Early colonisation started in the 6th century when Anglo-Saxons came from France, The Netherlands, Germany and Denmark. There were frequent raids by continental pirates and many towns employed mercenary soldiers for protection. The soldiers were Angles and Saxons from northern Germany who brought their families with them and were given farmland as payment for their services. Soon the mercenaries realised that they were stronger than their employers and so began to take over the running of many areas.
The Anglo-Saxons slowly colonised England, moving northwards and westwards, pushing the native Celts into Cornwall, Wales and Scotland.

By 850 AD there were three competing kingdoms; Mercia, Northumbria and Wessex.

South Staffordshire was a part of Mercia, which was derived from the old English word "Mierce", meaning People of the Boundaries.

The kingdom developed from settlements in the upper Trent valley and was colonised by a band of Angles called the Iclingas.

Slowly the area was populated and the kingdoms of the Saxon and Angles in the midlands amalgamated to form the kingdom of Mercia.

In 913 Stafford became the capital of Mercia after it had been fortified by Queen Aethelfaed.
Colonising the local area
In the 7th or 8th century a tribe called the Anglian Mercens came from the north. Initially they followed the Trent Valley, and began spreading along the valleys of the Tame and its tributaries. They were known as the Tomsaetan (dwellers by the Tame), and would have been the first people to settle here. There were several natural advantages for them in this area, the ready-made clearings, an excellent water supply from the local brooks, and the elevated position, making the site easily defendable. They may have arrived via Cockle Brook, which flows off the Dudley and Sedgley hills into Wall Brook, and into the River Tame.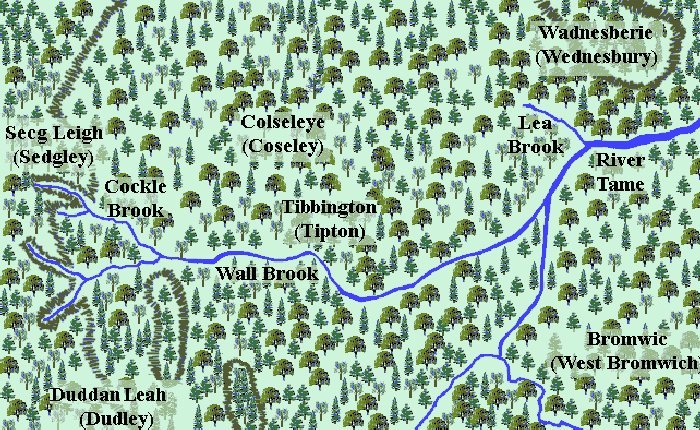 The settlers would have occupied clearings in the forest and cleared surrounding areas for their cattle and crops. They built simple timber framed, and possibly timber clad buildings. Timber being in plentiful supply. The Old English word for a woodland clearing is "leah" which appears in several local place names including Dudley, a name derived from the Old English 'Duddan Leah', meaning Dudda's clearing. Dudda was probably the local chief. Other Black Country towns were similarly named including Bentley, Brierley Hill, Coseley, Cradley Heath, Sedgley and an area in Darlaston known as The Leys.
Most of the local towns have names that are Anglo-Saxon in origin. The old English word "tun" meaning a settlement, is found in Bilston, Darlaston, Essington, Tipton and Wolverhampton. Another old word "halh" meaning a pocket of land appears in Willenhall, Wednesbury means Woden's fort, Aldridge means 'Alder village' and Rushall means a place in marshy ground, where rushes grow.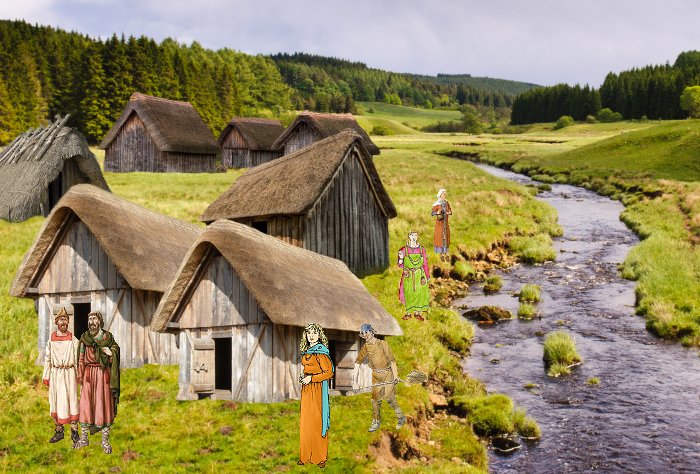 An impression of an Anglo-Saxon village.
In Saxon times there would have been just a few simple single storey timber buildings with a thatched, or turfed roof and a hearth for a fire, with smoke escaping through the roof. All the furniture such as beds, benches and tables would have been made of wood. Valuable items and tools would have been stored in a wooden chest.
All traces of the original settlements have long disappeared due to the intense human activity in the area throughout many centuries. All evidence of the early settlements and their exact location is gone.
After colonisation, Dudley would have remained as a small farming community for several hundred years. The local community would possibly have cleared about one sixth of the land around their settlement, where strip cultivation would have adequately supported the small population.
The settlement would have been connected to surrounding settlements by dirt tracks, such as the one across the top of the ridge leading to Sedgley and Wolverhampton. There must also have been a track leading to Tipton and Wednesbury, so the small communities were far from isolated. Cattle, crops and domestic items could be traded and purchased. Some of the locals would have specialised in woodwork or metalwork, or possibly made clothes. So even at this early date there could have been some tiny industries in operation, supplying the local village and trading with nearby communities.