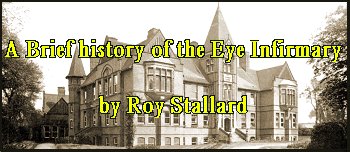 ---
In the immediate years after the Royal Hospital opened its doors, industry considerably grew, rail travel and services expanded rapidly and there was considerable vitiation and air pollution apparent. Resulting from these strictures and the poor social conditions in the area, there became a pressing need for appropriate treatments for eye conditions. Whilst some initial relief was obtained at the Royal Hospital, it was clearly unable to cope in this specialised area.

The original building called St. Mark's Place, at the junction of St. Mark's Road and Salop Street.
Philanthropists in Wolverhampton gathered again under the auspices of the Briscoe family, Edward Banks and Dr. William Millington in 1881, and rented a house in St Mark's Road to provide eye care. Within the first year, some 2264 cases had been treated, with 50 patients a day queuing outside for care and ward numbers for in-patients had been extended to 13. All patients were treated irrespective of ability to pay or subscriber tickets from employer or local Minister of Religion.

In late 1884 it became apparent that the facilities were insufficient and there was a great need for a larger structure. Mr. Philip Horsman (Art Gallery benefactor) undertook the erection of such a building at his own expense, i.e. £5000, provided that the existing necessary amount of £8000 was raised locally. Land was purchased from the Duke of Cleveland in Chapel Ash and the new buildings were opened on October 23rd 1888 by the Earl of Dartmouth.
Names amongst the benefactors included Barlow & Son, W. H. Butler, Messrs Crane, Gibbons, Hickman, Hodson, Jenks and Graham; the construction was undertaken by H. Willcock, gas fittings by Meynell and electricity by Hartill; T. H. Fleeming was the architect.
| | |
| --- | --- |
| In addition to Dr. Millington, Dr. Chesshire had joined the staff and saw O.P.D. patients on four days a week. Provision of funds came from prominent local businessmen, a workmen's fund and legacies; hospital Saturday and Sunday funds added to the totals By the year 1893, some 12,000 patients were being treated annually. | The Wolverhampton and Midland Counties Eye Infirmary which opened in 1888. |

Mr. Philip Horsman, J.P.

In the early 1900s, land was purchased on which the Nurses Home now stands and a Porters Lodge was built. At the outbreak of World War 1, annual patient numbers treated had risen to 23,000 and 25 beds were set aside for war victims. Queen Alexandra Day collection was initiated and raised £4,500 from the general public in its first appeal. In the immediate war aftermath, many administrative changes took place and funding increased. A complete renovation of the operating theatre was undertaken at a cost of £1,200 and new heating structures added. In the mid twenties, Dr Campbell Orr joined the staff and a new Nurses Home was constructed, furnished generously by 'Two Old Friends', and an ultra-violet unit was opened.

By the thirties, total income had grown to £10,000 and a total of 142,000 patients were being treated annually.
| | |
| --- | --- |
| The resident medical staff now included many overseas staff from the wider Commonwealth. A fund was set up to provide a new O.P.D., pharmacy and A/E facilities and these opened in 1937, much improving In and Out patient facilities. With the advent of World War II, much provision was made for the war wounded and numbers treated from the immediate locale totalled 100,000 per annum. | The operating theatre. |
| | |
| --- | --- |
| Miss Newton, later Mrs. Lanfear, who was Matron from 1891 to 1906. | Immediately after the war, Compton Hall (now the hospice) was purchased to provide extra staff facilities, a male and female nurse training school was established and arrangements were made for local industrial nurses to receive training for the treatment of industrial eye injuries. 1948 saw the hospital absorbed as part of the new NHS; whilst the scale of factory-based eye trauma continued at high levels, Wolverhampton Eye Infirmary became recognised both nationally and internationally as a centre of renown for corneal grafting. Throughout the seventies and eighties, with a much stricter provision of health and safety acts, the scale of injuries diminished sharply. This was somewhat balanced by an increase in ocular conditions from migrants from the sub continent of Asia. A complete new theatre block was opened in 1980 with the original single theatre being converted to a hospital chapel, stained glass windows from the local redundant church of St Mark's were added. |
| | |
| --- | --- |
| The advent of day case surgery for cataracts and other eye conditions and better available ophthalmic drugs saw the bed numbers sharply diminish in the nineties, and with the transfer of night emergency services to the New Cross hospital there remains talk of a complete transfer of all eye services to this site. Much opposition will be shown to this possibility and for the moment the Chapel Ash site maintains its excellent reputation and care that it has embraced in Wolverhampton for 120 years. | The Out-Patients' Hall. |
| | |
| --- | --- |
| | The Women's Day Ward. |
---