| | | |
| --- | --- | --- |
| | | |
---
E. C. & J. Keay Limited was founded in 1879 at New Street, Birmingham by Ernest Charles Keay and his brother James Keay. They were builders and ironmongers. In 1884 they moved to Cyclops Works, West Bromwich and began to manufacture fencing, fittings, and steel fabrications.
The site that would eventually be occupied by the company at James Bridge, originally belonged to Samuel Mills, the wealthy industrialist and land owner who ran Bills and Mills ironworks at The Green. After his death in 1864 much of his land was sold-off by his executors, Richard Mills, Martha Mills, and James Slater.
In January 1870, just over an acre of land alongside James Bridge Railway Station and Walsall Road was purchased for £150 from the executors by Simeon Carter, who three years later formed his own firm, Carter, Ford & Company Limited, manufacturers of wrought-iron bridges, girders, roofing, railway ironwork, and cab axles etc. The firm opened James Bridge Ironworks on the site, but only had a relatively short life, going into liquidation in September 1886.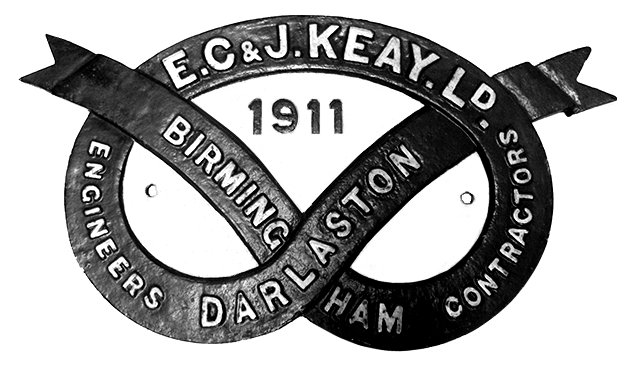 A Keay builder's plate.
In December of that year, the company's property and assets were put up for sale, and in January 1887 were acquired by the Keay brothers.

In 1887 Keays moved to "Bridge Yard", as they called the James Bridge site, and in June 1888 they purchased an adjacent three acres of land from Martha Mills and James Slater, along with a strip of land on the opposite side of Heath Road. Originally there were no buildings, only open gantries.

E. C. & J. Keay was incorporated in 1893, and listed in the 1896/1897 Peck's Trades Directory of Birmingham as makers of steam boilers. By 1898 the whole business had moved to James Bridge, and within twelve months the firm added an iron foundry to the site, for the production of bearings and cast ironwork.

The firm produced many products over the years, eventually specialising in structural steelwork for all types of buildings, such as schools, hospitals, factories, offices, and warehouses. Bridge Yard had three large open shops, and good access to the railway, nearby ironworks and rolling mills.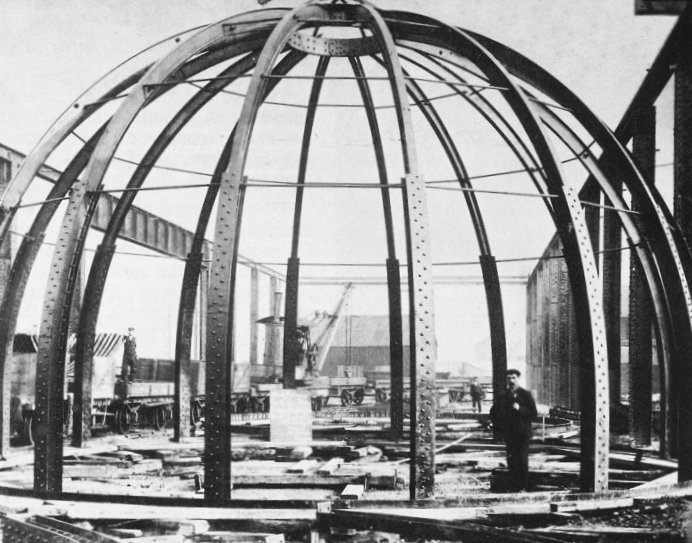 One of the firm's many jobs before the First World War was the structural steelwork for the dome of the Victoria and Albert Museum, seen here at the factory in 1905. Courtesy of Wendy Marston.
Machines included saws, angle croppers, punches, shears, guillotines, presses, planers, drilling machines, bending rolls, riveting machines, and welding machines. In fact everything needed for the production of structural steelwork. There were facilities for the trial erection of complicated structures, and ample storage space for finished materials, so that deliveries of steel could be phased to suit erection.
For erection purposes there were electric scotch derricks, hand cranes, derricks and winches, mobile cranes, and electric compressors to provide power on site. Keays undertook the complete design, fabrication and erection of their structures.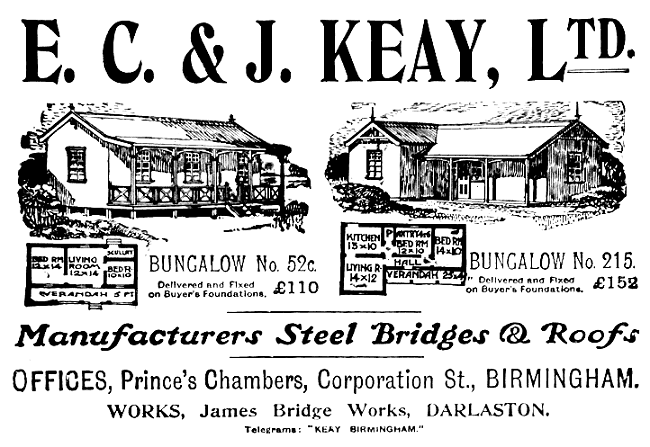 An advert from 1912.
In 1926 the company went into voluntary liquidation and was reformed as E. C. & J. Keay (1926) Limited.

Keays provided the structural steelwork for the Midland Counties Dairy on the corner of Lea Road, Wolverhampton. Built in 1930/31.
In 1935 the company was wound-up and reformed as a private limited company: E. C. & J. Keay Limited.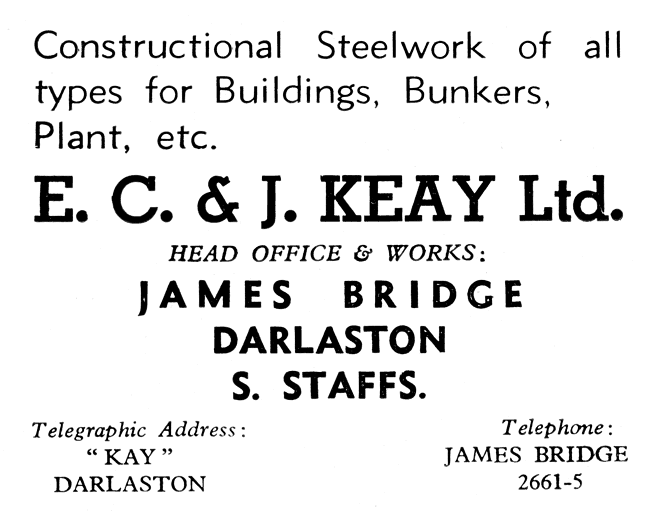 An advert from 1963.
The firm provided the steelwork for Birmingham Snow Hill railway station, which consisted of 6,000 tons of steel, transported to the site on the firm's Pollen railway girder wagons.

Keays also supplied 1,000 tons of steelwork for Leicester railway station, the cast iron pillars used in Kensington High Street Underground Station, and the steelwork for Neachells No.1 and No.2 power stations, the latter using 8,000 tons of steel.
Other contracts included the Great Western Hotel at Paddington; Llandudno Railway Station; large sheds at Southampton Docks; the first aeroplane hanger at Elmdon; Walsall Technical College; Typhoo Tea Buildings and Warehouse; Offices at Birmingham; Midland Counties Dairy at Wolverhampton; and McKechnie Brothers factory at Aldridge.

The firm built many bridges including Norfolk Bridge at Shoreham-by-Sea; hoppers; bunkers; railway signalling equipment; the fencing and gates for Willenhall Memorial Park; also bus depots; and carried out riveted platework, and welded fabrications. Structural steelwork was also supplied for building projects abroad.

In 1957 Keays became a subsidiary of N. Hingley and Sons, Limited, and in November 1960, part of the Lloyds Group.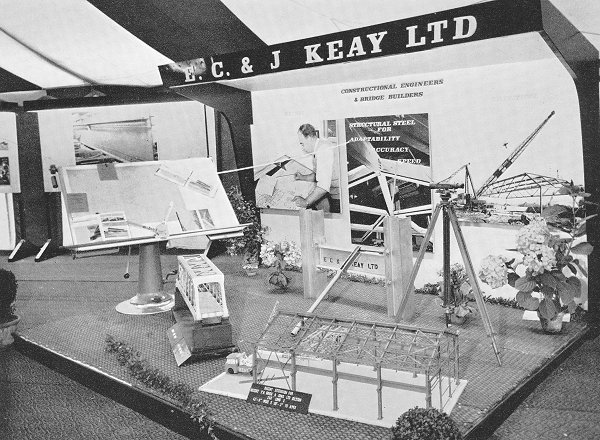 In 1962 Lloyds celebrated British Steel Foundry Year with a large exhibition at James Bridge Steelworks. The photograph above is of Keay's stand at the exhibition.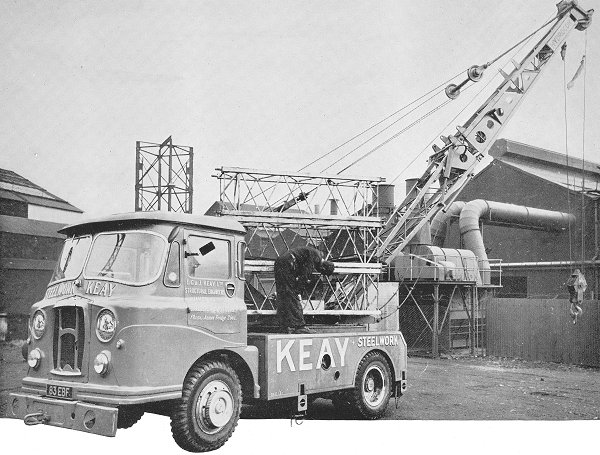 Keay's 'Hydrocon Highlander' 6 ton mobile crane, acquired in 1962.
1962 saw the installation of a 54 inch Noble and Lund vertical cold circular sawing machine, which could cope with the largest sections of the company's new universal beam range.

It could vertically cut steel joists of up to 40 inches by 18 inches, at any angle.

In 1971 Keays designed and built the new 3,600 square feet storage bay and works canteen for fellow Lloyds Group member, The Mechanical & Electrical Engineering Company (Walsall) Limited.
A small, but relatively complex installation took place in 1971 at George Johnson & Company (Birmingham) Limited in Shirley. The new building had to be erected over the top of an existing building which had to remain in use during the building work, in order to maintain production. When the new building had been completed, as seen on the right, the existing building was demolished.
| | |
| --- | --- |
| | The erection of a two-bay warehouse at Wednesbury in 1971 for Brinton, Adams & Richards Limited. |
| | |
| --- | --- |
| Another view of the warehouse during construction. | |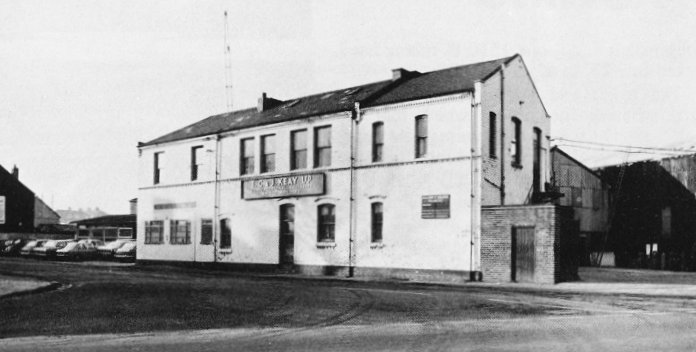 The old office building in Station Street Darlaston, which was demolished in 1973. Courtesy of Wendy Marston.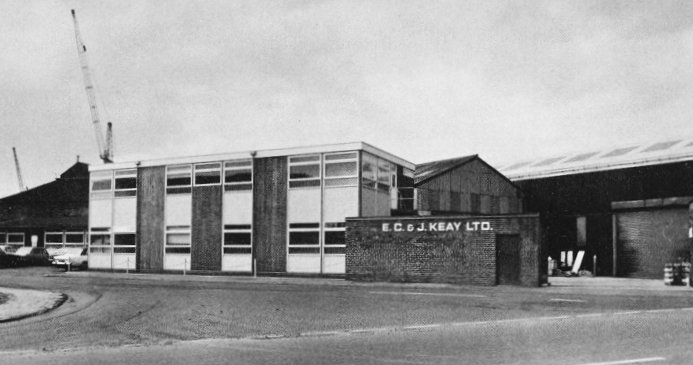 The new main office building in Station Street, built in 1973 following the demolition of the old offices. Courtesy of Wendy Marston.
Another Keay project, the steelwork for the Coventry sports complex building. A contract worth £185,000.

Courtesy of Wendy Marston.
Some of Keay's projects in the 1970s included the building of the steelwork for a number of Littlewoods stores, including ones at Norwich, Harrow, Lewisham, Truro, West Bromwich, Worcester, Kidderminster and Corby. Other projects include steelwork for the following:
The Incinerator Building at City of Stoke-on-Trent.
A number of 200 ft. high flare towers for North Sea oil rigs.
Manchester United Football Club including some large Cantilever girders.
A continuous casting platform for Round Oak Steelworks.
In 1975 the company installed a computer to provide "instant designs" of portal frame structures. A special program was written to enable Keays to increase their activities in the supplying of supporting structures for water tanks made by Brown Lenox (London).
| | |
| --- | --- |
| | In 1975 Keays built a new roof covering one of the stands at Manchester United's football ground, Trafford Park. It involved nine 160 ft. long lattice girders, each weighing nine tons. |
---