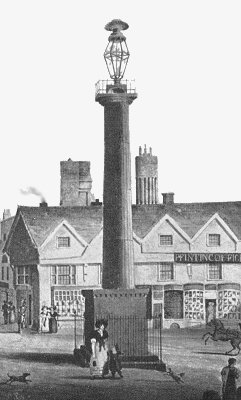 The mighty "candlestick".
The company celebrated its achievement by the erection of a forty foot high cast-iron column with a gas lantern at the top. It was built in High Green in 1821.

The names of the committee responsible for its cost were inscribed on the base. They were R. Fryer, T. Savage, T. Timmins, T.H. Ward, J. Heape, P. Deakin and W. Parkes.

The light was a disaster. It was too high from the ground to throw sufficient light and the structure was laughed at and called the mighty "candlestick", which it closely resembled. By 1826 the pillar and the surrounding area had become a rendezvous for the local layabouts and degenerates and as such had become a public nuisance.

Some expense would be incurred for its demolition and so it remained there until 1840 when the Commissioners and the Gas Company approved its removal.