During the first half of the 20th century, Wolverhampton became famous for its many motorcycle manufacturers, whose products successfully competed in all kinds of sporting events. Names such as A.J.S. and Sunbeam were well known throughout the country, as were a number of their riders.
One of them was Tommy Deadman who became a legend in his own time, skilfully riding his motorcycle over spectacular hill-climbs, dashing around speedway and grass tracks, and successfully competing in the once-popular sport of motorcycle football.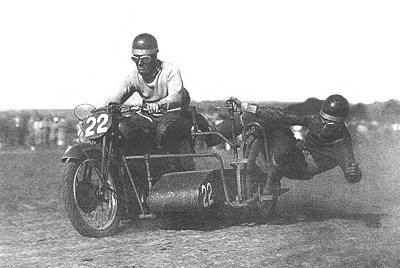 Tommy in action with Cyril Page. Courtesy of June Hussey.
Tommy will always be remembered by motorcycle enthusiasts for his spectacular racing career and his many triumphs during the early years at Monmore Green.
I would like to thank June Hussey, Tommy's daughter, and Ray Jones for their help in producing this article.