---
The Work of the "Kings" on the G.W.R.
Birmingham and North Expresses
by V. R. Webster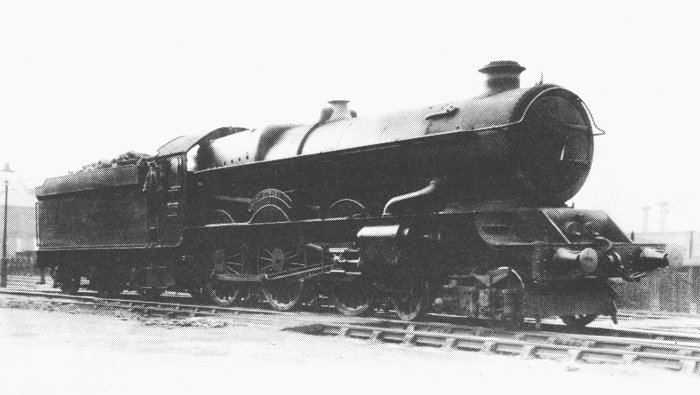 No. 6017 "King Edward IV" at Stafford Road. Courtesy of Joe Hancock.
When the "King" class 4-cylinder 4-6-0s came out from Swindon Works in 1927/8 it was clear that one service on which they would be most valuable would be that from Paddington to Birmingham, on which heavy trains were scheduled to cover the far from easy 110½ miles in 120 minutes in either direction. Although the G.W. route was shorter than the older L.N.W. one by some 1½ miles, it was incomparably the harder of the two. Moreover, on the whole, the G.W. trains were considerably heavier and besides their through portions to Birkenhead, (Shrewsbury in one case), coaches for Aberystwyth and Pwllheli were carried by the 11.10 a.m., Aberystwyth by the 2.10 p.m., a Birkenhead dining car portion by the 9.10, (later transferred to the 11.10 service), as well as slip coaches detached variously at Princes Risborough, Ricester, Banbury and Leamington. While these lightened the load beyond these places at least one of the most gruelling banks, that from High Wycombe to Saunderton which concluded with almost 3 miles at 1 in 164, had to be tackled with the full load. There was hard climbing, too, all the way from Denham to Beaconsfield and from Blackthorn to Ardley amounting to over 16 miles, often steeper than 1 in 200. In the up direction the main banks were from Leamington to beyond Fenny Compton, some 12 miles, the steepest being the Fosse Road bank with 3 miles at 1 in 187. For 6 miles up to Saunderton the main gradients were at 1 in 176 and 1 in 167 added to which there was another 4 miles up at 1 in 200 from Aynho Jc. through Ardley tunnel. Various trains covered the 87.3 miles from London to Leamington in 90 minutes. Cecil J. Allen once declared that in order to keep time with such trains it was necessary to reach 80 m.p.h. in three separate places. As will be shown, my personal experience bore this out.

Of the first 20 "Kings", Nos. 6017 and 6019, built in June and July 1928, were sent to Stafford Road. Of the rest, 6023 went to Newton Abbot for working the ''Torbay Express", 6000 and the remaining odd numbered engines went to Old Oak Common and the other even numbered ones were sent to Laira, and there they stayed until the second batch came cut in 1930. One of the Wolverhampton engines usually came up on the 9 a.m. 2-hour working from Birmingham and the other worked the heavy 12 noon up. This made them available to work the two heaviest down 2-hour workings at 2.10 and 6.10 p.m. The first carried a through portion for Aberystwyth while the 6.10 "Zulu" usually carried 5 coaches for Birkenhead, 3 for Shrewsbury a twin diner and two more coaches for Wolverhampton, (at one time it had one of the triplet articulated dining car sets), and slips for Bicester and Banbury.

The 9.10 a.m. down was also a "King" hauled train, but this was a London turn, coming back on the heavy 3 p.m. from Birmingham due at London at 5.5 p.m. The 9.10 down was the ''Birkenhead Diner" though during the war this distinction was transferred to the 11.05 (formerly 11.10) service and remained so until these trains were withdrawn. The up "Diner" remained the 11.55 a.m. from Birkenhead.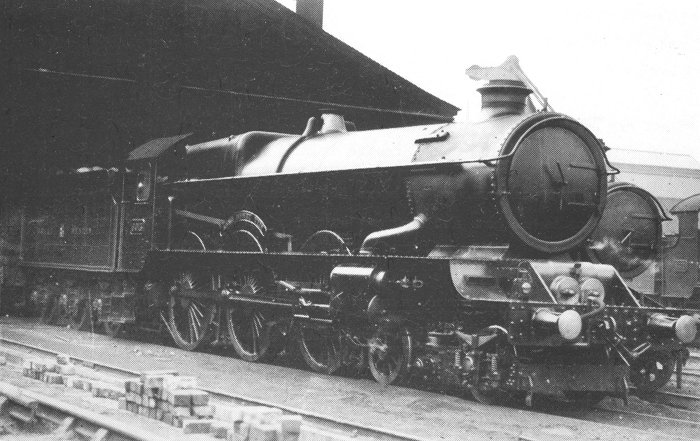 No. 6013 "King Henry III" is seen here at Stafford Road in fine original condition. The jib of the Stafford Road crane looms behind the funnel. Courtesy of the R.C. Carpenter collection.
After the second batch of ''Kings'' came cut in 1930 Nos. 6005/6/8/14 of the older series were all transferred to Wolverhampton so that there were enough of these engines to cover all the fast 2-hour workings. These comprised the 12.5 p.m. arrival which went back on the 4.10, while the remaining Wolverhampton turn-rounds really were performed at the double, the 10 a.m. arrival going back at 11.10 (11.05 from about 1935), and the 6 p.m. returning on the 7.10 p.m. These quick turn rounds of course presupposed a reasonably punctual arrival, rapid disposal of empty coaches, (an art in which Paddington excelled) and a rapid cross over to Ranelagh Bridge for turning and watering. I never saw a delayed departure to a down train due to the late arrival of the engine.
On this route the optimum places for bursts of high speed occurred at the descent from Princes Risborough to Ashendon Jc., between Ardley and Aynho Jc. and on the descent of the Fosse Road bank between Fenny Compton and Leamington. The ''80'' mark was also often exceeded between Acocks Green and Bordesley. In the up direction such speeds could be expected at the descent of Hatton Bank, between Cropredy and Banbury, from Ardley to Blackthorn and on the long favourable grades between Beaconsfield and Greenford.

6017 "King Edward IV" heads the 11.37 a.m. Wolverhampton to Paddington train out of Low Level, 1929. Photograph Joe Hancock.

Among my own runs I have no exceptional performances but: ''run of the mill" trips are often just as revealing. On 25/7/31 the 9.10 down had engine 6021 (PDN). The load to Banbury was 420 tons, 388 tons thence to Leamington and 325 tons on to Birmingham. One slip coach cane off at Banbury and two at Leamington. From High Wycombe stop to Birmingham the 84.1 miles took 87 min. 30 secs inclusive of a p.w. check at Bicester and a signal check at Tyseley. Maximum speeds were 78 before Ashendon Jc., 81 at Blackthorn and again at Fosse Road Box (2¼ miles before Leamington).

Two praiseworthy runs by Stafford Road engines on up trains were also recorded. On 13/8/32 6014 worked the 12 noon from Birmingham with 12 coaches weighing 415 tons tare. The 87.3 miles up from Leamington took 97½ minutes, inclusive of checks which accounted for 9 ½ minutes. Speeds were 76 before Banbury, where bad checks before and after the station cost 6 mins, 81.8 at Blackthorn, 80 at Brill and an average of 79.9 from Denham to a further check at Greenford.
Five years later, on 27/9/37, I travelled on the 9 a.m. up train from Birmingham behind engine 6005. With a ten coach load of 344 tons, the 23.3 miles to Leamington took 25 min. 20 sec., (26 min booked), and with speeds of 70 at Knowle, 72 at Lapworth and 79 at Warwick (21.3 miles passed in 21 min. 20 secs). On to London on a 91 min. schedule, the 87.3 miles from Leamington was completed in 89 min. 5 sec, with speeds of 78 at Cropredy, an average of 80 over the six miles from Bicester to Brill, 82 at Gerrards Fross and again at Northolt Junction before running into a slight signal check at Greenford, to which point the 79.5 miles had been run off in 79 minutes. Moreover, on this run, some fog was encountered all the way from Saunderton. The train's progress was not affected at all, a tribute to the G.W.R.'s system of audible signal warning.
One may conclude by saying that since Stafford Road worked the heaviest turns of the day, there seems some justification for C. J. Allen's claim that the men from this shed worked to some of the most exacting time table requirements in the country at that period.
By way of an afterthought, it is perhaps only right to point out that these records are taken from my log books of the late 1920s and the 1930s. For a great part of the war period I was stationed at certain locations in Warwickshire and thus continued to know the line well during those years. In fact, at one time I had Hatton Bank under direct observation from my quarters and I often had to make "business" journeys to London, Shrewsbury, Chester and, on two occasions, even Holyhead.
All journeys started from Leamington, so the Wolverhampton ''Kings'' often featured prominently. Of course, two-hour schedules disappeared and speeds aver about 60 m.p.h. were discouraged (officially). On the other hand loads increased dramatically and it was commonplace to see the ''Kings'' toddling up the 1 in 105 of Hatton bank with 15 coaches. Never was an assisting engine required or taken. All speeds quoted pale into insignificance when comparisons are made with the modern "125" diesel trains, but while the output of the "Kings" was improved strikingly after the war by high superheat and other refinements, all this really came too late. We must remember that the "125" can draw on something like 4000 hp. to propel 8 coaches each weighing about 35 tons. To appreciate the work done by the Stafford Road ''Kings'', we must re-set our sights accordingly.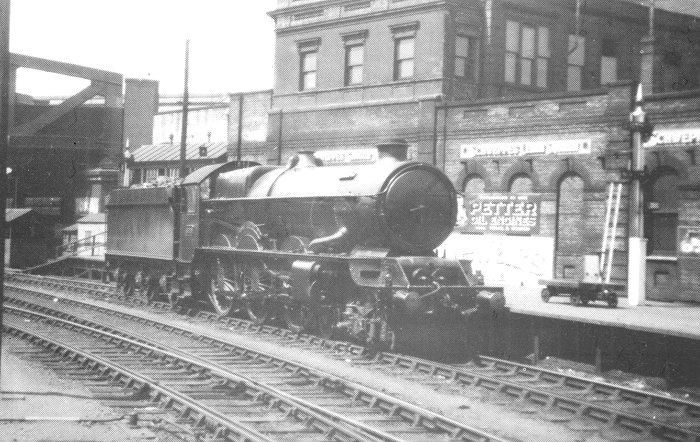 Wolverhampton based "King" class 4-6-0 No. 6019 "King Henry V" backs out of platform 8 at Paddington in June 1929, having brought in the 2 p.m. arrival from Birkenhead. Note the wooden extensions to platforms 8 and 9, and the old arrival signal box, prior to the station rebuilding. Bishop's Road Station in the background. Photograph V. R. Webster.
---