---
The Development of Local Government
For several hundred years, Tipton was governed by the Parish Vestry, which by its very nature favoured ecclesiastical matters rather than the day-to-day administration of the town. A vestry meeting would be called by the churchwardens with the permission of the minister. The Vestry was the decision making body, named after the room where meetings were held.
In the early years of the 17th century, The Poor Law, consisting of a series of Parliamentary Acts came into effect. It defined how a parish would care for the poorer members of society who were in need of financial or other assistance. The law was administered at Vestry meetings that were attended by the parish ratepayers who could vote by a show of hands. The Poor Law was replaced by Poor Law Unions in 1834 (Poor Law Amendment Act of 1834) and Tipton became part of the Poor Law Union of Dudley, which also included Rowley Regis and Sedgley. The principal Dudley Union Workhouse and the Board Room were in Dudley. The union also used the old workhouse at Sedgley and the old workhouse at Tipton, which was in an old half-timbered building in Church Lane.
The first meeting of the governing body, the Board of Guardians was held in Dudley Town Hall on 15th October, 1836. It had ten members from Dudley, eight members from Sedgley, six members from Tipton, and four from Rowley Regis. Tipton's first Guardians of the poor were Philip Williams, John York, Richard Haines, Richard Nicklin, Simeon Round, and Thomas Morris.
In June 1832 the town's first cholera epidemic began. The population at the time was around 15,000. There were 1,452 cases of the disease, affecting nearly ten percent of the inhabitants. There were 404 deaths before the disease disappeared. The last local case was reported in Dudley on 29th November. A national relief fund had been set up to help sufferers. Tipton received £929 from the fund which was shared among the sufferers.
On 3rd August, 1832 a Board of Health or Sanitary Committee was set up at a Vestry meeting to deal with the cholera epidemic. The Board was given a working capital of £300. At a Vestry meeting on 14th September it was noted that a public subscription had been organised to help sufferers and that a management committee had been appointed. The members were as follows:
William Johnson from Gospel Oak
G. R. Hickman from Moat Colliery
Isaac Shepherd from Toll End Ironworks
Thomas Horton from Toll End Furnaces
William Holland from Sheepwash Lane
Robert Sylvester from Eagle Furnace
Thomas Shorthouse from Church Lane
Charles Birch from Burnt Tree
Edward Cresswell from Parker's Work
Cholera returned to Tipton in 1848. From October of that year, until December 1849, there were 113 deaths in the town, from the disease.
On 21st May, 1855, under the terms of the 1848 Public Health Act, a Local Board of Health was formed by Order of Queen Victoria in Council. The first meeting of the Local Board of Health was held on 10th September, 1855 at the Old Workhouse in Church Lane. Meetings continued to be held there until the opening of the Public Offices in Owen Street. The 24 members were:
Rev. William Ker, vicar of Tipton (chairman), James Aston, George Davies, William Finch,
W. P. Greenway, Rev. E. H. A. Gwynne, vicar of St. Paul's, Job Haines, Richard Haines,
Edward Hipkins, William Hopkins, William Howells, J. E. Howl, John Hyde, J. D. Jackson, Thomas Jones, William Millington, Thomas Morris, T. L. Nicklin, Thomas Round, George Smith, James Solly, John Twist, W. L. Underhill, and T. E. Ward.
The following officers were appointed at the first meeting:
Jessie Baxter, Inspector of Nuisances
John Davies, Medical Officer
Jeavon Parker, Collector
David Peacock, Surveyor
George M. Waring, Clerk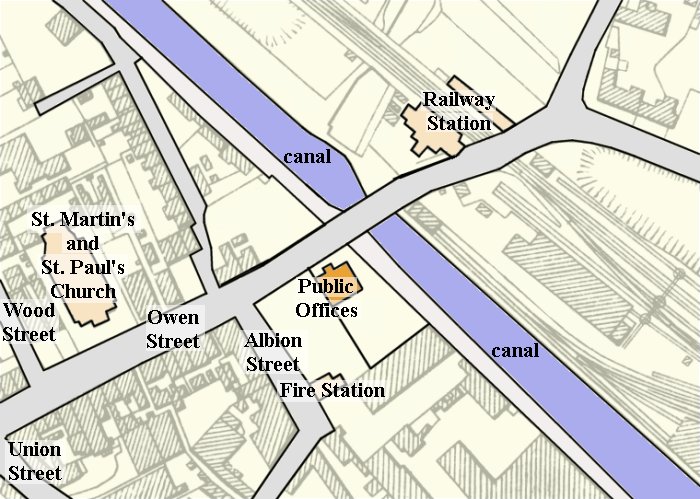 The location of the new Public Offices in Owen Street.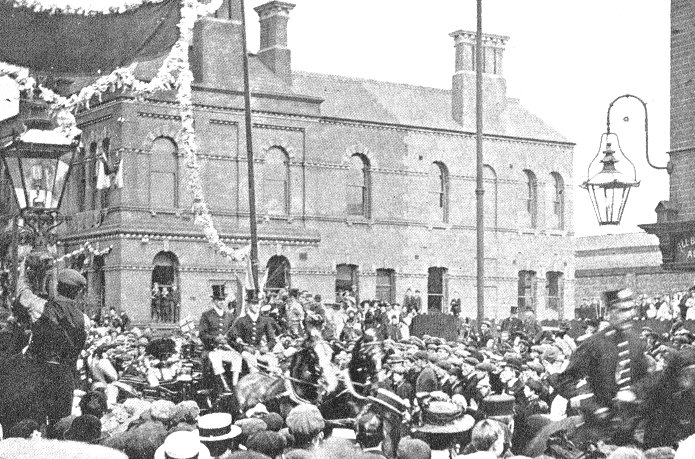 The Public Offices in Owen Street seen in 1909 during the visit of Queen Victoria's granddaughter, Princess Marie Louise of Schleswig-Holstein, who opened a nurses' home in Lower Church Lane. From an old postcard.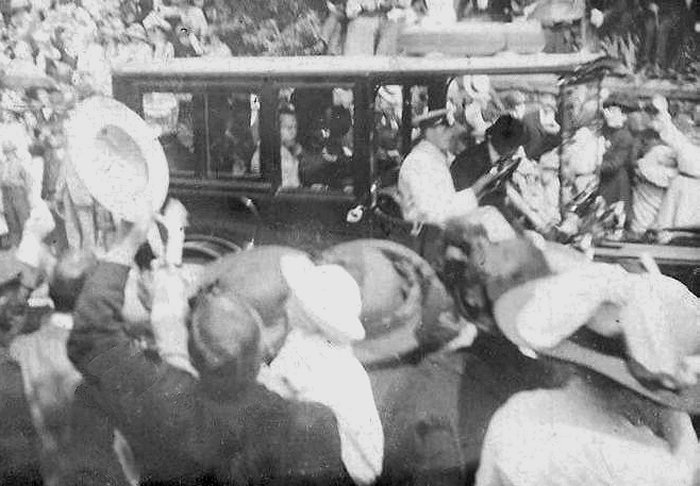 Princess Marie Louise, travelling through Tipton in 1909.
Building work on the new Public Offices in Owen Street began in 1876. The foundation stone was laid by the chairman of the Local Board of Health, James Whitehouse, on 13th December, 1876. After the ceremony a banquet was held at the Navigation Hotel which stood in Park Lane West. The new building was erected at a cost of £4,000. It was designed by Charles Round and Henry Beddoe of Tipton, and built by David Stockton & Son of Oldbury. The building contained the council chamber and offices for the Clerk, the Surveyor, the Sanitary Inspector, the Medical Officer, and the Collector. Meetings of the Board were held on the evening of the last Tuesday each month. The Public Offices continued in use for 59 years until they became part of the Fire Station. They were demolished in 1972.

Tipton parish was divided into six wards in February 1878 to provide improved representation for all parts of the town. The wards and the number of representatives were as follows:

Tipton Ward - six representatives
Tibbington Ward - three representatives
Ocker Hill Ward - three representatives
Toll End Ward - three representatives
Horseley Heath Ward - six representatives
Dudley Port Ward - three representatives

The number of representatives was loosely based on population:

Tipton. 9,220
Tibbington and Princess End. 3,130
Dudley Port, Horseley Heath and Great Bridge. 12,310
Ocker Hill, Lea Brook and Toll End. 5,340

The Chairman of the Board in 1878 was Mr. Daniel Hipkins. There were six committees: Finance; Highway, Sewage and General Purpose; Cemetery and Hospital; Gas and Stores; Fire Appliances; and Free Library.

In 1894 under the terms of the Local Government Act, 1894, the Local Board of Health became Tipton Urban District Council. The Urban district covered an area of 2,167 acres.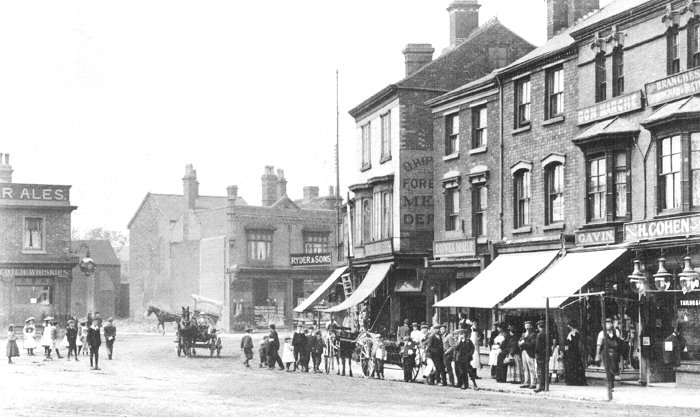 Great Bridge Market Place. From an old postcard.
The Municipal Buildings
By 1935, space was in short supply at the Public Offices in Owen Street and so the council purchased a much larger building in Sedgley Road West from Beans Industries, which had been built in the 1920s as an office block. After refurbishment, the building reopened in 1936 as the Municipal Buildings and the council chamber and the council's staff moved there from the Public Offices.
The Local Government Act of 1933, which came into operation on 1st June, 1934, allowed urban district councils to apply for a Charter of Incorporation. On 27th July, 1936 the council applied to the Privy Council and in 1938 a Royal Charter was granted. The town then became the Municipal Borough of Tipton, which was the highest form of local government that the town could achieve.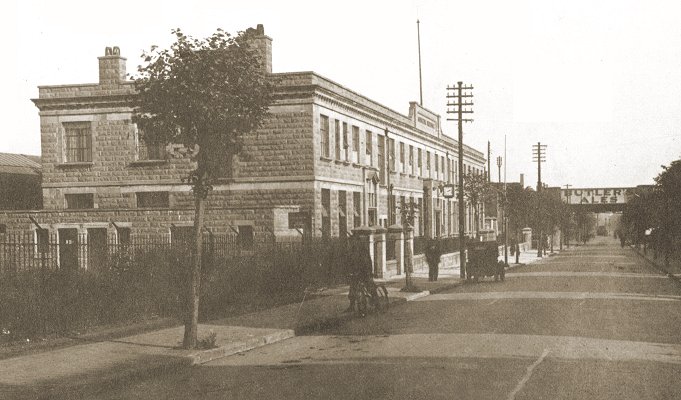 The Municipal Buildings in Sedgley Road West. From an old postcard.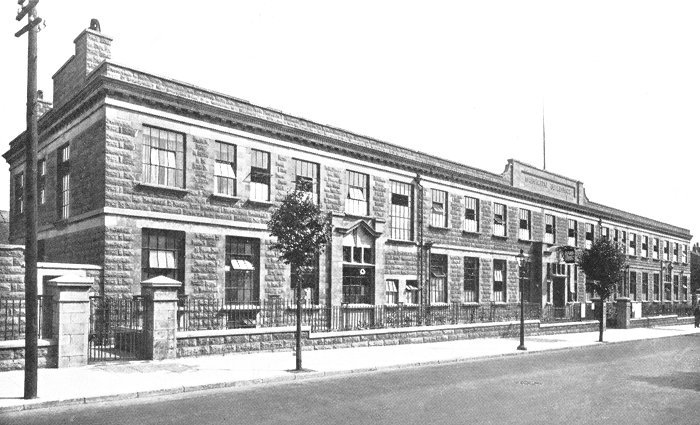 Another view of the Municipal Buildings.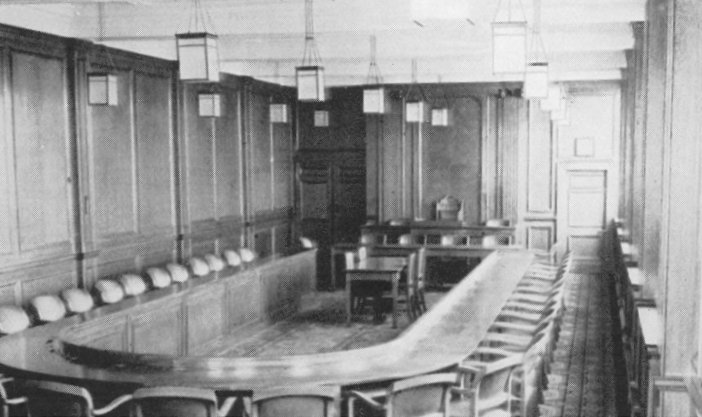 The Council Chamber.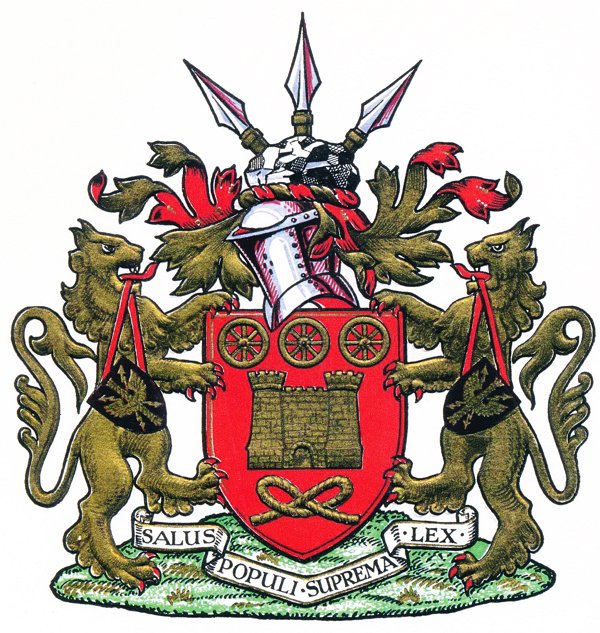 The Coat of Arms of the Municipal Borough of Tipton.
The Mayor and Mayoress in 1938. Councillor A. F. Welch, J.P. and Mrs. Welch.

The Town Clerk in 1938. Kenneth W. Madin.

On 1st April, 1966, under the terms of the Local Government Reform Act, Tipton lost its status as a Municipal Borough and came under the direct control of West Bromwich Borough Council, as did Wednesbury.

On 1st April, 1974, Sandwell Metropolitan Borough was formed with the merger of West Bromwich and Warley Borough Councils. The new borough includes six Black Country towns: Oldbury, Rowley Regis, Smethwick, Tipton, Wednesbury, and West Bromwich.

As a result of the boundary changes, a small part of Tipton including the Municipal Buildings and most of the Foxyards housing estate became part of the Metropolitan Borough of Dudley and much of the Tividale area became part of the County Borough of Warley. A small section of Coseley around Princes End became part of Tipton.

The Municipal Buildings soon became part of Dudley College and remained so until 1993. The building was then occupied by a number of businesses, but is now (in 2018) empty.
Chairmen of Tipton Local Board of Health

1855 to 1857
Reverend William Kerr
1858 to 1869
William Howells
1870 to 1874

William Lees Underhill

1875 to 1884
James Whitehouse
1885 to 1888
Edward Bayley
1889 to 1894
Daniel Hipkins

Chairmen of Tipton Urban District Council

1895 to 1897
Daniel Hipkins
1898
Clement H. Barrows
1899
Daniel Hipkins
1900
Thomas Crew
1901 to 1902
Daniel Hipkins
1903
George S. Peake
1904
James W. Dudley
1905 to 1907
Joseph Powell
1908
Richard Mason
1909
Thomas E. Salter
1910
William A. Robbins
1911
Joseph Powell
1912
John A. Shephard
1913
William J. W. George
1914
Thomas E. Salter
1915 to 1916
George S. Peake
1917 to 1921
William Woolley Doughty
1922
Thomas E. Salter
1923 to 1924
William Woolley Doughty
1925 to 1927
William H. Powis
1928 to 1930
John W. Bourne
1931
Arthur E. Bannister
1932
Joseph R. Baker
1933
William J. W. George
1936
Arthur Frederick Welch
1937
Sidney Davis

Mayors of Tipton Municipal Borough Council

1938 to 1939
Arthur Frederick Welch
1940 to 1943
William Henry Powis
1944 to 1946
Arthur Jones
1947 to 1950
William Edward Hampton
1951 to 1953
Arthur Edwin Bolton
1954
Hannah Geneva Cox
1955
Sidney Hall
1956
James Gill
1957
William Horace Hirons
1958 to 1959
John William Walters
1960 to 1961
Albert Morton
1962
John William Walters
1963
Frank Austin Chamberlain
1964
William Eric Drew
1965
Jonah Whitehouse
Tipton has rapidly grown from a small village to today's large urban area, as can be seen from the following population figures:
1801 4,288
1811 8,407
1821 11,546
1831 14,951
1841 18,891
1851 24,853
1861 28,870
1871 29,445
1881 30,013
1891 29,316
1901 30,543
1911 31,756
1921 34,131
1931 35,814
1938 37,000 (approximate)
By 2011 the population had increased to 38,777.
---