Possibly the most famous trial in Walsall's history is that of the Walsall anarchists in 1892. It involved a revolutionary organisation, a secret bomb factory, and police informers.
It all began in the summer of 1891 when four foreigners arrived in the town from London, looking for work. They were Victor Cailes, his partner Marie Piberne, Frederick Charles, and George Laplace. Victor and Marie found lodgings at 54 Green Lane, while Frederick and George moved into 272 Green Lane, the house and workshop of William Ditchfield. Another person involved in the plot was Joseph Deakin, a railway clerk who lived above a draper's shop at 238 Stafford Street. He was one of the founders of the Walsall Socialist Club, a branch of the Social Democratic Federation whose members were extreme socialists, greatly influenced by the writings of Karl Marx. The club was based in a rented house at 18 Goodall Street which had been procured by one of the members, John Wesley, who had a brush making business next door at number 17.
This was a time of political unrest, most prominently demonstrated by the Irish Nationalists who had been planting bombs in England. Bombs were also planted by other revolutionary groups known as anarchists, who at an international conference in 1881 at Brussels announced their intention to use the dagger, the gun, bombs, and dynamite to promote their cause.
Local police forces were quite rightly interested in the activities of such groups and kept a close eye on them. Walsall's Chief Constable, Christopher Taylor had been keeping a close watch on the activities of the Socialist Club and became concerned about the presence of the four foreigners. At the time many European immigrants were political refugees who brought their political beliefs with them, and so their presence in Walsall set alarm bells ringing.
The police had informers within the anarchist movement and so the Chief Constable turned to them in an attempt to discover what was going on. Aguste Coulon, a London-based anarchist and police informer mentioned that bombs were being manufactured in Walsall, which led to a visit by Inspector Melville from London. He informed the Chief Constable that Jean Battolla, a flamboyant Italian was about to visit the town, and so the police kept a lookout for him. Two police officers Taylor and Melville were on duty when Battolla arrived at Walsall railway station. They followed him to the Socialist Club, and then followed him when he left to go to William Ditchfield's house in Green Lane with Victor Cailes and Marie Piberne. They then followed the group back to the Socialist Club and continued their vigil until their watch ended at 8 p.m.
By this time they had observed Joseph Deakin, Frederick Charles, and John Wesley going in and out of the club several times. Afterwards Sergeant Cliffe took over the police watch until Taylor and Melville returned the following morning. Battolla stayed the night in Walsall, and his activities, and those of the club members were noted. In the afternoon they followed Battolla, Wesley, and Charles to the railway station where Battolla caught the five twenty train to London.
On 6th January, 1892 Joseph Deakin went to London, where he was arrested for refusing to explain why he was in possession of a bottle of chloroform. Battolla was also arrested.
Back in Walsall the police jumped into action. On 7th January, Christopher Taylor and Sergeant Cliffe questioned William Ditchfield at his house in Green Lane and removed a plaster mould, and lead and brass bolts. They took Ditchfield into custody for further questioning. They then visited the Socialist Club and arrested Charles, Cailes, and Marie Piberne. They took away more moulds, a length of fuse, a mixture of plaster and horsehair, and some anarchist literature. At the time John Wesley was away, but he was arrested on his return to the railway station.
Deakin and Battolla were brought from London, and the whole group was held in the cells beneath the Magistrates Court. Marie Piberne was quickly released, but the others continued to be held until they could appear before the local magistrates, which they did on 21st January.
During the proceedings the Chief Constable stated that when Charles was arrested he was in possession of a loaded revolver, ammunition, and a sketch of a bomb. He also said that on the night of 15th January he had been given a statement written by Deakin stating that the chloroform had been taken to London at the request of Frederick Charles. The Chief Constable also stated that Deakin was later interviewed by Inspector Melville. During the interview Deakin stated that Charles was a police spy. He then supplied Deakin with paper to write a second statement. In the statement he stated that he and his comrades had been making bombs, and that the idea had originated in a letter to Charles from someone at the anarchist club in London. He believed the bombs were to be used in Russia against the tyrannous regime of the Czar.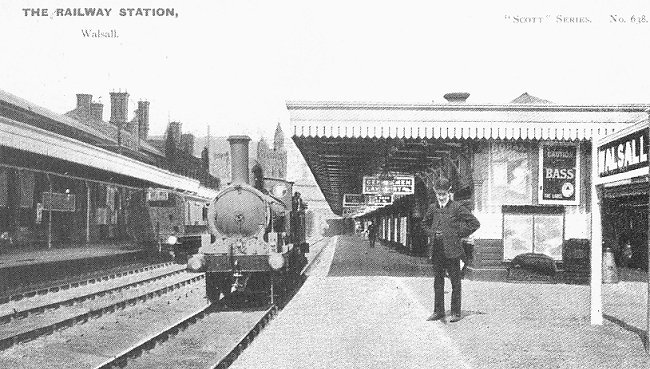 Colonal Ford, a Home Office explosive expert gave evidence about the moulds. He stated that they could be used to produce the casing for a bomb if they were slightly adjusted during moulding, but admitted that he would not have thought them to be suspicious if it hadn't been suggested beforehand. He also said that the fuse was not suspicious, being just ordinary miner's fuse.
Evidence was given to show that on 23rd November, 1891 the moulds had been sent to Mr. Bullows, an ironfounder in Long Street to ask for a quotation for some castings. He unsuccessfully tried to produce samples, but there were problems with the mould. The police later asked him to try again, and this time he was successful after slightly altering the mould. It hadn't occurred to him that the castings might be for bombs.
Several other experts gave evidence, and all six men were committed for trial at Stafford Assizes.
The trial took place on 30th March, 1892 before Mr. Justice Hawkins, and the Attorney General, Sir Richard Webster, Q.C. in the Crown Court Room at Stafford Shire Hall. The defendants were charged with two offences under the 1883 Explosive Substances Act:
1. That between 1st November, 1891, and 7th January, 1892 at the Borough of Walsall, with being in possession of explosive substances for unlawful purpose.
2. That between 1st November, 1891, and 7th January, 1892 they unlawfully conspired together to cause by explosive substances, an explosion in the United Kingdom.
The evidence was much the same as had already been given at Walsall. None of the defendants gave evidence. After a short trial Charles, Cailes, and Battola were sentenced to ten years penal servitude, and Deakin to five. Ditchfield and Wesley were acquitted.
After the convictions many socialist campaigners believed the whole thing was a police plot. A London journalist called Nicholls was imprisoned for making speeches, and publishing pamphlets in which he stated that the men were framed by police spies, notably Aguste Coulon.
After the trial Walsall Council presented Chief Constable, Christopher Taylor with fifty pounds for his efforts in the case. It had been rumoured that the Czar of Russia presented him with a diamond tiepin. It is not known what happened to Wesley, Ditchfield, Cailes, and Battolla, but Joe Deakin returned to Walsall and continued his socialist work. Frederick Charles married twice, and became involved in socialist agricultural experiments. He died in Oxfordshire in 1934.
The episode leaves a lot of unanswered questions. Were the castings really for bombs? If so where were they to be used? Did the police simply over react?
The Walsall Anarchists (1892)
From the Walsall Free Press and South Staffordshire Advertiser. April 1892.
In January, 1892, five men who lived in Walsall and one who lived in London, were arrested on charges of being in possession of explosive substances for an unlawful purpose and conspiring to cause an explosion in the United Kingdom of a nature likely to endanger life or to cause serious injury to property, under the Explosives Act of 1883.
The prisoners were:
| | | | |
| --- | --- | --- | --- |
| Frederick Charles | (27) | 57 Long Street, Walsall | Commercial Clerk |
| Victor Cailes (French ) | (33) | 18 Goodall Street, Walsall | Railway man |
| John Wesley | (32) | 17 Goodall Street, Walsall | Brush Maker |
| William Ditchfield | (40) | 272 Green Lane, Walsall | Hand Filer |
| Joseph Thomas Deakin | | 238 Stafford Street, Walsall | Railway Clerk |
| Jean Battolla (Italian) | | Charlotte Street, Soho, London | |
Joseph Deakin was one of the founder members of the Walsall Socialist Club which met at 18 Goodall Street, Walsall. He had represented the United Kingdom at an International Anarchists Conference in Brussels where he had met Cailes, Battolla and Aguste Coulon, member of the Autonomie Club group of Anarchists. Cailes was wanted by the French police and he came to Walsall where Deakin helped to find him a job.
The case was first brought before the Walsall magistrates and the prisoners all complained about their treatment, accommodation and food. 'The Chief Constable admitted that the prisoners were only given enough food to keep them alive'.
It later emerged that one of the prisoners had been woken up and cross examined in the middle of the night and been offered whisky and cigars as an inducement to make a statement. However, a subsequent enquiry by the Walsall Watch Committee as to the treatment of the prisoners whilst in custody at Walsall, exonerated the Chief Constable Christopher Taylor, and as subsequent documents illustrate he was rewarded by the Treasury for his efforts.
On February 16th, 1892, the case was transferred to Stafford Assizes, although the trial did not begin until March 30th. The case came before Mr. Justice Hawkins and the Attorney General (Sir Richard Webster, Q.C.) who led the prosecution for the Crown. The prisoners all pleaded not guilty and it does appear from the evidence that Aguste Coulon, an anarchist based in London had acted as an agent provocateur for the police. However, evidence was also given at an attempt to manufacture explosive devices, although this was unsuccessful. A number of Anarchist pamphlets, found at 18 Goodall Street, were also read out in the court, which appeared to threaten a bombing campaign. The prisoners claimed that most of this literature had been planted by the police.
In April 1892, the jury found Charles, Cailes, Battolla and Deakin guilty. Wesley and Ditchfield were discharged. The Judge sentenced Charles, Cailes, and Battolla to ten years penal servitude and Deakin to five years penal servitude.
Many socialist and labour clubs throughout the country campaigned against the sentence, believing the whole thing to be a police plot.