---
John Bagnall and Sons
The Bagnall family came from Broseley, where John Bagnall was a mining engineer. He was baptised at the Parish Church on 4th November, 1730. The church is now known as All Saints' Church, but when John Bagnall lived there it was an earlier building, known as St. Leonard's.
He married Margaret Dixon in St. Leonard's on 2nd December, 1753, and they had seven children: William, Elizabeth, John, Edward, Mary, Daniel, and Margery. In the 1770s the family moved to Darlaston where they had a house and land in Pinfold Street. John had a number of coal mines on his land, and mentioned in his will that he extracted coal in his garden. He died in 1800 and was buried in the graveyard at St. Lawrence's Church on 19th March. His wife Margaret was buried there on 12th February, 1815.
Their descendants founded and ran coal mines and iron works in Wednesbury and West Bromwich, and created a business that became one of the area's largest producers of coal and iron in the first half of the 19th century.
Around 1780 John Bagnall and his sons acquired Golds Hill Iron Works in West Bromwich, alongside the canal, near to the Wednesbury boundary. They also mined some of the surrounding land under the terms of a lease obtained from the land owner, Lord Dartmouth, which entitled him to one fifth of the annual profit each year. The mines were extremely productive. In 1859 3,527 tons of coal were extracted from Lewisham Pit which made an annual profit of £973. The following year a total of 4,236.5 tons of coal was removed, and the profit increased to £1,058.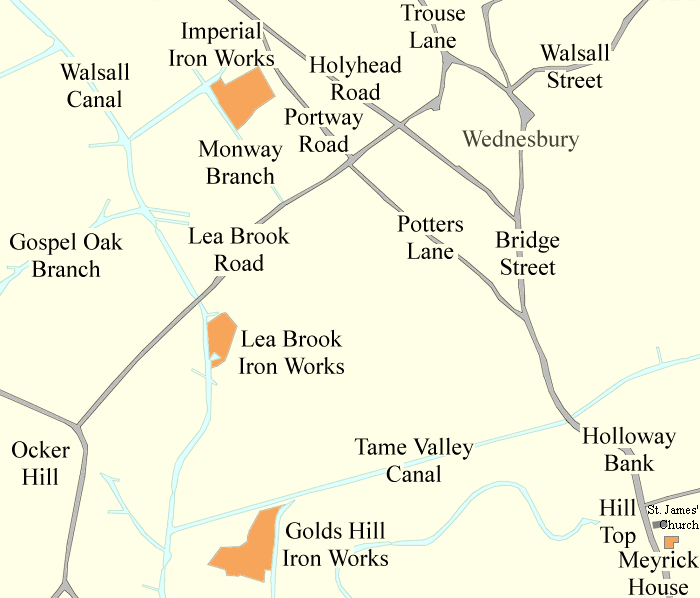 The location of Bagnall's ironworks in Wednesbury and West Bromwich.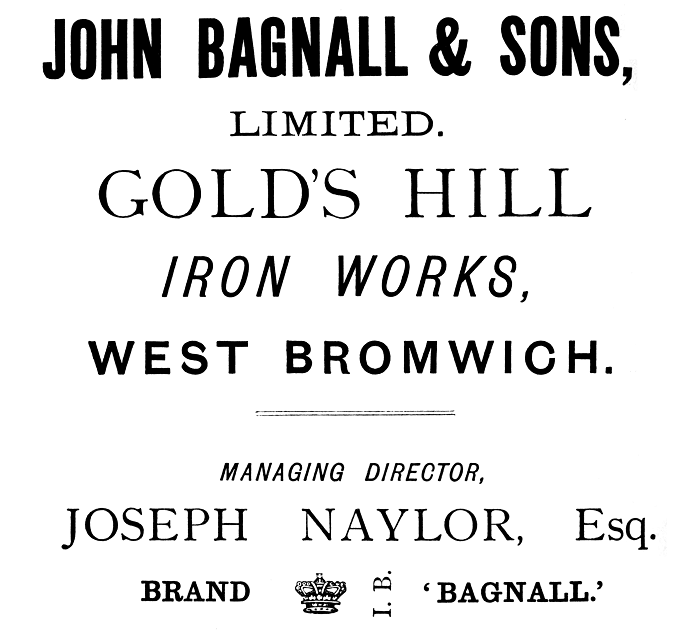 An advert from Griffiths' Guide to the Iron Trade of Great Britain, published in 1873.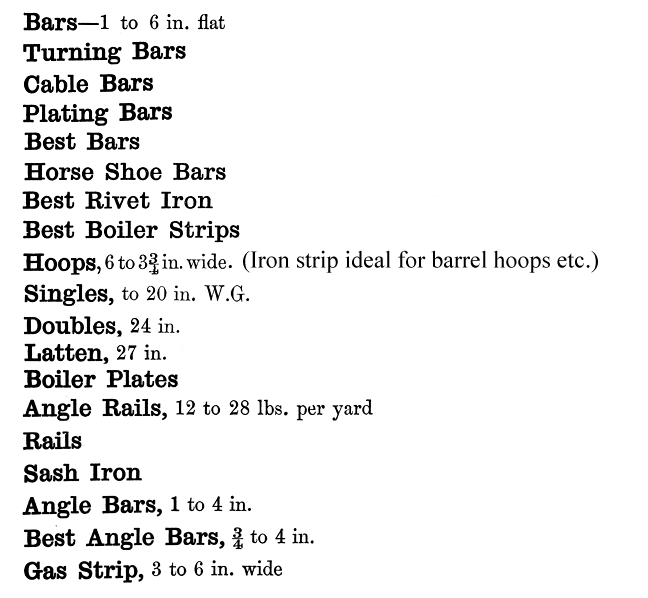 A list of products from 1873.
John Bagnall and Sons was established in 1800 by John Bagnall junior. He was joined in the business by his five sons: John, William, Thomas, Samuel, and James. The firm soon acquired Lea Brook Iron Works, at Wednesbury. John admitted his five sons into co-partnership with him on 24th June, 1828. He died in the following year on 23rd of November. John's brother Edward married Mary Wilkes from Tipton, but died at the early age of 44 in 1805. His daughter, Martha, married Edward Charles Thorneycroft, the twin brother of Wolverhampton's first mayor George Benjamin Thorneycroft who ran Shrubbery Iron Works.
The company acquired the Capponfield Iron Works at Bilston, where there were three blast furnaces producing first class grey forge iron. In 1872 only two of them were in blast.
John Bagnell junior died on 4th February, 1840 and was succeeded as head of the firm by his brother William who became a member of the Institution of Civil Engineers in 1848. At the end of 1844 they acquired the Imperial Iron Works from John Russell & Company, and by 1848 Bagnalls produced around 250 tons of iron each week, using the I B Crown brand name. In 1851 the company won medals at the Great Exhibition for the I B Crown iron, and soon afterwards installed a simple single cylinder beam engine made in Wednesbury by James Davies to power their rolling mill. The engine continued in use until the 1950s.
In 1857 Thomas Bagnall left the firm and retired from the iron trade. In September of that year his sons John Nock, Charles, and Thomas Junior also left the firm. They then became involved in coal and ironstone mining at the Ward Colliery, Bloxwich. John Nock Bagnall also wrote the first history of Wednesbury which was published in 1854.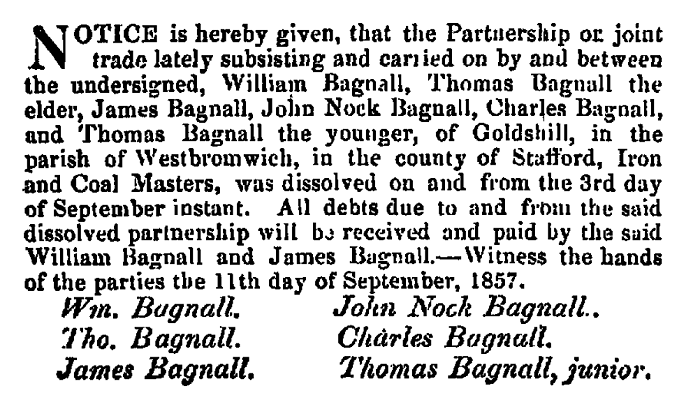 The notice that appeared in the London Gazette on 15th September, 1857.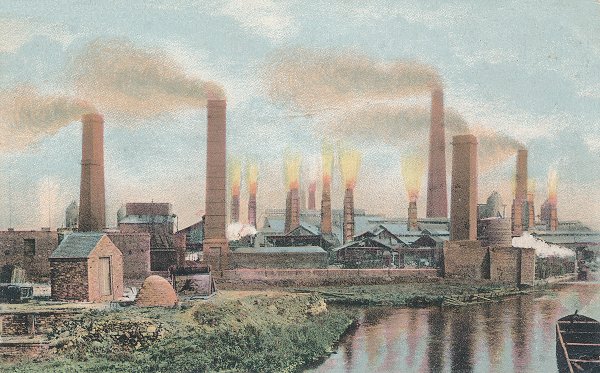 Lea Brook Iron Works photographed from the bridge over the canal.
James and William retained control of John Bagnall & Sons, with Richard Bagnall as partner in some of the coal mines. Sadly William Bagnall died suddenly on 12th August, 1863 at his family home, Hamstead Hall in Handsworth. He was 66 years old.
The last surviving member of the Bagnall family to be involved in the company was James Bagnall who died at his home, Meyrick House, Hill Top, West Bromwich, on 12th of January, 1872. He became a member of the Institution of Civil Engineers on the 16th of February, 1841, and became an active County Magistrate. He was appointed as a Justice of the Peace in October, 1845 and later became a Deputy Lieutenant for the County of Stafford. His funeral service was held at St. James' Church, Hill Top, which was next door to his house. A large number of people including the company's employees and some of his poorer neighbours attended the funeral.
The Bagnall family gained a reputation for being considerate employers. In March 1853 they began to run evening classes for their employees in a purpose-built school that opened four nights a week. Classes began at 7p.m. By the end of the year there were 227 students ranging in age from 10 to 20. They were taught general knowledge and given text books. In 1855 a school for boys, girls, and infants opened at the factory. It was intended for children of the employees, but also open to outsiders. School fees were between two pence and six pence per week. That year there were 226 children at the school, which was known as Golds Hill School. The school board purchased the site and buildings in 1878, and after improvements, reopened the school as a board school for boys, girls, and infants. The school survived until 1950.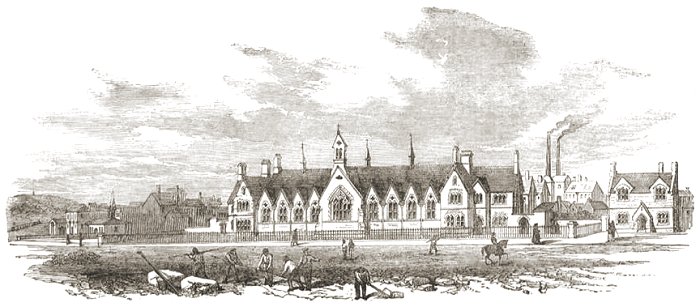 Golds Hill School from The Illustrated London News, 3rd February, 1855.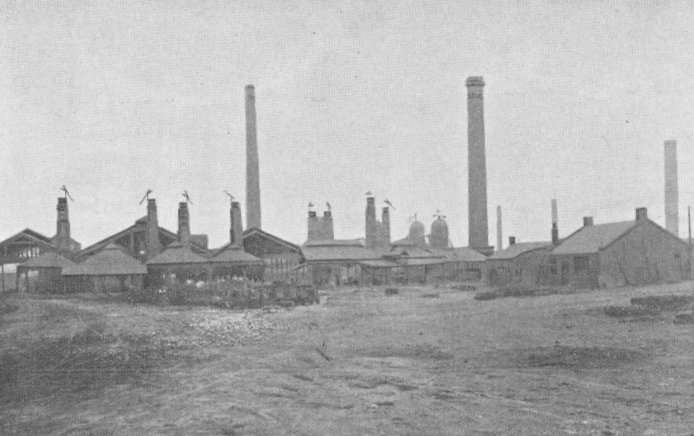 Imperial Iron Works.
The street that runs through Golds Hill was named after the Bagnall family and is still called Bagnall Street. The family name is still well known today because William Gordon Bagnall established the Castle Engine Works at Stafford, where Bagnall railway locomotives were made.

From The Western Mail, 11th March, 1878.

In 1872 there were three blast furnaces at the Golds Hill site, two of which were in blast, producing first class grey forge iron. There were also 75 puddling furnaces and 8 mills and forges.

As a result of James Bagnall's death, John Bagnall & Sons Limited was incorporated in 1873. The Directors were A. E. Wenham (Chairman), M. J. Whitehouse, G. W. Butler (Managing Directors), T. P. Harris and J. C. Forrest. At the time they had around 400 employees.

By 1878 things were going badly wrong. Sales of iron had fallen to an all-time low, and the coal mines were largely worked-out. The business was reconstructed. The blast furnaces were now uneconomical to run and so the Golds Hill factory closed, and was offered for sale in 1881.

Many of the company's mines closed, or were sold, and Imperial Ironworks was sold to the Patent Shaft and Axletree Company in the 1890s. Bagnalls then decided to concentrate solely on the Lea Brook Iron Works.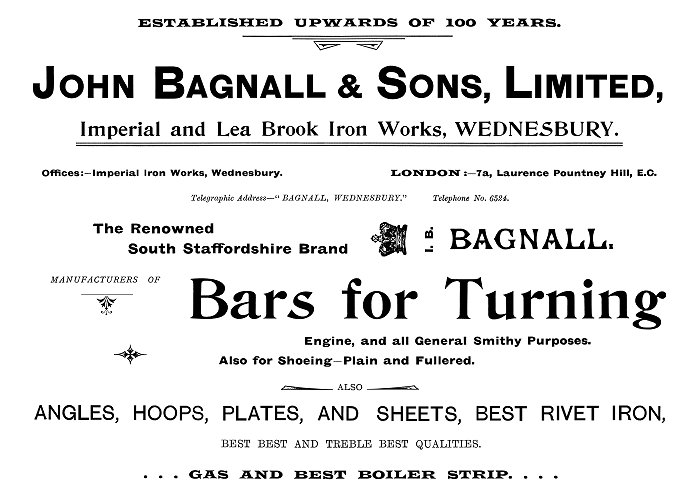 An advert from 1897.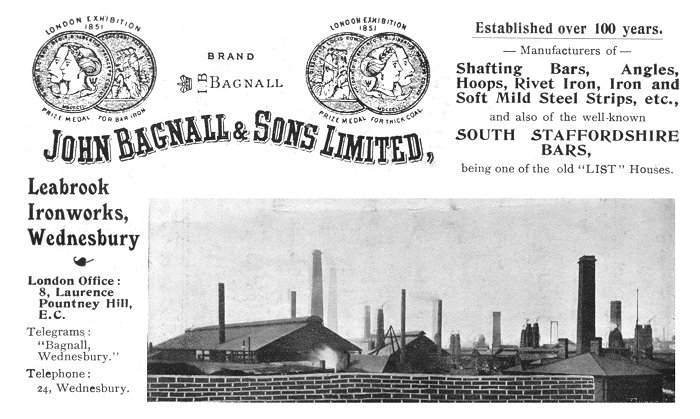 An advert from 1907.
The Lea Brook site managed to survive. It became a subsidiary of N. Hingley & Sons of Netherton Iron Works in about 1918.

Wrought iron continued to be produced there until the mid 1930s along with some crude iron which was produced until 1958.

In 1960 Lea Brook works were re-rolling steel made outside the district into strip for the car industry. Around 250 people worked there at that time.

The factory closed in the 1980s recession, and was demolished in 1992.


An advert from 1931.
---