The first written references to Wednesfield come in the Anglo Saxon chronicles where there is reference to a great battle at Wednesfield in which the Mercians and their allies inflicted a defeat on the Danes which lead to effective end of their power.
It has always been an important part of Wednesfield's traditional history that this great battle was fought there and a reference to it appeared on the Wednesfield Urban District Council's coat of arms.
Unfortunately the records are not all that clear. It is not even clear if they refer to one battle or two; or whether the battle was fought at Wednesfield or, as some of the sources say, near Tettenhall. This is not the place to go into this matter in any detail but it does seem that the better current opinion is that the Smestow valley, between Tettenhall and Wolverhampton, is the more likely site of the main engagement.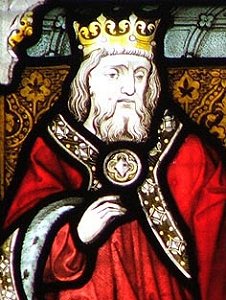 A representation of King Edward the Elder, who was king of Mercia at the time of the battle of Wednesfield.