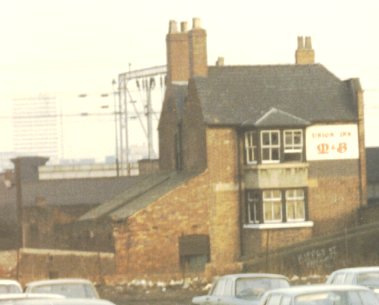 The temporary station can just be seen to the left of, and behind the Union Inn. This photograph was taken in 1974, just before its demolition.
It was designed by Edward Banks and built by William Jarrow of Leicester at a cost of £380.

A single platform was built on top of the embankment, and the station was accessed via a walkway down the embankment. A loading area, possibly for carriages was reached via two tracks at the rear of the building.

The contract for the construction of Queen Street station was placed in July 1849 and the temporary station opened on 12th November of that year.

Work on Queen Street station was delayed because a decision was made to divert the canal.