| | | |
| --- | --- | --- |
| | | |
---
The Woodlands, on Penn Road, is one of Penn's grandest buildings. Since 1945 it has been the Woodlands Quaker Home, a private residential home, run by the Society of Friends. The house was built in the late 1890s, on the site of an earlier house, originally called 'Penn Villa', but later known as 'The Woodlands'.
The Early Years

The first large scale map of Staffordshire was produced by William Yates in 1775, followed by a smaller version in 1798.

The Woodlands estate is not marked on the 1798 map, and so probably did not exist at that time. It is however, clearly marked on the next detailed map of the area, produced in 1838, by the Ordnance Survey. It is marked as 'Penn Villa'.


From the 1838 Ordnance Survey map.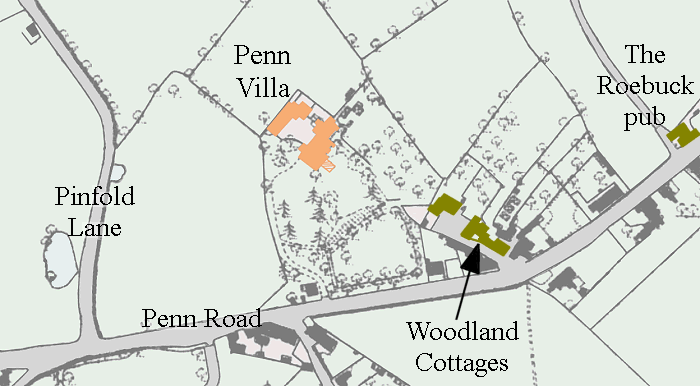 The original house and out buildings, as marked on the 1885 O.S. map.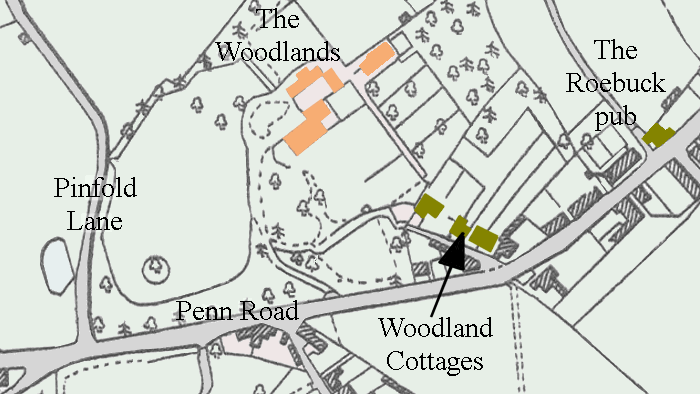 The later house and out buildings, as marked on the 1919 O.S. map.
Penn Villa belonged to Thomas Higgins Burne, who owned much of the surrounding land. He was born at Himley in 1791, and became a wealthy land and property owner, who in 1823 moved to Loynton Hall, near Stafford.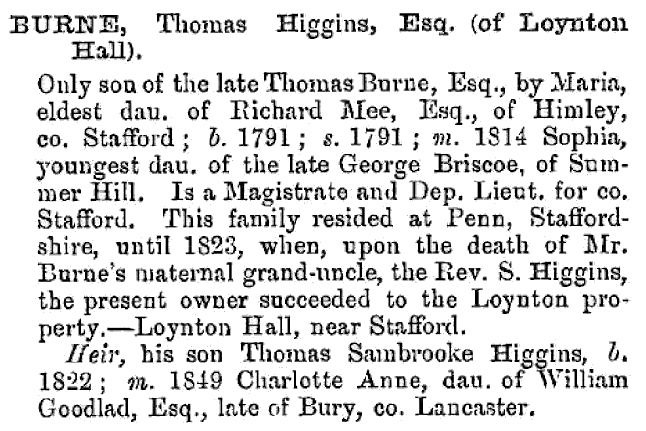 From the 'County Families of the United Kingdom' by E. Walford.
After his death, some of the estate was sold at auction, on 31st July, 1861. The sale included just over three acres of land behind the Roebuck pub, in two plots, which were sold to a Mr. Mason for £765. Another three acres of land, including a house and garden, opposite the top of Pinfold Lane, was sold to a Mr. Weaver for £1,265. The house was occupied by Mr. Tudor, the tenant, and previously by Mr. P. Deakin. Other pieces of land sold at the auction included one acre at The Butts, three acres called Perry Pit, three acres near The Hollybush pub, and just over an acre at Merry Hill. In September 1862, Penn Villa, the estate, and woodland, was sold to Benjamin Savage for £3,000. The house then became known as 'The Woodlands'.
Benjamin and Ann Savage
The Savage family is listed in the 1871 census as follows:
The Woodlands, Upper Penn.

Benjamin Savage age 61, born in Wolverhampton. Wine and hop merchant.
Ann Savage age 59, wife, born in Wolverhampton.
Children:
Ann Savage age 33, Elizabeth Savage age 27, Lucy Savage age 23, Frank J. Savage age 25, Jessie Savage age 21, and Fanny Savage age 19.
Servants:
Marry A. Wheeler age 37, Cook, and Ann Mason age 28, Housemaid.
In those days there was a lodge at the Penn Road end of the drive. In 1881 it was occupied by Charles Long, age 63, a gardener and domestic servant, and his family.
Benjamin Savage was born on 15th May, 1809, and christened at St. Peter's Church, Wolverhampton. His parents were Thomas and Mary Savage. His marriage details are listed in the Penn Parish Registers, as follows: On the 8th May, 1834, Benjamin Savage of Kinver, married Ann Smallwood of Penn, at St. Bartholomew's, Church, Penn.
Benjamin was a wine and spirit merchant, a hop merchant, and maltster, based in Wolverhampton. He also owned a number of properties and shops in the town. Benjamin and Ann moved to 'The Woodlands' from 'The Bhylls', in Bhylls Lane, Castlecroft, which was purchased by William Butler, the owner and founder of Butler's Brewery, who may have been one of Benjamin's customers.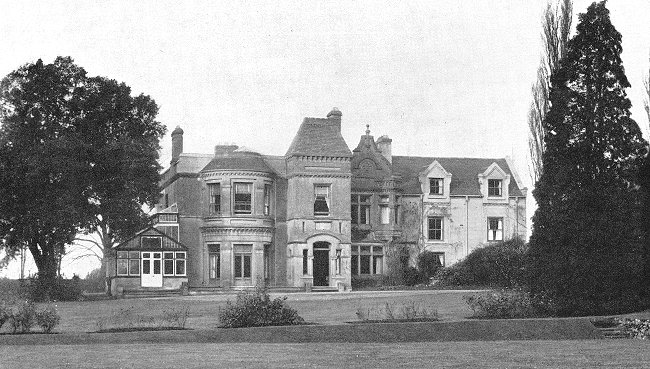 The Bhylls, later called Bellencroft.
Benjamin joined his father's business, and eventually ran it himself. His business is listed in the Wolverhampton section of Melville & Company's 1851 Directory, as follows: Benjamin Savage, hop and wine merchant and maltster, Queen Street. Home – The Bhylls.
During its existence, the business moved several times, as can be seen from the following Wolverhampton listings in trade directories:
William White's History, Directory, and Gazetteer of Staffordshire, 1834: Hop Merchants, Savage Thomas & Company, Cleveland Road.
Robson's 1839 Trade Directory: T. & B. Savage, Cleveland Street, Maltsters, Hop Factors, and Corn Dealers.
Pigot and Company's 1842, Staffordshire Directory: Wine & Spirit Merchants, Benjamin Savage, Dudley Street.
Slater's Classified Directory, 1851: Savage Benjamin, malt, hop & wine merchant, Queen Street
J. G. Harrod & Company's Postal Commercial Directory, 1870: Savage & Son, wine, spirit, and hop merchants and maltsters, 62 Queen Street.
Benjamin Savage died on the 18th August, 1876 at the Woodlands, and Ann Savage died on the 28th June, 1886, also at the Woodlands.
John and Mary Brotherton
In the late 1880s, The Woodlands was sold to local tube manufacturer John Brotherton, and his wife Mary. The family is listed in the 1891 census as follows:
The Woodlands, Upper Penn
John Brotherton age 61, Managing Director of tube works, who was born in Wednesbury.
Mary Anne Brotherton, wife, age 57, born in Wednesbury.
Children:
Thomas Brotherton age 25, William F. Brotherton age 21, Alfred C. Brotherton age 20, Albert H. Brotherton age 18, Florence M. Brotherton age 16, and Harold B. Brotherton age 13.
Servant:
Ethel A. Walker age 22.
John Brotherton was born in Walsall Street, Wednesbury, on 20th September, 1829. His parents were Richard Brotherton, a file cutter, and Mary. Unfortunately Richard Brotherton died at an early age, leaving his widow to bring-up her large family.
John started an apprenticeship at his uncle Cornelius Whitehouse's gas and water tube works, first working in Wednesbury, and later at his uncle's Monmore Green Tube Works in Wolverhampton. Cornelius Whitehouse invented a greatly improved method of making tubes. His invention led to the development of the local tube industry, both at Wednesbury and Wolverhampton.
John moved to Wolverhampton, and in 1861 established the Imperial Tube Works in Bilston Road, Wolverhampton, in partnership with Wordsworth Harrison, and John Kelly. The firm produced a wide range of products including hot water tubes; lap-welded boiler tubes; artesian and petroleum well tubes; refrigeration tubes; sealed oven tubes; steel and iron tubes for gas, water, and steam; fittings for gas water and steam; tuyere; anvil; and other coils; and railway signal and points rods.
In 1869 John Kelly left the business, as was reported in the October 1st, 1869 edition of the London Gazette:
Notice is hereby given that the partnership for some time past carried on by Messrs. Wordsworth Harrison, John Kelly, and John Brotherton, as Gas Tube Manufacturers, under the firm of John Brotherton and Company, at Monmore Green Works, Wolverhampton, in the county of Stafford, was this day dissolved by mutual consent, so far as regards the said John Kelly, by his retiring from the said partnership concern, and the business will from henceforth be carried on by the said Wordsworth Harrison and John Brotherton alone, under the firm of John Brotherton and Company, who will receive and discharge all claims due, and owing from, or to the said partnership concern. Dated this 23rd day of September, 1869.
Wordsworth Harrison.
John Brotherton.
John Kelly.
By 1871 the firm employed around 100 men and 80 boys. In 1886 Imperial Tube Works became a limited company which was known as John Brotherton Limited.

In 1897 the New Brotherton Tube Company Limited was formed, and on 26th October of that year the firm acquired a second factory, purchased from The Electric Construction Corporation. It stood on the corner of Commercial Road and Walsall Street.

By 1914 the firm employed around 400 people. In 1922 the business was sold-off.

John and Mary Anne Brotherton were married in about 1850. In the 1871 census they are listed as living at 116 Dudley Road, Wolverhampton.

John is described as an iron tube manufacturer, employing 100 men and 80 boys.

Their children were John E. Brotherton age 18, Elizabeth Brotherton age 17, Mary A. Brotherton age 14, Harriett Brotherton age 10, James Brotherton age 9, Annie Brotherton age 7, Thomas B. Brotherton age 5, William F. Brotherton age 10 months, and Alfred C. Brotherton age 9 weeks.


An advert from 1902.

John Brotherton in his mayoral robes.

For many years John served on Wolverhampton Council. He was elected to the council in 1873 as one of the representatives of St. George's Ward, and became a member of the town's Waterworks Committee, who significantly improved the local water supply.

In 1883 he became mayor, and greatly contributed to the town's Fine Arts and Industrial Exhibition in 1884.

In the 1881 census they are listed as living in Penn Road House, Wolverhampton. By this time the family had grown to include: Albert aged 8, Horace aged 6, and Harold aged 3.

The family moved to the Woodlands in about 1888. On 27th May, 1895, William Frederic Brotherton, who worked in his father's business as an agent, married Nellie Florence Gosnell. They moved to Cricklewood, Middlesex, where he worked as a representative to an iron tube manufacturer. Presumably John Brotherton Limited.
By 1896 the Brothertons had left The Woodlands. They moved to Goldthorn Terrace off Goldthorn Road. In the 1911 census John and Mary Anne are listed at 30 Chandos Road, Cricklewood, Willesden, the home of their son William and his wife Nellie.
Sadly, Mary Anne died in December 1915, and was buried at Merridale Cemetery on 21st of that month. Almost two years later to the day, John died. He was buried in the same grave on 15th December, 1917.
When the Brothertons left The Woodlands, It was purchased by Neville Mander, who demolished the old house, and replaced it with the house that is there today.
Neville Hanbury Mander
In 1896, Neville Mander and his wife, Emily, purchased The Woodlands estate. The house and outbuildings were demolished, and replaced with the house that is still there today. A new coach house and stables were built, and the gardens were redesigned.

Neville, the second son of Charles B. Mander, born in 1862, was delicate in childhood and suffered throughout his life from a speech impediment.

He was well-liked by the employees at the family's business; Mander Brothers' varnish and ink factory, Townwell Works, John Street, Wolverhampton.

For many years, Neville sat on several committees at the General Hospital, later known as the Royal Hospital.

On the 19th June, 1890 he married Emily Louise Campbell, daughter of Colonel Archibald Edwardes Campbell, of the Bengal Staffordshire Corps, at Emmanuel Church, Compton Gifford, Plymouth.


Neville Hanbury Mander.
The family is listed in the 1901 census as follows:

The Woodlands, Upper Penn.

Neville Hanbury Mander age 38, born in Wolverhampton. Employer, varnish manufacturer.
Emily Louise Mander age 30, wife, British Subject, born in India.

Children:

Hilda age 8, Irene age 2,

Servants:

Annie Hughes age 35, nurse; Edith Evans age 19, under nurse; Emma Rowley age 30, cook; Teresa Bowyer age29, parlour maid; Elizabeth Broadhurst age 26, house maid; Mary James age 22, house maid; and George H. Griffiths age 27, coachman, who lived with his family in the lodge.

The new house was designed by London architect H. T. Hare, and built by the local builder H. Willcock & Company. Features included an oak-panelled and oak floored inner sitting hall with a moulded ceiling, a white panelled drawing room, a pleasant morning room, a dining room, an oak panelled billiard or music room, 7 principal bedrooms, and a servants' staircase leading to 5 secondary bedrooms. A conservatory was built at the rear.

There was also a servants' hall, a china pantry, 2 kitchens, and a larder. The house was fitted with central heating and electric lighting. Outside was a double garage, a small garage, a double carriage house, and stables with a saddle room. There was also a wooden shelter in part of the garden, known as The Paddock.

Neville Mander died on 7th July, 1919, and Horton Estates took over the estate management. The house was put-up for sale in 1920, but his wife Emily Louise, and daughter Irene, continued to live in the house until 1923 when they moved to Penn Croft.
| | |
| --- | --- |
| | The first page of the 1920 sale catalogue. |
The following photos are from the sale catalogue: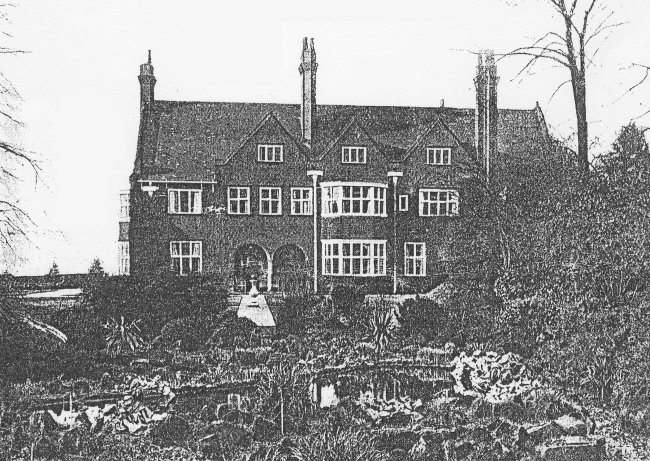 The House and Rock Garden.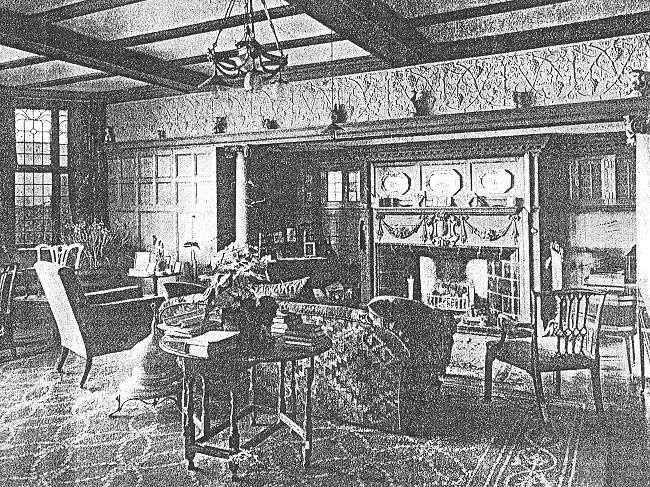 The Music or Billiard Room.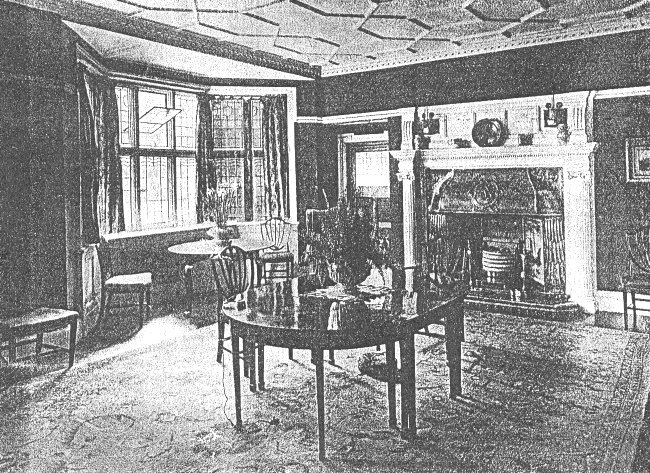 The Drawing Room.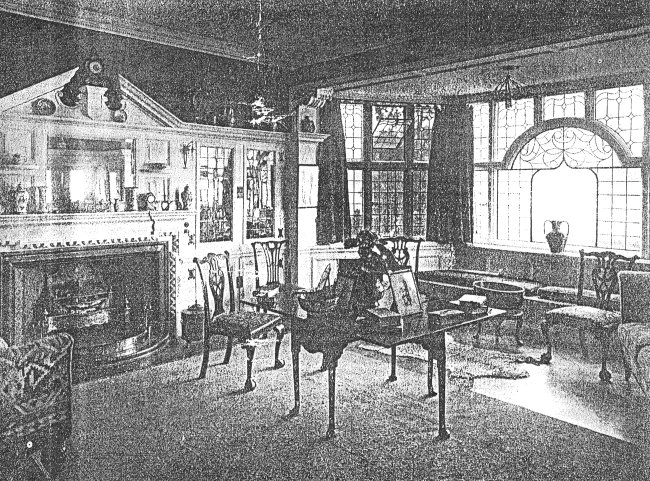 The Dining Room.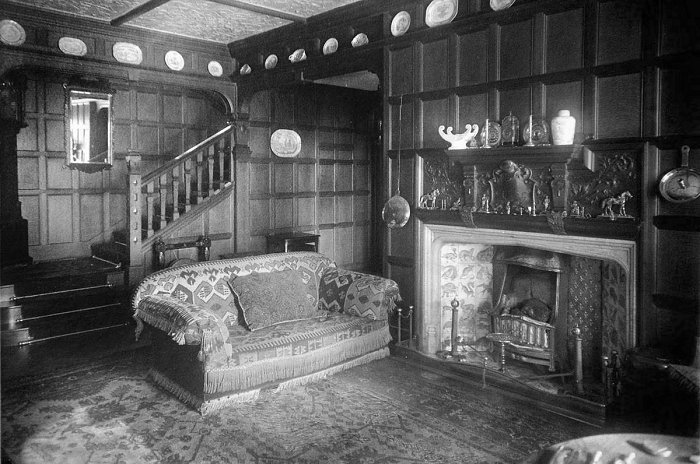 The Inner Sitting Hall.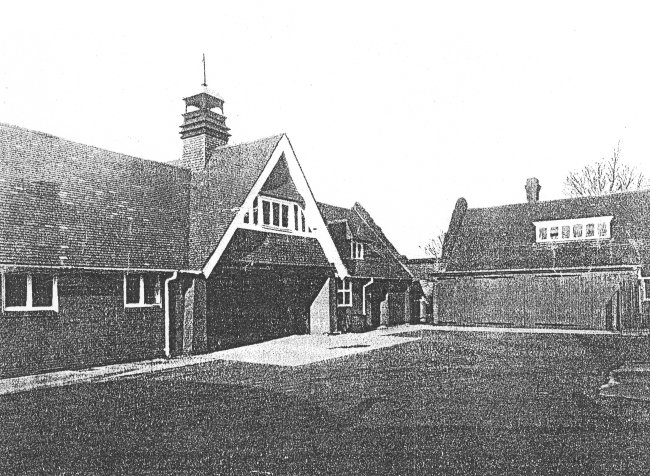 The Stables and garages.
George Mason

The woodlands was purchased by the once well-known grocer George Mason, who owned a large number of grocery shops. There was at least one in almost every town centre. He must have moved into the house with his family in 1923 when Emily and Irene Mander moved to Penn Croft.

George was born in Blymhill, Staffordshire in 1884. He learned the grocery trade while working as an apprentice in a small grocery store in Newport, Shropshire. In 1901 he formed a grocery company with a friend, surname Williams, who had worked with him, also as an apprentice in Newport. They founded Mason and Williams, and opened their first grocery shop in Lozells Road, Aston, Birmingham, in 1901. Within five years they had 140 shops in the West Midlands, but the two men fell out and so the partnership was dissolved. They each took 70 shops, but George, being the better businessman, was more successful, and gradually purchased the other70 shops from his one-time partner.

He intitially traded as 'May-Sun' and owned factories to produce his own jam, biscuits, and cakes, and also a cookhouse in Digbeth that made sausages, and produced cooked meat. His products were second to none. There were over 400 members of staff at the head office in Bradford Street, Digbeth, managed by George's second in command, Thomas Bridgett. The two were workaholics, and expected their staff to be the same, slacking was not tolerated. The business was George's life, he had little time for anything else.

By the time of his death on 22nd August, 1934, at the age of 50, he owned nearly 500 shops. The once familiar George Mason grocery stores were to be found in the West Midlands, throughout Wales, and Lancashire. George died at The Woodlands, and left £332,885.18s.1d. in his will. After his death the business continued to thrive and expanded to cover most of the country.

A school, a hostel, and finally a care home

After George Mason's death, the house became a school. His executors rented the house to Miss D. M. Fox, who opened a girls' school there.


From the 1938-9 Wolverhampton Red Book.
When the school closed in 1941, the house became a hostel. The executors rented the estate to the Friends Relief Service Committee as a home for evacuees and refugees. As well as making alterations inside the house, the committee redeveloped the stables to provide extra accommodation. The refugees included a party of Mennonites, who were a Christian group, making their way from Canada to Europe, to help victims of the war.
When the war ended in 1945, the Society of Friends purchased the estate in order to create a home for the elderly. They took control of the estate on 1st November, 1945. Suitable alterations were made to the house, and it became the Woodlands Quaker Home. Today the house has 35 residents, and the stables, now known as 'The Spinney', has 9 bedrooms and facilities for people suffering from severe dementia. Also on the estate is 'The Paddock', a building that contains 25 warden-assisted flats.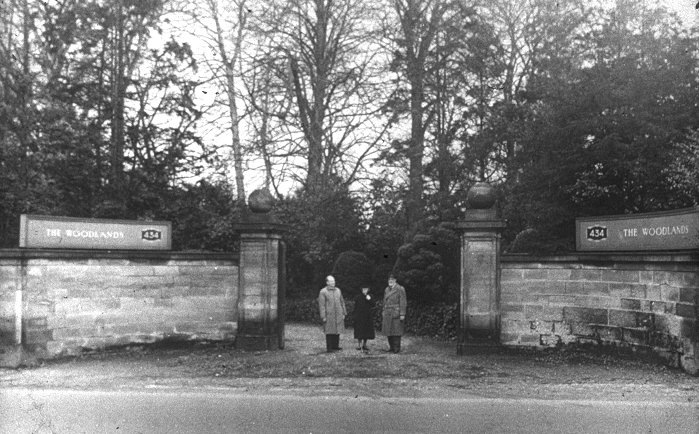 The original entrance on Penn Road.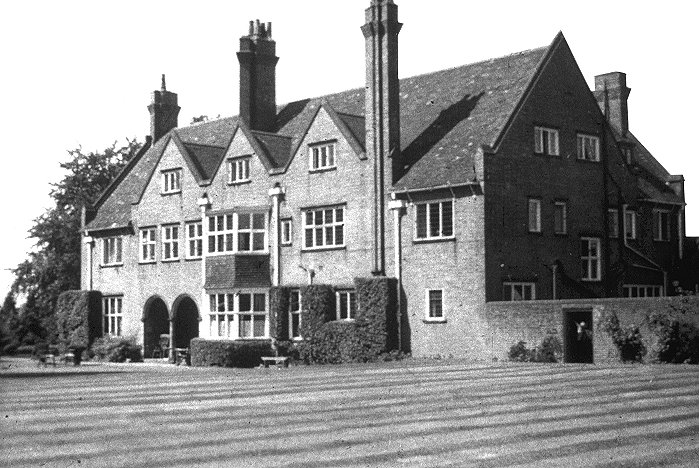 The house in about 1946.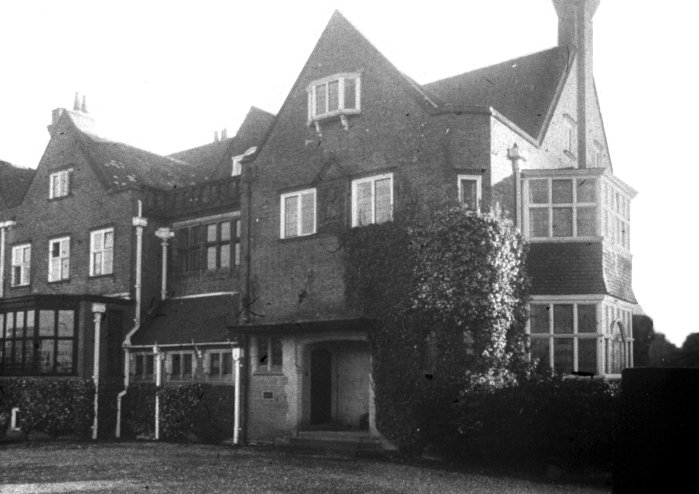 The main entrance to the house, also in about 1946.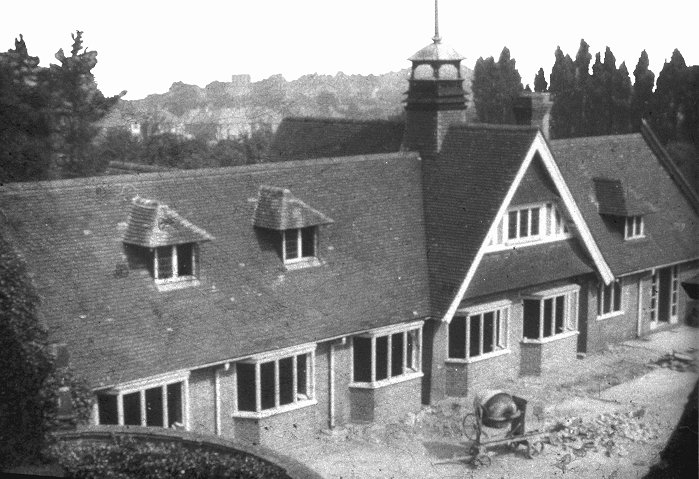 Rebuilding the stables.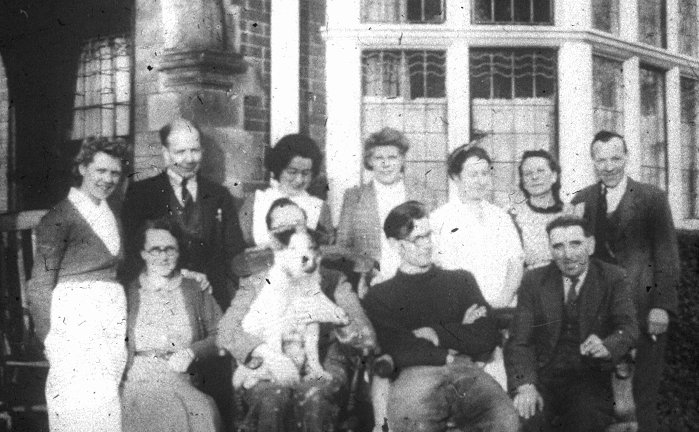 Some of the early members of staff.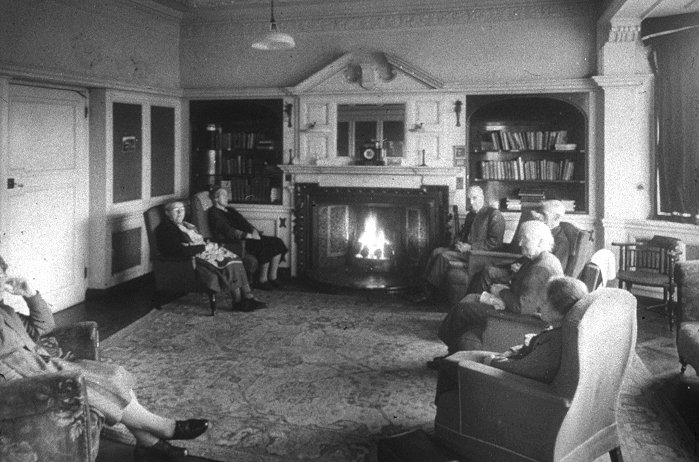 Some of the early residents in the sitting room.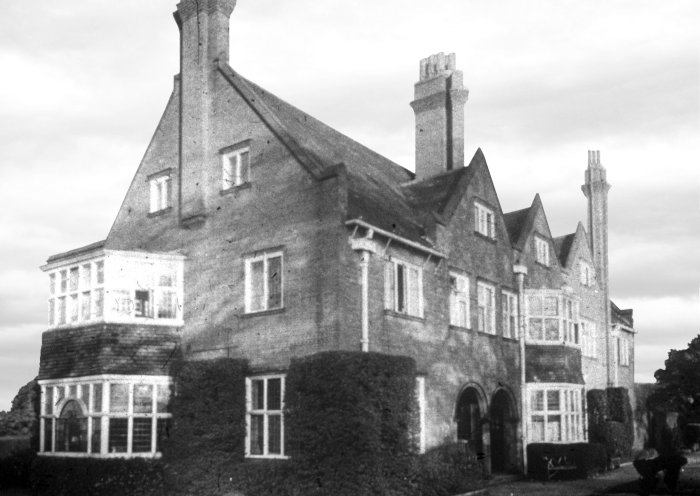 Another view of the house, from around 1946.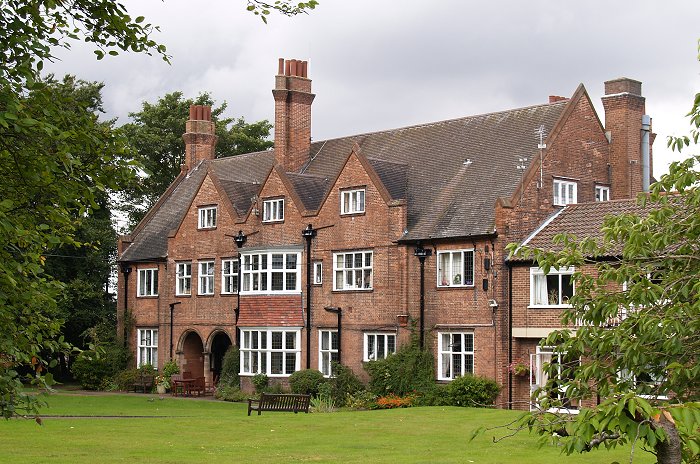 The house, with the modern extension on the right. As seen in 2012.
The Woodlands is now known for its homely atmosphere and high level of quality care. The lovely house, the well-maintained gardens, and the home's reputation for excellent care, now make the Woodlands Quaker Home a very desirable residence for the elderly.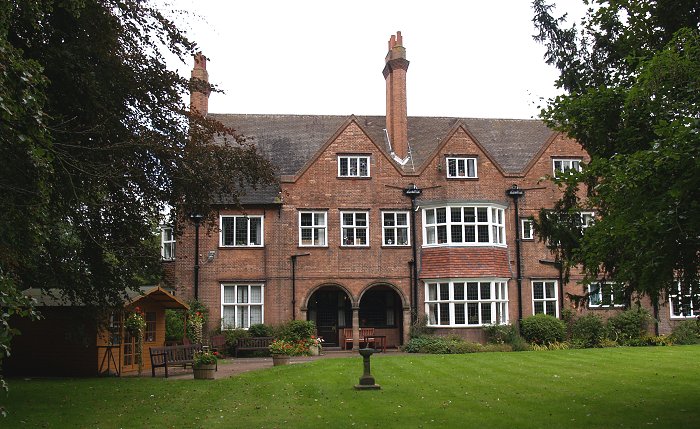 A final view, looking across the front lawn.
---