---
A reader who wishes to remain anonymous has sent in an evocative account of life in one of the working-class heartlands of old Wolverhampton - Herbert Street. It is a memoir that will resonate with anyone who grew up in the older neighbourhoods of Dudley, Walsall, West Bromwich, Birmingham and elsewhere in the West Midlands.
I was born in 1920, in Herbert Street, Wolverhampton. It was surely one of the busiest streets in the town. It was cobbled, but has recently been tarmacked to give the coaches from the Faulkland Street coach park a smoother ride. In its heyday, thousands of carts and lorries trundled down the street - carts with solid rubber tyres to be weighed in at the bottom before entering the Herbert Street goods station.
The street always had a line of carts from early morning till late evening. The houses were just slums really, and in the 1920s the one side of Herbert Street was flattened, along with Faulkland Street, Littles Lane and Southampton Street. Southampton Street ran along the bottom of Herbert Street, Falkland Street, Littles Lane and Montrose Street and only had houses on one side. The railway wall was on the other. So with only one side of Herbert Street remaining, this was just an area of wasteland, dotted with old wells, cellars and broken bricks. The only part of the side of Herbert Street to be knocked down before the war was No 5 court - four bad slums at the front and four even worse slums at the back.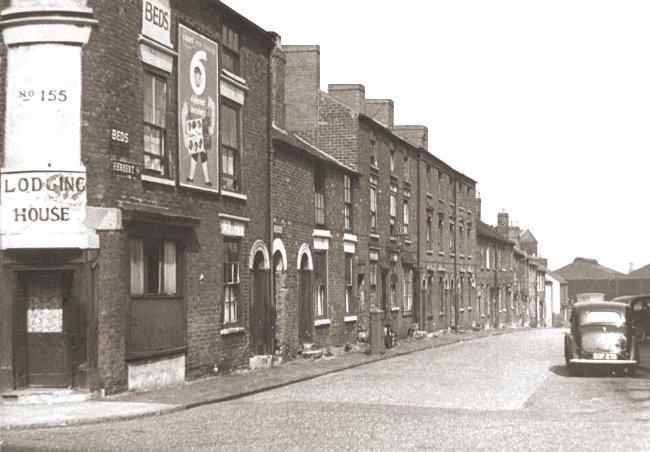 Herbert Street.
Families
People had to share four toilets between eight dwellings. Each of these consisted of a board with an aperture in it with a half dustbin underneath (no flush toilet) which was dragged down the entry each week by the "night dirt" men and tipped into a special cart - happy days! There was a pump in the small square of these eight slums before they modernised it. By the side of the pump they put a tap (no more pumping), one tap between eight families. Great!
The older generation, my grandad and gran, with whom my mother and father and Albert, my cousin, and I lived, had the hobby of keeping pigeons, along with lots of other old folk, and these were raced over a distance of three quarters of a mile. This was from a place called the Garden Hills, which overlooked the engine repair yard of the GWR on the Stafford Road, and thence to the various yards of the pigeon fanciers.
It was a time trial race and they had to move from yard to yard as the pigeons were released at specific times. It was all done with precision, but that didn't stop a lot of arguments as a pigeon had to "touch down" to be timed correctly. I can see my cousin Albert on the wooden steps with the hen of the cock who was flying, trying to entice it to land quietly. The race was only 3d or 6d to enter, but crowds went from yard to yard on a Saturday morning and there were those who tried to scare the pigeon into not landing first time, so you can imagine how sometimes there were ugly scenes.
As I've said, Southampton Street ran along the bottom of four streets and there are only about 50 or 60 yards left now. Nevertheless this is the site of the old Wulfrun coal wharf and the point, until it was filled in, where the canal boats entered the Herbert Street goods station. The only indication of it is a walled-up bridge still visible today. As you pass over the bridge towards Littles Lane bridge there is the lock keeper's house, at the side of which is a little chapel and school house, now used as a welding shop, and so on down to the "Nineteen Steps" and Butlers Brewery, with a gate one person at a time could get through. The chapel was exclusively for the boat people.
The wasteland of the three streets was put to good use between 1930 and 1935, when you could earn 2/- for a load of broken bricks (you had to break them to the size of a tennis ball and they were used as foundations for new roads). There were dozens of piles of broken bricks with men and children hard at it for a bit of pocket money. Between the canal bridges I've mentioned was a public house (I believe it was called the Talbot), used mostly by the boat people. After 1930, when the public house closed down, a lady made sweets there. It was eventually demolished.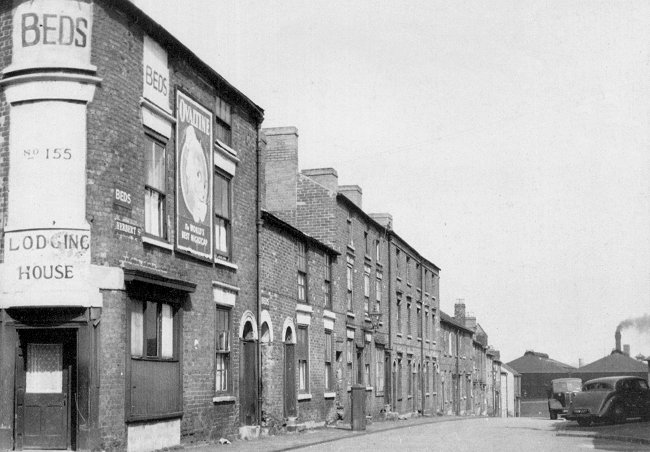 Another view of Herbert Street.
The young chaps of the 1930s couldn't get jobs and they would play with "glarnies" at "shoot the ring" for cigarettes or ha'pennies. They were experts at this and could sometimes shatter the glass marble with the force they could shoot. With a large number of wells, it was inevitable that somebody was going to fall down one of them. The boy in question had been down for some time when the milkman, who sold milk from a churn suspended between two wheels, arrived to effect a last minute rescue. The lad was in a bad way when rescued by this courageous man who went down the well. The rescuer finished up covered in mud and slime, and as he came into the street to retrieve his milk float, Mr B, who lived next to us, told him to go up the entry to his brew house and get cleaned up. What he forgot to tell him was that his daughter, who was 20, was having a bath in the washing tub and she gave one scream when he opened the door. You could hear it all over the place. He said it was worse than going down the well. She was a really lovely girl who got married, had a baby and a few days later died aged 24. It was really tragic.
There was one large well in the middle of what is now the coach park. It had two semi-circular plates and was 5ft to 6ft in diameter, with two semicircular holes in the middle to take the pump. It was very deep, but it had no water. We know because we used to drop bricks down it and it took a second or two till we heard it hit the bottom.
In about 1935 an organisation called the Good Companions levelled the patch off. They were unemployed and their wages were a 1/- a day and a hot dinner. I can't remember the empty well ever being filled in, and after being levelled off by the Good Companions the two plates were still visible, even up to the start of the war.
Survived
Was it ever filled in? And was there ever a windmill there? A few yards away there were three or four stone wheels about 3ft 6in in diameter and about 18in deep. Were they buried when the patch was levelled? The lads who had no chance of a job decided to join the Army and, Albert included, spent five years in India. At the start of the Second World War they were first to be called up, but most survived Dunkirk and the war.
The only part of Littles Lane remaining is about 25 yards long, but the original buildings are still there along with a plaque on the wall commemorating the men of South Staffs who gave their lives in the Great War: Moogan, Nolan, Pitt, Connoly etc. There were 13 or 14 altogether and to cap it off they've changed the name of this small stretch of Littles Lane to Thornley Street, just off Stafford Street.
On Sundays we had the Sally Army to entertain us and sometimes the Boys Brigade or Scouts, along with the watercress man shouting his wares, the hurdy-gurdy man and ice cream vendor. Most of the time on Sundays we went for long walks to the Ball at Coven or over the seven cornfields to Baggeridge Wood or bluebelling at Orton Hills, "scrumping" as we went along or blackberry picking, returning late at night.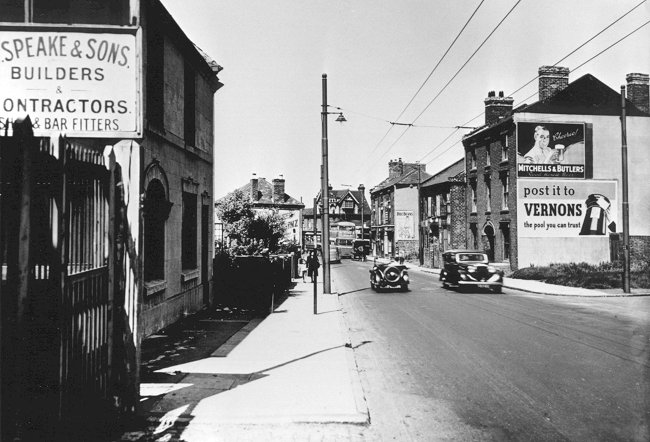 Stafford Street.
The canal in the summer was our swimming pool and we were always in when the weather was hot. Nobody had 2d for Wolverhampton Baths. The Co-op, in 1931 or thereabouts, started a scheme for a trip to Rhyl. You got a card on which you saved 2/- in blue 2d stamps (12 stamps); for this you had a bag of buns and a small bottle of milk on the train, and during the afternoon at Rhyl another bag of buns and bottle of milk with a packet of biscuits on the road back. It took months to save this 2/- and we never had any money to spend when we got to Rhyl, so to get presents to take back home there was a lot of "pinching". I shall never forget how me and my pal went into Woolworths and he took a fancy to a ball on a strip of elastic, so into his carrier bag it went and we moved away. Imagine our horror when the ball suddenly shot out of the bag back on to the counter, it happened to be tied to about 100 others. Sadly my friend was killed on the Anzio beach head.
I'd like to tell you about two attractions or entertainments. One was an escapologist who was put into a straight jacket and then tied up with a 30ft or 40ft length of chain. This was on the site of the Tin Shop Yard, less than a stone's throw from the Wolves football ground, and took place on a Saturday afternoon before the match. He always had a big audience. A chap who lived in Herbert Street invariably had the job of tying him up. He was well over 6ft and built like a heavyweight boxer. He was about two to three years older than us, but at 14 years of age he could carry one of us under each arm and he certainly made a good job of putting the chain round his neck and putting his knee in his back to make sure it was tight. I don't think he realised his own strength, for the bloke was fighting to get his breath, his face was the colour of beetroot. After being trussed up he'd drop on the ground of the Tin Shop Yard, which was littered with broken bricks and bricks half-buried, and proceed to get free.
Sometimes it took a fair amount of rolling and shaking to try to get the chains loose, he must have been black and blue with bruises, and then there was the straight jacket problem. He certainly earned the coppers he got from the crowd. I've seen escapologists on the TV and on the stage but he was the real McCoy.
The other entertainment was a Professor Povey, who climbed a mast about 50ft high where he was set alight by an assistant and dived into a tank 15ft to 20ft in diameter, which was also set alight by an onlooker. We were about 12 at the time and the tank was about 6ft deep, and of course we got as near the tank as possible. It was a free show with just a collection after the dive.
Cold
Down he came in flames. It wasn't a dive as such but a sort of belly-flop. He doused the flames all right and splashed half the tank of water over us. We were saturated, but we had to laugh although it was a cold dark night on the site of today's Wolverhampton Market. At the bottom of the Nineteen Steps was a fish and chip shop which a Japanese man ran. This was well before the war. I don't know what happened to him. His name was Mr. Watibiki and he was probably interned. I do know he had relations who are still alive today.
The people down Herbert Street could tell some tales - everyone was a character. Relations of Terry Duffy, who ran the engineering union, and the McDermots lived there. Charlie Stowe, the Walker Cup golfer, married a girl from that street.
---