---
Lyons Wright who came from Ottringham, Holderness, Yorkshire was born in 1824. He ultimately became "The Wolverhampton Water Company's" chief engineer and subsequently became its manager, is my first cousin 5 times removed and he is related to me through my x2 Great Grandfather Henry Blenkin born 1841. Henry Blenkin's father was a farmer holding approximately 300 and 400 acres of land in the Holderness area of Yorkshire.

Henry Blenkin's grandmother Elizabeth WRIGHT (who also came from farming stock as did the Blenkin's - in the Ottringham area of East Riding) married Thomas Blenkin in 1804. She had a brother called Robert Wright born 1786 who had married Mary BEATSON. They had a son Lyons WRIGHT born 1824 who later moved to Wolverhampton from Manchester. He became chief engineer at the Wolverhampton Water Company based in Worcester Street Wolverhampton.

See: http://freepages.genealogy.rootsweb.ancestry.com/~akrb61/people/blenkin/d4.htm#c13261


In the 1841 census Lyons Wright is shown as aged 15 and living with his father Robert in Kingston upon Hull. In 1851 he's still living with his parents but his occupation is described as a Civil Engineer. In 1855 he marries Mary Paulina WILTON in Patrington East Riding in 1858 and they have a child in Chorlton a suburb of Manchester called Mary Henrietta Wright.

Sadly Mary, Lyons wife dies in 1859 in Chorlton, Manchester and by 1861 Mary Henrietta is living with her grandmother Mary Wright in Kingston upon Hull but I have been unable to find Lyons Wright (widower) in this census for that year. However, the 1871 census shows him at Worcester Street, Wolverhampton near the headquarters offices for the Wolverhampton Water Company.

In 1881, Lyons is still living at 24 Worcester Street Wolverhampton with his mother Mary aged 80 and his daughter Mary Henrietta aged 23. Again in 1891 Lyons is living at the same address with his daughter. Sadly by 1892 Lyons Wright has died in Wolverhampton and his daughter is living in Bath Road Wolverhampton.

Given that both Lyons Wright and his cousin Henry Blenkin arrive in Wolverhampton circa 1870 it is highly probable that Lyons the older cousin may have influenced Henry Blenkin (my x2 Great Grandfather) to apply for positions in the water industry at Wrexham and possibly at Wolverhampton.

The Blenkin's of Skeckling cum Burstwick - East Riding

Whilst researching my Fullwood family I discovered my great grandmother's name was Annie Louisa Blenkin but that was the extent of my knowledge about her. As I had two family group photographs I knew what she looked like but I didn't know where she came from or her family back ground.

As I knew Annie Louisa Blenkin had been born in 1869 at Wolverhampton I soon found her listed in the 1871 census record for Wolverhampton living at Cambridge House on Newhampton Road with her father Henry Blenkin born in 1841. His place of birth shown on the census record was Burstwick in Yorkshire.

The 1851 census for Skeckling cum Burstwick in the East Riding of Yorkshire shows Henry BLENKIN and his father Thomas (born 1811) Blenkin living at Burstwick Old Hall and Thomas is farming 210 acres of land. Thomas Blenkin was born in Ottringham in the East Riding of Yorkshire and died in 1875 at Old Hall Burstwick.

By the 1861 census Thomas is farming 480 acres of land and employing 8 workers and in 1871 the size of his farm had decreased to 300 acres and employing 7 men.


Extract taken from the History of Holderness.
The above extract indicates the farm house called "Old Hall" at Burstwick had been rebuilt in 1803 after an earlier building had been demolished. Below are some recent photographs of the "Old Hall".
Recent photo of Old Hall Burstwick.

The Blenkin family home at
Owstwick Yorkshire.
Before we move on to detail Henry Blenkin's life in Wolverhampton, sadly I found this account below in an old newspaper article taken from the Sunderland Daily Echo dated October 1904: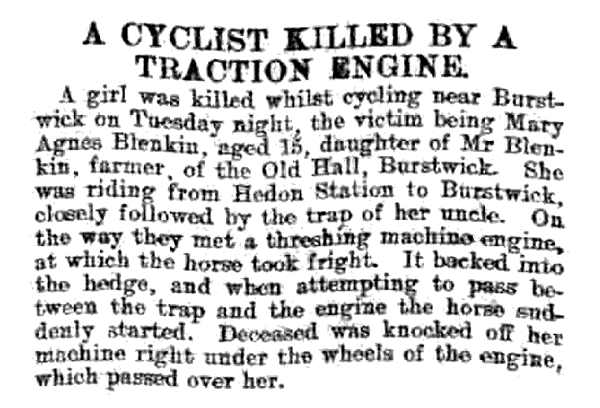 The above article refers to the death of Agnes Blenkin under tragic circumstances. Agnes was born Mary Agnes Blenkin in 1890 and her parents were Frederick Blenkin born 1846 of Old Hall Burstwick and Mary Agnes Huntley who were married in June 1887 at Registrars District of Patrington in Yorkshire. Frederick was the brother of Henry Blenkin born 1841.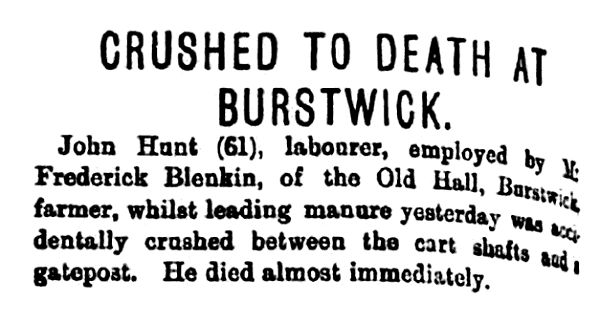 Extract taken from The Daily Mail 11th February, 1896.
Tragically even before Agnes Blenkin's death in 1904 there was one other terrible accident at Old Hall Burstwick in 1886 when Frederick Blenkin's farm labourer John Hunt was crushed to death working on the farm.

Frederick Blenkin born 1856 of Old Hall farm Burstwick, had four brothers Thomas b.1837, Henry b.1841, William b.1844, George b.1854 and four sisters Sarah b.1836, Fanny b.1839, Elizabeth b.1846 Lucy b.1848.

Elizabeth Blenkin married George Henry March in 1867 and their children formed a well known dynasty of British sculptors and artists. The March family section below details members of this family who were acquainted with their Fullwood cousins and also includes a family tree showing another sculptor in the Fullwood/Charlesworth family.
Annie Louisa Blenkin
Wife of James Treen Fullwood married in Wolverhampton Dec 1889
1869 - 1940
My great grandmother Annie Lousia BLENKIN was born in Wolverhampton on 20th July 1869 to parents Henry BLENKIN and Louisa TULLETT. They had married in the December quarter of 1868 at St. Peter's Church Wolverhampton.
Above left: St. Peter's Church drawn by John Fullwood.

Three views of St Peter's Church Wolverhampton.
Henry Blenkin my x2 Great Grandfather was christened on the 29 January 1841 in Skeckling cum Burstwick in the East Riding of Yorkshire. Louisa TULLETT his wife was born in Oswestry, Shropshire in 1847.

Henry Blenkin (b.1841) of Wolverhampton

Henry BLENKIN's first appearance in the census records away from his home of Old Hall Burstwick in Yorkshire, happens in 1861 when Henry can be seen in the census return for East Retford in Nottinghamshire. He is listed as an apprentice aged 20 lodging in the Market Place of East Retford Nottinghamshire with a Susannah Reddish aged 70, whose occupation is listed as Ironmonger.
East Retford Market Place, Nottinghamshire.
A question arises as to how Henry Blenkin (my great grandmother's father) came to live in Wolverhampton when he was born near Kingston upon Hull and lived when an apprentice in Retford Nottinghamshire.

I have been advised by the person who owns the web site below that Henry may have moved to Wolverhampton because he is related to his cousin Lyons Wright who was already living in Wolverhampton.

Below are several articles taken from old newspapers which refer to Lyons Wright activities as a Civil Engineer for the Wolverhampton water company followed by details of his funeral in 1892.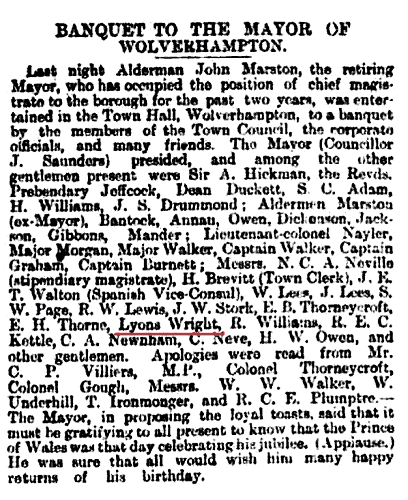 The Birmingham Daily Post 1891.
| | |
| --- | --- |
| The Birmingham Daily Post 1868. | |
| | |
| --- | --- |
| | The Birmingham Daily Post 1878. |


The Birmingham Daily Post 1892.


The Manchester Courier & Lancashire General Advertiser 1893.

Henry Blenkin's family of Wolverhampton
Lyons Wright and his cousin Henry Blenkin appear to arrive in Wolverhampton at a similar time. We also see in the 1871 census Henry has married Louisa TULLETT and together they are living in Cambridge House, New Hampton Road Wolverhampton. My great grandmother Annie Louisa BLENKIN is nearly two years old at the time of the 1871 census record.

Confirmation of Henry's and Louisa's marriage is in the extract below taken from "The Birmingham Journal" dated 31st October, 1868 confirming the marriage of Henry and Louisa at St Peter's Church Wolverhampton on the 22nd October, 1868.


"The Birmingham Journal" dated 31st October, 1868.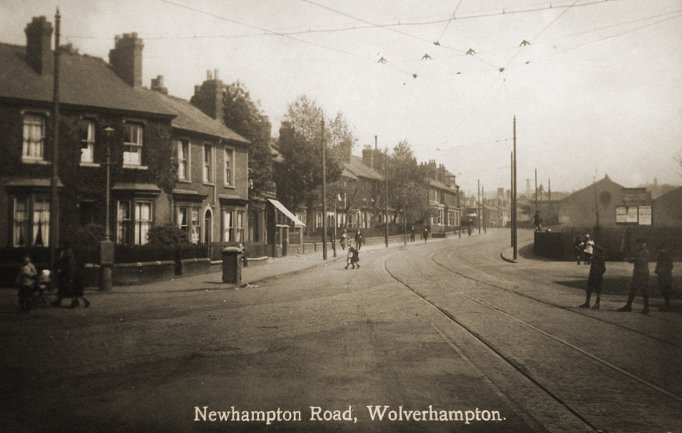 Photograph of Newhampton Road in Wolverhampton. From an old postcard.

Henry BLENKIN's (my x2 Great Grandfather) occupation in the 1871 census for Newhampton Road Wolverhampton is shown as "Collector of Water rates". A search conducted looking through old newspapers throws up an interesting issue. In the Wrexham Advertiser dated 6th July, 1867, an article refers to a Henry Blenkin of Wolverhampton being successfully elected as the next Wrexham Waterworks Company secretary. This appointment happens approximately 15 months before Henry's and Louisa Tullett's marriage at Wolverhampton.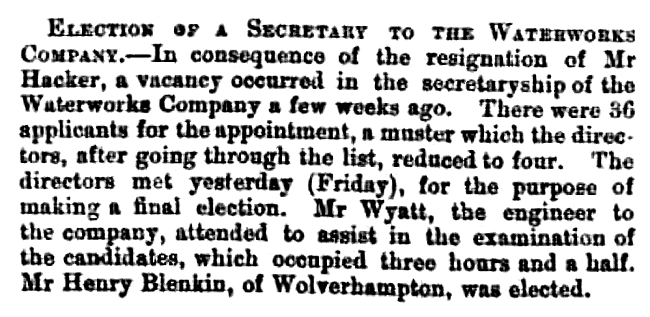 Wrexham Advertiser dated 6th July, 1867.
However, given the close proximity of each of these events a question arises about the length of time Henry Blenkin was in his new role as company secretary awarded in 1867. His place of work would have been presumably located in Wrexham while his home at the time of his marriage in 1868 and according to the 1871 census was Wolverhampton? Did Henry commute between Wolverhampton and Wrexham for 4 years or did he last only 15 months in his new position as Company Secretary before getting married? Why does Henry describe his occupation in 1871 as a collector of water rates when his job title earlier in 1867 was a company secretary? Did he resign from his Wrexham based position by 1871 and subsequently move to where his cousin Lyon Wright was working at the Wolverhampton Water Company?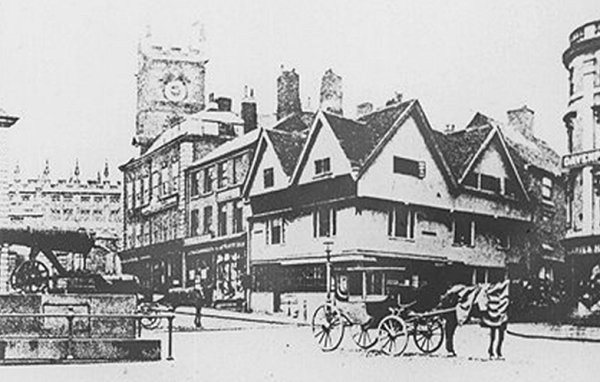 St. Peter's Church from Queen's Square [previously called High Green].
In order to identify Louisa Tullett's parents a search of the 1861 census reveals Louisa aged 15 living in St Peter's Walk Wolverhampton with her widower father William Tullett aged 49 with his sister-in-law Ann Summers whose occupation is a beer house keeper. However, by the 1881 census Henry Blenkin is still living in Wolverhampton but has moved again into a beer house located in St Peter's Walk near the church. This is most probably the same beer house Henry was living in recorded in the 1881 census?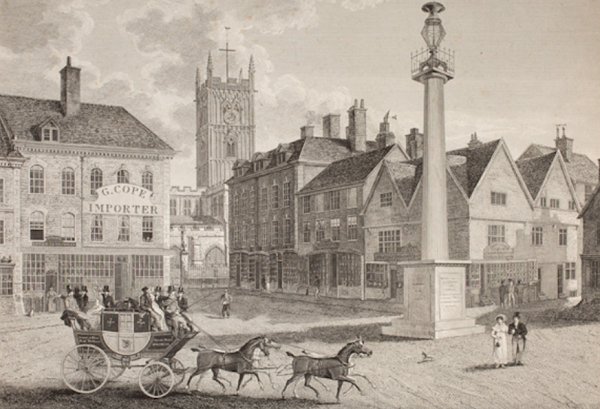 Another view of St. Peter's from High Green [now Queen Square].

Annie Louisa Blenkin's family
By the 1891 census Henry and Louisa Blenkin have moved their family to the Compton Road in Wolverhampton and his occupation is shown as a Grocer. He remains there until the 1911 census when he is shown as living in St Mark's Road Wolverhampton. Sadly Henry dies in 1916 at Wolverhampton.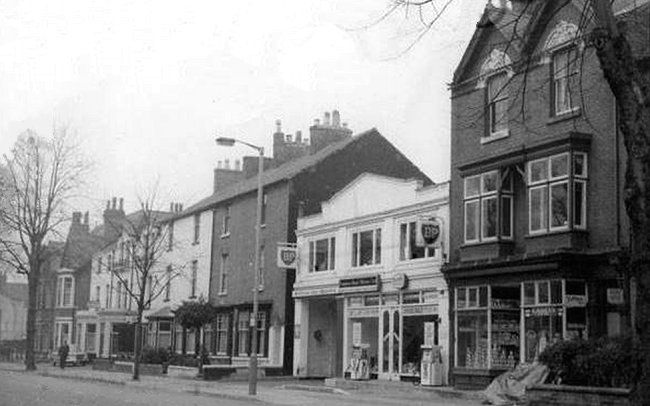 Compton Road Wolverhampton - The shop on the right is possibly Henry Blenkin's.
By 1889, Annie Louisa BLENKIN has married James Treen Fullwood (my Great Grandfather) and they have their first born child a girl called Alice Marian FULLWOOD in July 1890. Sadly Alice doesn't live long and dies within a couple of months of birth. My grandfather Frederick James Fullwood is next to be born in July 1891 the eldest of four boys and four girls.

In 1908 James Treen Fullwood buys a business called "The Staffordshire Tyre Repair Company" in Queen's Square (formerly High Green) which is situated within a stone's throw of Henry's previous residence in St Peter's Walk Wolverhampton. James' first business premises can be seen here below in Queen's Square.
James Treen Fullwood's business entrance (entrance on left hand side in all photos of the "Pictures" building) in Queen Square Wolverhampton.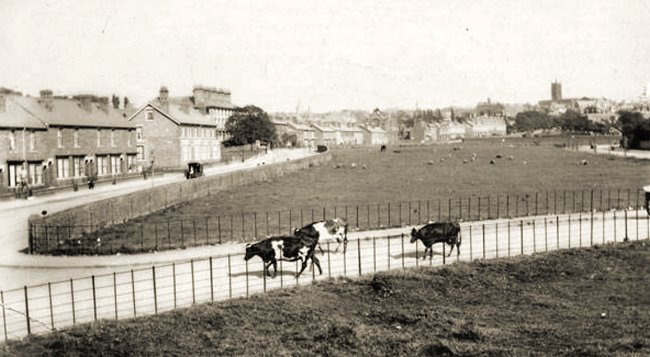 Newhampton Road East, Wolverhampton.
This picture above was probably taken just before 1900 and the houses on the left still stand today in 2014. The road where the cows are walking is called Devon Road and on the left just off the picture was the home of my grandfather Frederick James Fullwood who married Nettie Solloway his first wife. The fenced off grassy area immediately the other side of Devon Road, now harbours two schools and several houses. On the right hand side of the horizon stands the bell tower of St Peter's Collegiate Church where all marriages would have taken place for Wolverhampton at this time.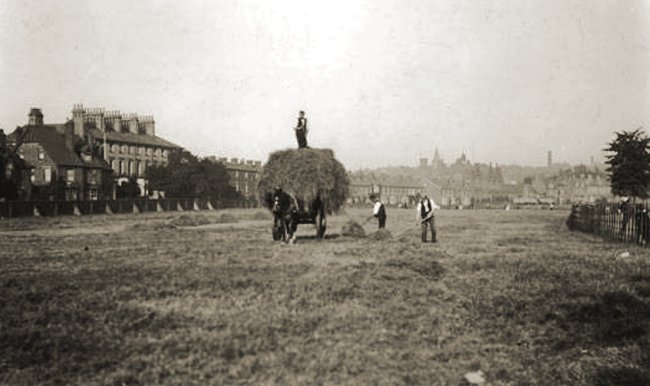 Alternative view of Newhampton Road, Wolverhampton.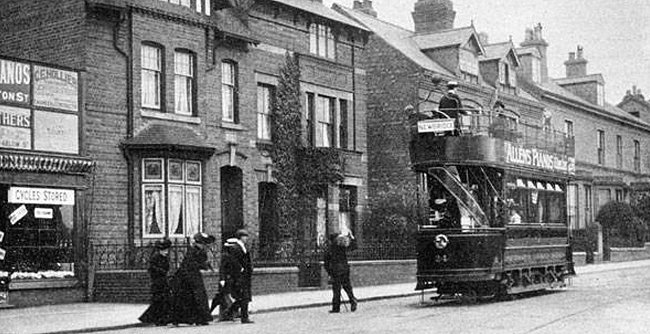 Another view of Newhampton Road East, Wolverhampton, in the vicinity of Cambridge House, where the Blenkin family resided. This area is within 200 yards of the Molineux Football Ground.
James Treen Fullwood's and Annie Louisa Blenkin's children can be seen below. Sadly Annie Blenkin's husband James Treen Fullwood died in 1939. Mrs Annie Fullwood [nee Blenkin] dies the following year in 1940.

Annie Louisa Fullwood's family (nee Blenkin).
Harold Thomas Fullwood is standing in the middle of the back row in the photograph above.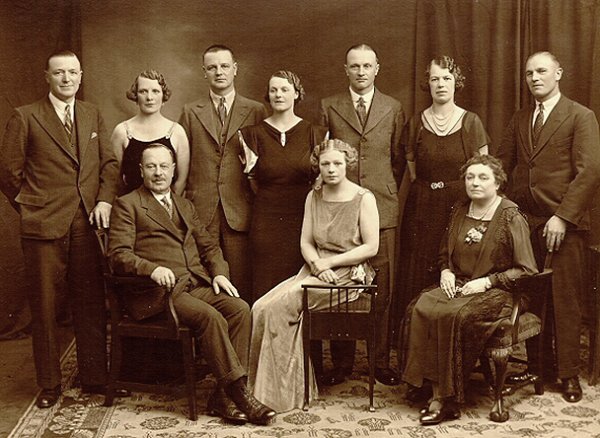 Another photo of Annie Louisa Fullwood's family (nee Blenkin).
In the portrait above, Harold is standing on the back row, second from the left.

Sydney March painted a large oil painting of Harold Thomas Fullwood and he also did two busts (one of Harold's wife Ethel) and two other oil paintings. Another well known sculptor in the family is Harold Thomas Fullwood's granddaughter and x2 Great Granddaughter of Henry Blenkin is Christine Charlesworth (nee Fullwood). She is an official artist for the 2012 Olympics and her website and short biography can be seen below using the links provided.

Christine Charlesworth (nee Fullwood)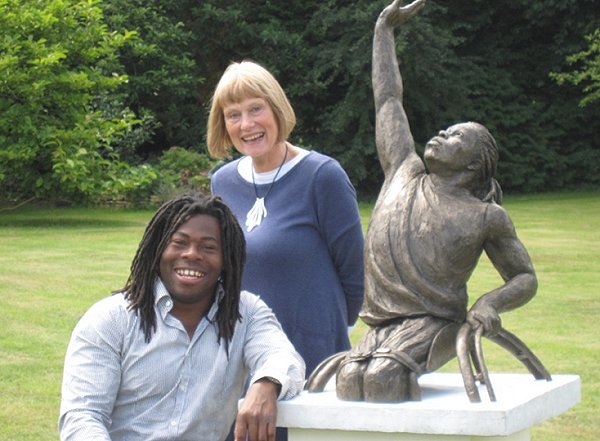 Christine with Ade Adepitan and his sculpture
Ade Adepitan is a paralympic medalist and TV presenter.
http://adeadepitan.com/2011/10/christine-charlesworth-sculpture/
http://christinecharlesworth.co.uk/
Born in Wolverhampton, Christine studied at Wolverhampton College of Art from 1966 until 1969. After following a varied career she now concentrates on sculpture, focusing particularly on the human form, which she finds to be an endless source of inspiration. She was elected a full member of the Society of Women Artists in 2007 and a member of the Royal British Society of Sculptors in 2008. Christine has to date undertaken over 40 private and public commissions.
Specialising in figurative sculptures and portraiture Christine feels it is important that a sculpture should not only capture a likeness, but also the spirit and personality of the sitter and she also endeavours to show life and natural movement in each piece. Working in clay, once the figure is built she uses sculpting tools to lay on and cut back so that a variety of finishes can be achieved, giving texture, light and depth to the final surface. Work comprises short-run limited editions and individual pieces to private or public commission.
Currently Christine is working as part of the 'BT Art of Sport' group of 10 international artists. This has given her the opportunity to produce a series of limited-edition Olympic action figures, as well as a portrait figure of Ade Adepitan MBE, Paralympic Ambassador, playing basketball. This work won an award at the 2011 SWA exhibition in London.
Christine exhibits with Surrey Sculpture Society and other venues throughout the year and also has a permanent exhibition on display at her studio, where work-in-progress can be viewed.
Sydney March (please look up on Wikipedia) a cousin of Harold Thomas Fullwood painted a large oil painting of him and produced two busts one of Annie Louisa Fullwood (nee Blenkin) and two other oil paintings.
Christine Charlesworth visited Sydney's studio when she was 18 and met him and also his sister, Elsie March. His studios were massive, with roofs that opened up so that huge sculptures could be taken out with a crane, and there were huge doors for others to be taken out. Elsie was a lovely old lady and wore a flat straw hat. Apparently his studio was such an amazing place that this inspired Christine to do sculpture.
As a member of Lyons Wright family, I would like to hear from anyone who may have information related to my cousin's family and life story. Please contact me on my email: david.fullwood@btinternet.com

Dave Fullwood
References
http://freepages.genealogy.rootsweb.ancestry.com/~akrb61/
http://freepages.genealogy.rootsweb.ancestry.com/~akrb61/people/blenkin/d4.htm#c13261
http://www.geograph.org.uk/photo/209344
http://www.geograph.org.uk/photo/209312
Sydney March: http://en.wikipedia.org/wiki/Sydney_March
Elsie March: http://sculpture.gla.ac.uk/view/person.php?id=msib4_1273584785
http://adeadepitan.com/2011/10/christine-charlesworth-sculpture/
http://christinecharlesworth.co.uk/
---