This family is unusual because they originated in Scotland, came to Wolverhampton, and ended up in Australia. The research was carried out at the request of Maurice Victor Millar's son, who still lives in Australia.

The first part of the story starts in Scotland. Thomas Hill married Katherin McIntosh on June 21st 1784, they had 11 children from 1785 to 1807. Three of the children died at an early age; they were:

John who was born on January 10th 1787
Helen who was born on 3rd July 1794
Martha who was born on November 17th 1805

Their last child Martha married John Millar on February 9th 1832, at Crail, near St Andrews, on the east coast. They had 9 children from 1832 to 1846. Two of them died at an early age; they were:

John who was born on January 28th 1838
James Hill Millar who was born on April 7th 1840

Their second son to be called James, married Pricilla Ceadell, who was born in London in 1849. They had nine children. The first two were born in London, the next two were born in Scotland, and the others were born here. The family must have moved around a lot, living in London and Scotland before moving to Wolverhampton. The 1891 census lists them as living at 13 Waterloo Road. Their eldest child Maurice, spent three years sailing around the world. Luckily for him, he jumped ship at Port Pirie in South Australia. When the ship continued its journey, it attempted to sail around Cape Horn and sank with the loss of all hands. Maurice ended up as a railway employee and married Hazel Vina Dunhill on May 14th 1918, in Frane, South Australia. They had four children, 2 sons and 2 daughters. Hazel was born in South Australia on January 3rd 1894, she died on Jan 5th 1967, and Maurice died on February 7th 1972.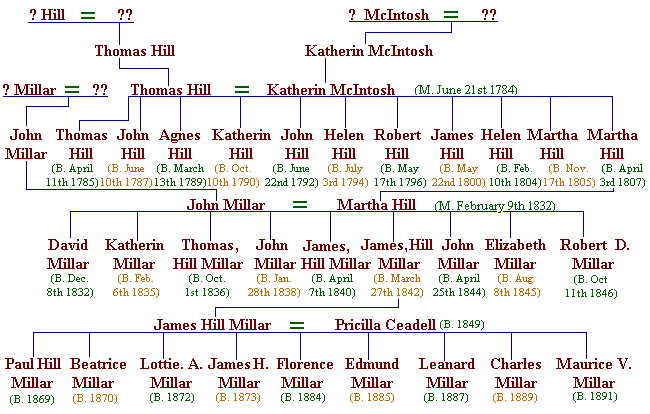 Returning to Wolverhampton, we find that James was listed as living at 13 Waterloo Road, in the 1896 and 1900 trade directories. No one with the surname Millar is listed in the 1926 street directory. James Hill Millar died in Northumberland Street, London on May 4th 1920, and Pricilla died at 13 Thurlow Road, Hampstead on January 30th 1939.
| | |
| --- | --- |
| | The Millar's house in Waterloo Road, as it is today. |