In 1891 Thomas became interested in a greatly improved method of producing phosphorus, as can be seen from the following article about phosphorus production by electricity. This is copied from a newspaper cutting that was in Thomas's cuttings book. Unfortunately I don't know where the cutting came from.
8th June 1891

Phosphorus Making by Electricity.

In the late 19th century phosphorus was used in several industries. It was used in matches, in the production of saccharine, in weapons and as a poison. It was usually produced by a labour-intensive chemical means and so was relatively expensive to manufacture, but this was all about to change.

Dr. Readman of Edinburgh took out a patent for producing the substance using electricity and his patent was bought by the E.C.C. Mr. Thomas Parker and Mr. A. E. Robinson, F.C.S. (E.E.C.'s chemist) began experimenting with the process and took out a patent for a revised process, early in 1890. The resulting process worked extremely well and the E.C.C. built a phosphorus works at Wednesfield by the side of the Birmingham canal, near to the railway station.

The process operated on a small scale using several electric furnaces, which were driven by a triple-expansion marine steam engine, delivering 700 horse power. Steam was fed from three Babcock and Wilcock's boilers, which were fed with heated water to reduce the cost of producing steam. The engine drove an alternator that was 8ft in diameter and produced 400 units of electricity. Intense heat for the furnaces was produced by powerful carbon arcs, a technique that was invented by Thomas Parker to produce a small and compact design.

The furnaces were 8ft. square and each was fitted with a hopper at the top which allowed phosphates and coke to be poured in without any heat vapour escaping. The furnaces were air-tight and so no smoke was generated and the whole of the ingredients, except for a little slag, produced the phosphorus, which was drawn from the furnace using a tapping principle, similar to that used in a blast furnace. The resulting liquid was passed through pipes and condensers, where extremely pure phosphorus was deposited. It required a minimal amount of refining and was formed into circular cakes.
The charge for the furnace was carried in buckets and tipped into the hopper at the top. It consisted of coke and an already calcined mixture of Redonda stone and tar. Each furnace operated from a single phase A.C. supply and was constructed of firebricks mounted in a framework of cast iron plates. The horizontal carbon electrodes were 12" square and received 80KW through iron connection forks. They were tamped everywhere with carbon strip, ground coke and pitch.

Care had to be taken to ensure that there was always enough material between the carbons to maintain electrical contact.


A Wednesfield furnace
| | |
| --- | --- |
| A later type of furnace. | A circular furnace was also built which performed better and was more reliable. The firebrick hearth was replaced by a gas carbon retort strip and it had a vertical electrode. The hopper was moved to one side to make way for the vertical electrode. This became the standard design and remained unchanged for some time. |
The production costs were far less than with any other system and the process was so successful that after several month's production, plans were made to enlarge the works. The patents and the works were acquired by the Phosphorus Company Limited and it was hoped that they would be able to produce 1,000 tons a year, which amounted to half the world's production.
The phosphorus furnace became known as "The Wednesfield Furnace" and appeared in many school textbooks.

In the earlier process, phosphorus was distilled in earthenware retorts and handling these was extremely dangerous due to the fire hazard.

The Parker Robinson process eliminated this hazard, making the manufacturing process much safer. The phosphorus was transported from the works in 50lb. blocks placed in a tank of water.

The drawing opposite is from the American patent for the furnace which was granted on 13th September, 1892. It shows a modified, and presumably improved form of the furnace.
Details of one of Thomas Parker's furnace patents.

From 'Engineering' magazine.
| | |
| --- | --- |
| Another of Thomas's many patents, also from 'Engineering' magazine. | |
The patents and the factory were later sold to Albright and Wilson of Oldbury for £16,000. Certain conditions were applied to the sale including a guaranteed consumption of not more than 8 units of electricity for every pound of phosphorus produced, and a minimum yield of 75 per cent.

At that time the measurement of electric current was in its infancy and so it was difficult to verify the consumption of the furnaces. Sir Alexander Kennedy, an eminent engineer, was appointed as assessor and he brought in the greatest electrical engineer of the day, Lord Kelvin. The most accurate instrument at the time for measuring electric current was the Kelvin balance and Lord Kelvin applied this apparatus to the task in hand.

The sale conditions were duly met and the sale went ahead. The Wednesfield works continued in operation for a further two years until a new factory was built at Oldbury, which opened in 1893. After transferring production to Oldbury, the Wednesfield factory was gradually shut down, and soon closed.

Albright and Wilson Limited went from strength to strength using improved versions of the Wednesfield furnace. In the early years of the First World War the company developed a range of munitions for the army including phosphorus-filled shells, hand and rifle grenades, and 'Chinese tumblers', and 'plum puddings' for trench warfare. On detonation they liberated phosphorus which produced phosphorus pentoxide, a non-poisonous gas that acted as an extremely efficient smoke screen to mask the enemy's fire.

The army initially thought that phosphorus-based munitions were far too dangerous for troops to handle, and so little interest was shown. After much persuasion the devices were accepted, and in a short space of time large numbers were being produced. The other armed services also used phosphorus devices. The Royal Navy and Mercantile Marine frequently used phosphorus smoke screens, and the Royal Flying Corps used wind-direction indicators called candles, which continuously burned phosphorus. They also used 'toffee' bombs which contained a mixture of white phosphorus and amorphous phosphorus against Zeppelins and kite balloons.

Phosphorus for smoke screens was needed in large quantities, which Albright and Wilson Limited could not hope to manufacture. The furnaces were already working beyond their safe limits producing large amounts of phosphorus for shells. To overcome the supply problem the Trench Warfare Supply Department under Sir Alexander Roger, decided, with Government assistance, to build a new factory for the production of phosphorus on the six and a half acre site at Heath Town, which had been purchased towards the end of 1915 from Lord Barnard.

Wilson Lovatt & Company of Wolverhampton were given the contract to build the factory, and work got underway in January 1916. Extra plots of land covering around six acres were also purchased, mainly from the adjacent London and North Western Railway. The factory had twelve 500kW, single electrode furnaces and condensers, with wooden tops that were lifted by mechanical gear, and filters in a separate building, similar to the ones in use at Oldbury. There were also four resistance mud furnaces, a fitting shop, carbon shop, electrician's shop, a time office, and a bungalow for the foreman. Power was purchased from the Wolverhampton Electricity Department, and production got underway in May 1917.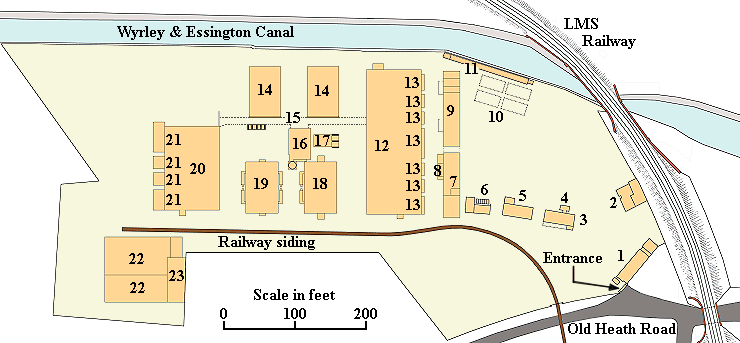 A plan of the factory based on a plan of the works from the 1925 sales catalogue.
| | | |
| --- | --- | --- |
| Ref. number | | Description |
| 1. | | Offices - single storey brick building with four offices and a toilet. slate roofed with granolithic paving outside. |
| 2. | | Foreman's bungalow - containing an entrance hall, 2 bedrooms, sitting room, kitchen, pantry, outside coal place, and paved yard. |
| 3. | | Canteen - built of wood and galvanised iron, with three rooms and a toilet. |
| 4. | | Kitchen |
| 5. | | Store - built of wood and galvanised iron, with lean-to stable. |
| 6. | | Bath house and toilets - brick built, slate roof, granolithic floor. Including 4 bath rooms, and 6 toilets. |
| 7. | | Fitting Shop - brick walls, Belfast roof, granolithic floor, divided into two sections. |
| 8. | | Test rooms - brick built, concrete roof, granolithic floor, and a toilet. |
| 9. | | Mixing house - brick built with walls 3 feet wide at the base, Belfast roof covered with ruberoid, granolithic floor, divided into 3 sections. |
| 10. | | Four storage tanks - 3 concrete, 40 ft. by 18 ft., and 1 partly formed. |
| 11. | | Canal loading deck - covered by a roof, and having open sides. The roof extends over the canal to provide shelter when loading or unloading. |
| 12. | | Furnace house number 1- built of brick up to 10 feet, with corrugated iron above. Slate roof, granolithic floor, and 7 concrete tanks. |
| 13. | | Transformer house - brick built, single storey lean-to, with slate roof and granolithic floor. |
| 14. | | Filter house - brick wall at each end, open sides with brick piers, Belfast roof, granolithic floor, concrete tank. |
| 15. | | Concrete gantry - 12 feet wide, connecting the surrounding buildings. |
| 16. | | Boiler room - brick built, with flue and chimney stack. |
| 17. | | Pump house - brick walls, Belfast roof, concrete floor, with a well for the water. |
| 18. | | Bleaching house - brick wall at each end, open sides with brick piers, Belfast roof, granolithic floor, concrete tank. |
| 19. | | Mud furnaces - brick wall at each end, open sides with brick piers, Belfast roof, granolithic floor, concrete tank, transformer houses attached. |
| 20. | | Furnace house number 2 - brick side walls, one brick end wall, one corrugated iron end wall, slate roof, granolithic floor, and 4 blocks of concrete tanks. |
| 21. | | Transformer house - brick built, slate roof, and granolithic floor. |
| 22. | | Anthracite and chip store - brick wall, Belfast roof, with a loading shed. |
| 23. | | Mixing house - brick walls, 3 feet thick at base, Belfast roof, concrete floor. |
During the first year of operation, a further twelve furnaces and condensers were built, along with filters and four more mud furnaces. A railway siding and mixing house were added because the quantity of furnace mixture required for the plant was too great for Oldbury to supply. Initially it had been brought from Oldbury, shovelled out of the boats and put on conveyors which loaded the bins above the furnaces.
The phosphorus was moulded into 50lb. blocks which were put into open tanks on wheels, and carried to the Oldbury works by canal boat.
After the war had ended, and the orders for munitions ceased, the factory was of no further use to Albright and Wilson, and so in 1920 the plant was sold for £6,000 and scrapped. The land and buildings remained derelict until the mid 1920s when the site was sold by order of the Surplus Stores of the Liquidation Department of H.M. Treasury. It was put-up for sale by public auction at the Victoria Hotel in Wolverhampton on 22nd July, 1925. It did not sell on that occasion but was soon acquired by Mander Brothers, along with some adjacent land for the building of a new factory.
---