The life of Joseph Priest.
From Cradley and Wolverhampton to New York City
---
Whilst recently reading through back issues of the Black Country Bugle, two articles caught my eye. The first article was in the edition of 24th June 1999, and the second, was in the 1977 Bugle Annual. Both articles contain details of the Priest family, and as my son-in-law bears the Priest surname, and originated from the Cradley area, my curiosity was aroused.
I began by researching my son-in-law's family tree, and found that he is indeed connected with the 1999 article. It has been established that he is the Great, Great, Grandson of Shadrack Priest, mentioned in the article, as being baptized on 15th January, 1814. This in turn, making him the Great Great Great Grandson of Cornelius and Mary Priest, the parents of Shadrack. See Cornelius's branch of the family tree.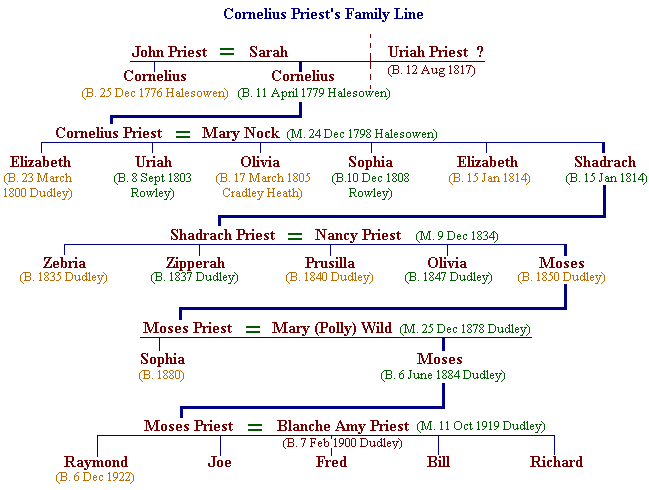 We have not yet proved that Daniel, the son of Joseph and Elizabeth, of Cradley, who was baptized on 22nd July, 1801, is directly connected with the family line of my son-in-law. There are certain names and family connections that they both have in common, and they lived and worshipped in the same place, making a link between them a distinct possibility.
The 1999 article, mentions that Daniel had a brother named David. It is thought that David went on to marry a local girl by the name of Elizabeth Hackett, on 15th February 1841, at St Thomas's Church, Dudley. Could this have been the Elizabeth who once made a living polishing coffins? If anyone reading this knows the answer, please contact us at our email address.
Making up a list of the facts from the article as they appeared in the Bugle Annual of 1977:
Mrs Elizabeth Priest lived in Old Hill since she was 16 years of age (1841).
She was born around 1825 and lived at Mousesweet Brook (cottage?), for 62 years,
(since 1850).
She had 14 children, and would have been married, most probably, between 1841, when she reached the age of 16, and 1850, when she moved to Mousesweet Brook.
Now to return to the main subject of the story, that of the son of Daniel Priest. Joseph was born in 1825. He lived and worked in Wolverhampton and eventually went on to make it big in Brooklyn as a Japanner.
On this particular branch of the Priest family tree, Daniel Priest went on to marry Elizabeth and moved to Wolverhampton, some time between 1824 and 1828. We know this from the 1841 census for Wolverhampton, which states that the two eldest children were born outside Staffordshire. Whereas his youngest child, Sylvia, was born in Wolverhampton, in 1828. This is confirmed by the entry of her baptism in the St Peter's register:
27 July 1828, christening of Silvia, daughter of Daniel and Elizabeth Priest.
Father's occupation - Blacksmith.
If the 1841 census is looked at in more detail, we see that the family, including Joseph, were living in Halletts Row, Compton Street, around the Little Brickkiln Street area. In the 1841 census, it is interesting to notice one most obvious flaw; both of the ages of the parents are given as 30. This would have made them only 12 years old, when their eldest child was born. In actual fact, they would have been 40 years of age, at the time of this census. It also gives Daniel's trade as chainmaker, and that his eldest son Joseph assisted him. He had not yet begun to earn a living in the japanning trade, which was to go on to make him so much money in the future. Following through what little is known of the rest of Daniel Priest's life, the 1851 census states that:
Daniel's first wife had died, and that his two eldest children had left home, and that only Sylvia, unmarried and 22 years of age, remained at Compton Street.
It is thought that Sylvia later went on to marry a Mr. Bates. Daniel's first wife, and mother of Joseph, died at the age of 43, and as the registration of her death shows, she died on the 18th January, 1847. Her husband is listed as Daniel Priest, chainmaker. She died of consumption.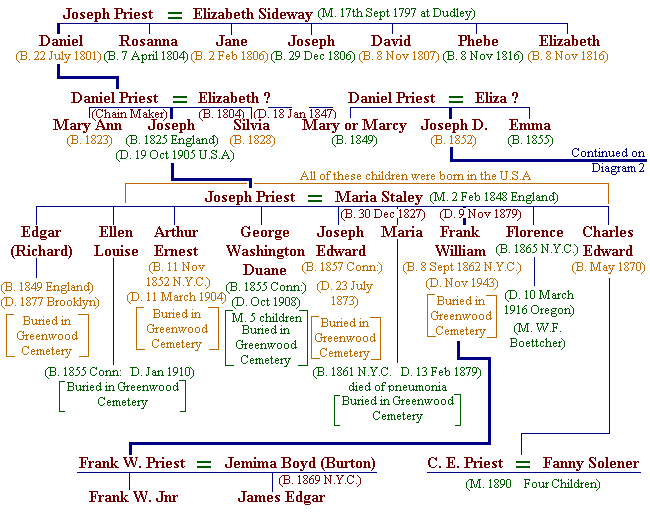 The descendants of Joseph Priest and Elizabeth Sideway.
By the time of the 1861 census, we again find Daniel living in the same part of Wolverhampton, he had re-married. As the eldest child's age is given as 12, and Daniel was not listed as being married on the 1851 census, it must be assumed that that this child was from his new wife's previous marriage. It also contains the names of Daniel's two children from this second marriage. In total, Daniel had six children, two sons and four daughters. That the two sons, one in each marriage, were both called Joseph, can be explained like this. The second son named Joseph, had the addition of a second name, initial 'D'. This probably would have stood for Daniel, after his father. It could be speculated that as his first son, Joseph, had left for America in 1849, it was assumed that he would not be heard of again. Not return back home to England. So in order to continue with a tradition of keeping the family name of Joseph alive, the son from the second marriage was also named Joseph.
In the 1881 census, Daniel is again shown living in the same area, at the back of Compton Street, and again, he has been left a widower. He is now 82 years of age, a chainmaker who was born at Cradley. He has a boarder living there, whose name was James Jeavons, a fire-iron maker.
This is the point at which the information about Daniel Priest ends. Again, if anyone reading this has any additional information about this line of the family tree, please contact us at our email address.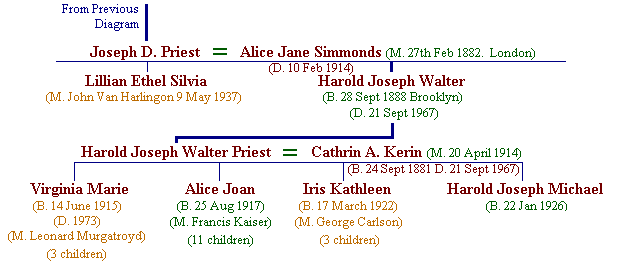 The Descendants of Joseph D. Priest and Alice Jane Simmonds.
---