---
On the 13th May, 1920 at Devonshire Park, Eastbourne, Walter Clifford Morgan (the eldest son) performed in 'The Birds of Paradise'.
1920
Where
Company
Play
Role
24th June.
Dublin
Adeler & Sutton Re-Union
22nd July.
The Apollo
Mr. Charles B. Cochran
Cherry
Evans
Cherry, the Coster operetta a musical play by M. Gideon, book by Knoblock opened at the Apollo Theatre on July 22nd and ran for 76 performances.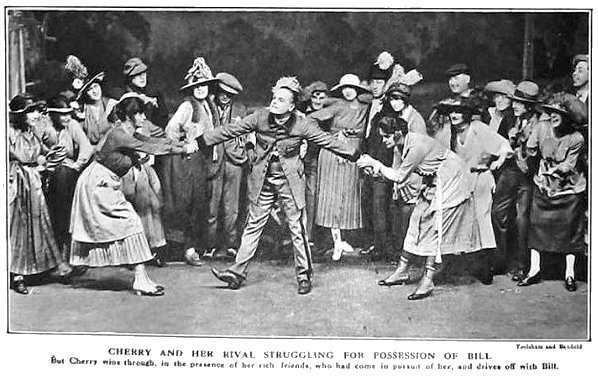 1921

17th January to 20th May, 1922, at The New Oxford, Mr. Charles B. Cochran's production of 'The League of Notions'.

The Cast:

A.W. Baskcomb, Bert Coote, Clifford Morgan, George Hassell, Earl Leslie, Scott Leighton, George Rasely, Dorothy Warren, Rita Lee, Grace Cristie, Phyllis Harding, Phyllis Sellick, Greta Fayne, The Dolly Sisters, Helen and Josephine Trix.

Song Programme:

I Never Worry About the Morning
I Just Want to Give Myself Away
That's How I Knew (You Were the One For Me)
Back to London Town
There'll Come a Time
Beautiful English Rose
Dreamy Eyes
Dollies and Their Collies
That Reminiscent Melody
My Bridal Veil
Love Will Never Die
I Love, Thou Lovest
The Garden of Dreams
Rat-a-tat-tat
The League of Notions, 'an inconsequential process of music, dance, and dramatic interlude,' by John Murray Anderson and Augustus Barratt, with music by Augustus Barratt, opened at The Oxford Theatre, London 17th January, 1921 the successful show ran for over one year with 360 performances.

The Oxford stood on the spot now taken by the Virgin Megastore.
C. B. Cochran who by now was one of England's most successful producers, had brought producer John Murray Anderson from New York to stage the show. Stars included the Hungarian-American dancers, the Dolly Sisters, Jennie and Rosie. American vaudevillian team The Trix Sisters, Helen and Josephine who making their London debut were given featured parts and showed an exciting kind of close harmony singing at the piano. Bert Coote, a clever character comedian, having spent sometime in the USA where he made a name for himself in vaudeville returned to London to appear in the show.
The following revue by B. W. Findon, The Play Pictorial no. 230.

Mr. Charles B. Cochran has a sound knowledge of the public, or the outline of such a scheme as is comprised in League of Notions would have frightened him, or, at all events, would have left him "stone cold." A thing of threads and patches! And yet a wonderful whole! It is just what it is described: "An Inconsequential Process of Music, Dance, and Dramatic Interlude." Its tenor is best portrayed in the dialogue of the prologue.

A fog is enveloping the streets, and wandering back from their work are some pantomime players, who encounter a theatre manager. This conversation then takes place.

Manager [Scott Leighton]: "Confound the fog. I've gone astray.
Good people, can you kindly say
How I can find my way
To Oxford Street?
A London Manager am I,
And I would have you know
If you will lead me through this fog, my gallant Pierrot,
I'll dress you up in modern things, and put you in my show."

Pierrot [George Rasely]: "We'll gladly set you right, good sir, but we would have you know
That we have very little use for any modern show.
We still haunt all the theatres where we one time held sway,
We find you've not advanced a bit, and we can truly say
There's nothing new."

Manager: "What would you do if you desired to really set the pace of modern shows?"

Pierrot: "There is someone who can help you, who has something up his sleeve,
A Tailor, who is living in the land of Make-Believe.
He's been sewing shows together since the days of Mother Eve."

So they go on their way to the Tailor's Show shop, and the Manager is introduced by Columbine [Rita Lee].

Columbine: "It is at last a Manager who's really up-to-date,
He wants a show that's smartly-cut, and of a pattern new.
And we brought him to your shop to see what you could do."

Tailor [A. W. Baskcomb]: "I've tragedies and tales of other days.
I've comedies and even bedroom plays,
But this crazy patchwork quilt on which I sew,
Might easily suggest a modern show.
For if you take a patch from her and there,
Some modern tunes, some old plaintive air,
A pretty face, a dance, a merry jest,
They have for all mankind some interest.
All kinds of bait will often make great catches,
So why not give variety in patches?"

And it is this we have. Variety in patches. Our illustrations depict the kind of patches, and from them the reader will gain and idea of League of Notions. It is replete with movement and contrast, abounding in song including 'The Dollies and their Collies' from the Dolly Sisters, and 'A Young Man's Fancy,' 'Just Snap Your Fingers at Care' 'That Reminiscent Melody' from the Trix Sisters, touched with drama, and revelling in quaint display all of which makes for an evening's pleasant entertainment.

Now let me just show how the turns used to go, On the Music 'Alls of long, long ago.

On the 'Alls' in the 1880s - a song from The League of Notions

It is the "boys of the old brigade" who will be tickled most by the episode "On the 'Alls," in League of Notions. The young gentleman and lady who are so conversant with picture shows have no knowledge of the 'alls which gladdened, more or less, the hearts of their fathers. The "star comique" was then at his zenith. His typical representative was George Leybourne [1842-1884], and one of his most typical songs, "Champagne Charlie is my name," and among the women was Jenny Hill [1851-1896], "The Vital Spark," as she designated herself. But to quote an anonymous writer:

"Perhaps the most deplorable feature in the entertainments was the lady performer. Those terrible young (or middle-aged) persons who were announced as the 'Sisters So-and-So,' and were inevitable on every stage, always succeeded in putting a portion of the audience into a bad temper. Their short coloured skirts, their fixed smirk, the mechanical steps of their dance, their metallic voices - these things have left an impression not pleasant to recall. They couldn't sing; they couldn't dance, and their 'make-up' proved that they couldn't even paint."

The writer is certainly bitter, but, on the whole, he is not far wrong. I can recall there were crowds of other "sisters" who took possession of the minor 'alls, as alike as two peas in their inanity and vulgarity. The Oxford was the first of the big 'alls in the West End. The songs with two meanings or no meaning at all ceased to attract. Men began to take their wives to the halls, where smoking was allowed, and woman's influence soon made possible the Coliseum and Palladium, which are the modern equivalent of the 'alls that are travestied in League of Notions. The travesty certainly makes for the enjoyment of those who "saw life" half a century ago, and to whom the majestic and rubicund chairman was a person of mystery and high degree, until they were introduced and measured their pockets against the cubic dimension of his throat. Today we have a cleaner taste in our amusements, and I, for one, would not change League of Notions for the best of the "Lion-Comiques" and Serio-Comic ladies of the late Victorian era.'
(B. W. Findon)
On December 22nd, 1922 Clifford is mentioned as en route to Australia having been booked by Messrs. Reeves, Lamport, Musgrove and Williamson:

7th January - Royal, Adelaide

31st January - Tivoli, Melbourne


3rd April - Tivoli, Sydney

Australian newspapers commented that Clifford was one of the most articulate contributors to the entertainment, specialising in the "Barrack Room Ballads" of Rudyard Kipling, he infuses into the characters presenting the perfect idea of the author, his study of the English "Tommy"' being a masterpiece. His is a vaudeville offering of refinement, different to anything Mr. Musgrove has yet presented.


Evidently Clifford's study of the Australian culture can be seen in his postcard to his wife, 'Gawd on yer mate'. The photo was taken at Dimons Studios Adelaide, it was mailed on 30th January, 1922 from Melbourne's main post office, just yards from the theatre to Maud, 33 Upper Tulse Hill SW2. Sending love and a complaint about the mosquito bites was just about the only room on the card.

On 27th April, 1922 Clifford departed from Australia aboard S.S. Omar returning to London. The Omar, previously Koningen Luise, had just been given to the Orient Line as part of the German war repatriations.

On 23rd November he appeared at the Elephant and Castle in
'There and Back'.
1923

Clifford was appointed Resident Manager at New Theatre, Aberavon & Port Talbot, on 5th July.
| | | | | |
| --- | --- | --- | --- | --- |
| | | | | |
| 1924 | Where | Company | Play | Role |
| 17th January. | The Grand, Aberavon | Doulgas Millar | The Gay Widow | |
| 26th December to February 1925 | The Royal, Bristol | | Aladdin | Abanazar |
| | | | | |
1925
Where
Company
Play
14th May.
The Empire Club, Piccadilly
Ladies NIght, Empire Club
1st Birthday
7th August.
Empire, Nottingham
(opened here 2 weeks)
Shepard's Pie
3rd September.
Empire, Newcastle
Shepard's Pie
10th September.
Empire, Edinburgh
Shepard's Pie
8th October.
The Grand, Birmingham
Shepard's Pie
5th November.
Empire, Cardiff
Shepard's Pie
19th November.
Lyceum, Newport
Shepard's Pie
26th November.
Doulgas Millar
Shepard's Pie
10th December.
Empire, Finsbury Park
(tour ends here)
Shepard's Pie
| | | | |
| --- | --- | --- | --- |
| 1926 | Where | Company | Play |
| 4th February. | Hippodrome, Aston | | A Variety Show |
| 3rd June. | The Grand, Birmingham | | All the Winners |
| 10th June. | Stratford Empire | | All the Winners |
| 1st July. | Empire, Nottingham | | All the Winners |
| 15th July. | The Palace Theatre, Hull | | All the Winners |
| 29th July. | The Empire, Edinburgh | | All the Winners |
| 2nd September. | Empire, Leeds | Firth Shepard's Revue | All the Winners |
| 18th November. | South London Palace | | All the Winners |
| | | | |
| --- | --- | --- | --- |
| | | | |
| 1927 | Where | Company | Play |
| 17th February. | The Palace, Blackpool | | All the Winners |
| 24th November. | Oldham Palace | | The Mustard Club |
| 1st December. | Palace, Burnley | | The Mustard Club |
| 26th December for 8weeks. | Cardiff Empire | Frank E. Franks | Cinderella |
| | | | |
17th November, 1927. Mrs. Clifford Morgan, seriously ill in Charing Cross Hospital.

| | | | | |
| --- | --- | --- | --- | --- |
| 1928 | Where | Company | Play | Role |
| 20th February for 2 weeks. | Hippodrome, Newcastle | Frank E. Franks | The Gay Lieutenant | |
| March for 2 weeks. | Hippodrome, Liverpool | | The Gay Lieutenant | |
| 22nd March. | Hippodrome, Brighton | | The Gay Lieutenant | |
| 26th April for 2 weeks. | Empire Nottingham | | The Gay Lieutenant | |
| | London | | | |
| 24th May. | Alhambra, Bradford | Frank E. Franks | Odd Lots | |
| 7th June. | His Majesty's, Aberdeen | | Odd Lots | |
| 29th November. | Stratford Empire | | Odd Lots | |
| 26th December for the season. | The Grand, Croydon | Fred Warden | Aladdin | Abanazar |
| | | | |
| --- | --- | --- | --- |
| 1929 | Where | Company | Play |
| 11th April. | The Grand, Plymouth | B & H Productions | A Revue Unique |
| 19th April. | Palace, Oldham | | A Revue Unique |
| 28th April. | Ashton-Under-Lyne | | A Revue Unique |
| 16th May. | Hippodrome, Seacombe | B & H Productions | Hints Cabaret Show |
| 23rd May. | | | Hints Cabaret Show |
| 30th May. | Empire, Burnley | Leslie Allen | Topical Tit-Bits |
| 6th June. | Tivolo Barrow-in-Furness | | |
| 29th June. | | | Topical Tit-Bits |
| 25th July. | Middlesborough | | Topical Tit-Bits |
| 22nd August. | Kings Theatre, Manchester | | |
| 29th August. | Pavilion, Liverpool | | Topical Tit-Bits |
| 5th September. | The Crown, Eccles | | Topical Tit-Bits |
| 12th September. | Hulme Hippodrome, Manchester | | Topical Tit-Bits |
| 7th November. | Palace Theatre, Bath | | Topical Tit-Bits |
| | | | |
---