Lieutenant-Colonel Thomas Thorneycroft
of Tettenhall Towers

by Bev Parker
---
Tettenhall has long been a much sought-after location in which to live. For many years it has attracted wealthy industrialists and businessmen and their families. Some of them had large houses built in large grounds with ornate gardens. One of the well-remembered local industrialists is Lieutenant-Colonel Thomas Thorneycroft, D.L., J.P. who purchased Tettenhall Towers in Wood Road and became a leading member of local society. He was well known for his eccentric way of life, his inventions, and his support of local charities.
Family background
The Thorneycroft family (originally Thornicroft) originated in Cheshire in the 13th century. In the 1660s John and Katherine Thornicroft moved to Broseley, Shropshire, where their son John was born in 1663. John's grandson, Edward Thorneycroft married Mary Bradley, and they had a daughter, Maria, born in 1787. Around 1790 they moved to Tipton, Staffordshire, where Edward became landlord of the 'Three Furnaces' public house. Their next two children, twin boys, Edward Charles, and George Benjamin, were born there on 20th August, 1791.
The family moved to Kirkstall, Leeds, where Edward senior worked at Kirkstall Forge. His twin sons began their working life there and attended evening classes to learn about iron manufacture.

The site of the family's cottage in Willenhall.

In 1809, at the age of 18, the two brothers returned to Staffordshire. George became an iron puddler at Addenbrooke's Moorcroft Ironworks at Bradley, and soon discovered a method of producing better quality iron at a cheaper price.

He married Eleanor Page, who lived at Moxley and in 1817 opened a small ironworks at Forge Yard, Waterglade Street, Willenhall.

The family lived in a small cottage on the corner of New Road and Market Place, Willenhall, where the ex-HSBC bank building now stands.
By the mid 1820s the family had moved to a large house in Tettenhall Road, Wolverhampton, called Chapel House. They had nine children:
| | |
| --- | --- |
| | |
| Ann | born in Willenhall in 1816, died in 1822. |
| Mary | born in Willenhall in 1818. |
| John | born in Willenhall in 1820, died young. |
| Emma | born in Willenhall in 1821. |
| Thomas | born in Willenhall in 1822. |
| Ann Maria | born in Wolverhampton in 1825, died 1836. |
| Harriet | born in Wolverhampton in 1827. |
| Ellen | born in Wolverhampton in 1830. |
| Hannah | born in Wolverhampton in 1833, died young. |
| | |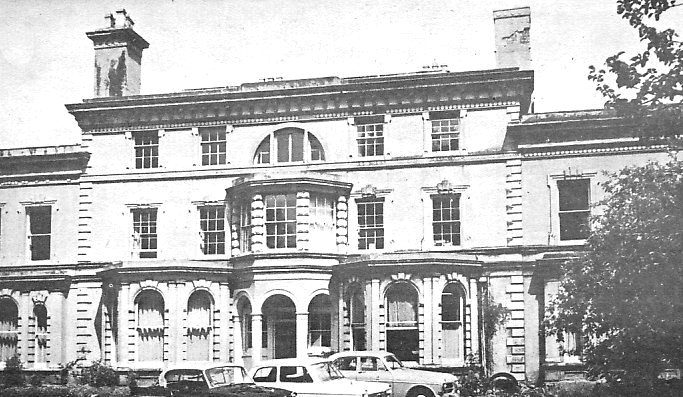 Chapel House.
Chapel House was soon extended. A wing was added on either side of the house, which was divided into two to form Granville House and Salisbury House. As the children got older, George built 'Summerfield' in the grounds of Chapel House as a home for Mary. After her marriage, Emma and Ellen began their married life there. The four surviving girls married men who became prominent in the town.
Mary married Charles Corser, a Wolverhampton solicitor. Emma married John Hartley who owned Hartley's Glassworks in Sunderland and became a partner in Chance Glass Works, Smethwick. He was also a partner George Thorneycroft's business and became a very wealthy man. In 1858 John and Emma leased Tong Castle from the Earl of Bradford, and until his death in 1884, Hartley was referred to as the Squire.
Harriet married Charles Perry, the eldest son of Thomas Perry, who founded Thomas Perry & Son Limited at Highfield Works, Bilston. Ellen married Henry Hartley Fowler, a solicitor who became mayor of Wolverhampton in 1862/3. In 1880 he became a Liberal member of parliament for Wolverhampton, a post he held until 1908 when he was raised to the peerage as Viscount Wolverhampton.
Thomas, the most well-known of the children, married Jane Whitelaw and became a wealthy industrialist, a landowner, a prominent Conservative and a Justice of the Peace.
In 1824, George and his brother Edward established the Shrubbery Iron Works, in Lower Walsall Street, Wolverhampton. The venture was a great success and George became a wealthy man. Within a few years, between 600 and 700 tons of high quality iron were produced each week. After several years, Edward left the partnership and George ran the ironworks under the name of G.B. Thorneycroft & Company.

In 1845 George Thorneycroft was seriously injured in an accident at one of his pits in Willenhall. A new pumping engine was being tested when a faulty safety valve led to a boiler explosion. One man was killed and sixteen others, including George, were injured. He was scalded over the whole of his body and never completely recovered. George became Wolverhampton's first mayor after the town's incorporation in 1848 and eagerly gave contributions to many organisations and charities. He also founded the Thorneycroft Benefaction which gave £1,000 for the distribution of blankets and flannel to the poor.


George Benjamin Thorneycroft.
In the early part of 1851 George suffered from brain disease. He initially appeared to improve, but died after a relapse on the 28th April, 1851, at the age of 60.
He is buried in Merridale Cemetery, where a bronzed cast-iron monument was erected to commemorate his life. Next to the grave is a plinth on which a colossal marble statue of George was erected. In 1871 the statue was moved to the entrance hall in the Town Hall in North Street. Eleanor died on the 5th January, 1874 and was buried alongside her late husband. Their daughter Mary Corser, who died on 18th December, 1897 at the age of 80, is also buried there.
Thomas Thorneycroft
After his time at Wolverhampton Grammar School, Thomas joined his father's successful business, G.B. Thorneycroft & Company and eventually became a partner. On the 29th June, 1847, Thomas married Jane Whitelaw at Gartsherrie House, Old Monkland, near Glasgow. She was a wealthy Clydeside ironfounder's daughter.
After his father's death in 1851, he inherited a large sum of money and his father's business, which continued to be successful and grew into a large enterprise, with many collieries, Shrubbery and Swan Garden ironworks. G.B. Thorneycroft & Company became the largest employer on the eastern side of Wolverhampton. Large profits were made during the Crimean War from the production of shells and armour plate, and by 1873 there were 74 puddling furnaces and 12 mills and forges in the two ironworks.
A happy relationship existed between management and staff at both factories. The company paid higher wages than average, and was well respected for it, but in the mid 1870s things started to go wrong. The business began to run at a loss due to a recession in the iron trade. After several years of loss-making, the company closed in December 1877, blaming the closure on the higher wages that were paid to the workforce.
Although Thomas had a reputation for his charitable work, he simply gave the workforce an ultimatum, telling them to accept lower wages or the factory would close. The workers would not agree to a cut in wages and so after running the business for 26 years, he shut it down. It is possible that his heart was not in the running of the firm and that this was a golden opportunity to leave it behind. He did receive praise from some quarters for his stand against the workers. The Times newspaper praised his actions. The ironworks and associated collieries were soon sold and Thomas could now become a full-time member of the landed gentry, with all the privileges it entails and devote himself to his many interests.
| | |
| --- | --- |
| | A notice about the final winding-up of G. B. Thorneycroft & Company that appeared in the London Gazette on 25th September, 1885. |
In 1853, Thomas purchased a large Georgian country house in Wood Road, Tettenhall, that had been built on the site of the Holly Bush Inn and was set in 26 acres of land. He gradually extended the house and also added the towers, onto which he installed signalling equipment. In 1866 the house became known as Tettenhall Towers. Thomas converted the house into one of the most remarkable houses in the district and filled it with some of his unusual inventions and his many shooting trophies. He shot almost anything that moved, especially if it had horns and could be used to decorate walls or embellish armchairs.

Thomas was very much a family man. He and Jane had nine children:
| | |
| --- | --- |
| | |
| Jessie | born in 1848 and died in 1935. |
| George Benjamin | born in 1849 and died in 1924. |
| James Baird | born in 1851 and died in 1918. |
| Jeanie | born in 1852 and died in 1925. |
| Hamo Douglas | born in 1855 and died in 1946. |
| Eleanor | born in 1857 and died in 1941. |
| Alexander Whitelaw | born in 1859 and died in 1931. |
| Wallace | born in 1861 and died in 1954. |
| Florence | born in 1869 and died in 1944. |
| | |
Their most famous son was Alexander Whitelaw Thorneycroft who served in the 21st Royal Scotch Fusiliers and eventually rose to the rank of Major-General.

As a Second-Lieutenant, he saw action in Natal province, South Africa, during the Zulu War and later in the Boer War. His troopers became known as Thorneycroft's Mounted Infantry.

In 1899 he was promoted to Lieutenant-Colonel. At the Battle of Spion Kop he lead the initial assault with his dismounted troopers.

In 1903 he married Rebekah Frances Crozier at St Marylebone, London and for his services to King and country, he received a C.B. (Companion of the Most Honourable Order of the Bath).

Alexander died at his residence, Blandford Lodge, Whiteknights, Reading, Berkshire, aged 72 and was buried in the graveyard at Earley Church, Reading, on Saturday the 7th November, 1931 in a grave next to his late wife.


Alexander Whitelaw Thorneycroft.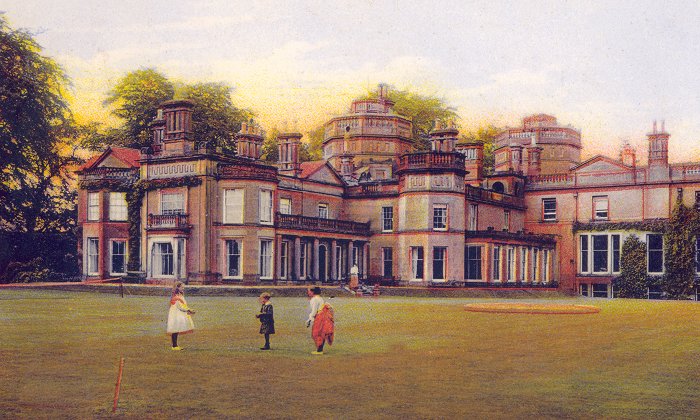 Tettenhall Towers. From an old postcard.
Hobbies and Eccentricities
Lieutenant-Colonel Thomas Thorneycroft's rank came from the Queen's Own Royal Regiment of Staffordshire Yeomanry, a sort of territorial army, in which he served. He was never a member of the regular army. In 1855 he commanded his troop during the miners' riots in Wolverhampton and in 1866, commanded the mounted detachment of Yeomanry, when Queen Victoria visited the town.
Thomas owned or leased several properties (other than Tettenhall Towers) including Tong Castle, Pepperhill Park, Albrighton Mill, Bylet Island in the River Severn at Bridgnorth, Gorsty Hayes, and Hadley Park near Wellington, where he was Lord of the Manor.

The waterfall at the back of the stage.

Thomas designed much of the furniture in the house and added the great hall, complete with a stage and seating for 500 people. It had an auditorium, a backdrop for scenery, and a fan that blew hot, cold, or scented air into the room.

There was also a waterfall at the back of the stage, in which water cascaded down from a tank that was 44 feet above the ground. The waterfall was lit by coloured lights to create a spectacular scene.

Another spectacular feature consisted of a water pump that blew a jet of air into the base of the fire in the inglenook fireplace, which sent flames roaring up the chimney.

The theatre had a sprung oak floor, which was ideal for dancing. Thomas loved writing poetry and had this to say about it:

The oak floor makes a skating rink, it's on elastic springs.
So when you dance, you're apt to think,
you're fluttering on wings'.
Much of the ornate wooden panelling in the theatre was made by a local craftsman, but some sections were purchased from Tewksbury Abbey and Ludlow Castle.

Thomas loved hunting and shot many animals for trophies, which were displayed throughout the house.

In the theatre there were antlers, cattle horns, and animal heads. Many of the chairs had arms that were embellished with them.

There were also two chandeliers, with lighted gas emerging from the points of antlers.


Another view of the waterfall.
As well as writing poetry, Thomas was a skilled musician who played the violin and had his own band. He composed a number of waltzes, songs, and even an opera called the "Thorneycroft Cousins". The band gave many public and private performances there. Thomas also gave magic lantern shows and raised money for charities from various performances in the theatre.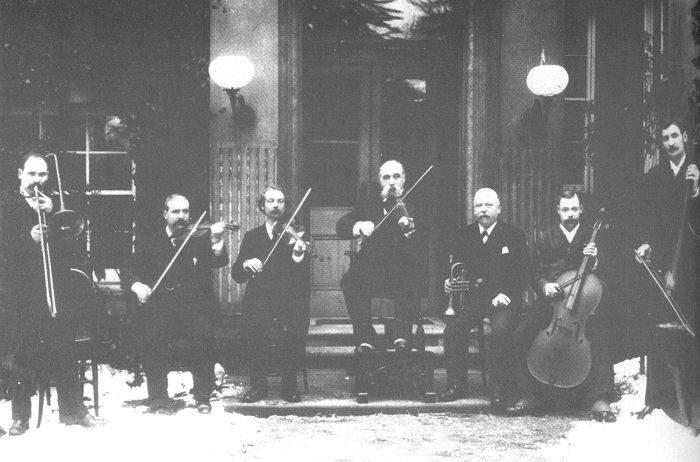 The Thorneycroft band.

The sock and shoe warmer.

He was obsessed with sanitation and ventilation. His many inventions included an elaborate system of ventilation for the house, and a special toilet to go with the 20 or so toilets that he had installed in the house.

One of his inventions consisted of a device that pumped foul air from the sewers, which was burned at the top of a pipe, about forty feet from the house.

There were ventilating fans in many of the rooms and an elaborate heating system for some of the rooms and to heat clothes.

His other inventions included a patent for burning microbes in sewer gas, improvements in road carriages, a steerage device for balloons, a full-length mirror door for wardrobes, a glass umbrella so that you could see where you were going in rainy weather, a sock warmer on which to hang socks and shoes to dry, a set of playing cards for the blind and a safety bottle opener.

He also designed a battleship, which he patented and sent a copy of the design to the Admiralty. He installed a lift in the house and had a racquet court and a Turkish bath built.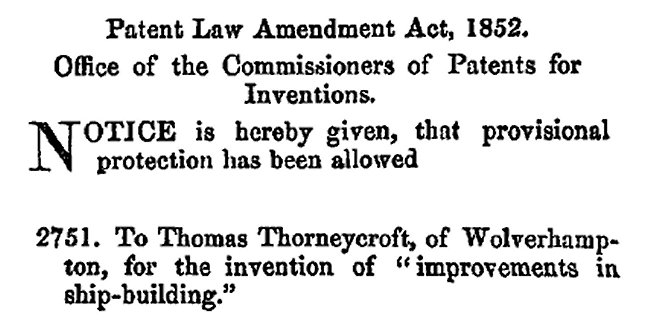 A notice about his battleship patent that appeared in the London Gazette on 19th January, 1855.
Thomas was fascinated with balloons. On the 11th September, 1882 he made an ascent in a balloon called the 'Dudley Castle' from the grounds of the Molineux Hotel. A flight that nearly ended in tragedy. Thomas read an article in the Wolverhampton Chronicle about Captain Morton who planned to visit Wolverhampton and make an ascent in his balloon. Thomas met him on his arrival at the railway station and begged to join him in the flight.
On the day of the flight, the balloon was got ready and the two of them took off as planned. It was a terrible day with heavy rain, a day totally unsuitable for the flight. The balloon contained 28,000 cubic feet of hydrogen gas, which of course was highly inflammable. The balloon would not ascend as planned and was flying just over rooftop height when it hovered over the furnaces in a local ironworks. It was in danger of dropping into the furnaces and exploding, even though all of the ballast had been thrown out. In desperation, Thomas even offered to throw out his best top coat.
At the last minute the weather improved, the rain stopped, the sun came out and the balloon continued its journey, landing safely an hour later in Smethwick. On his return home, Thomas quickly began to design a device for steering balloons. He wrote the following words, giving advice to fellow balloon travellers: "Take a moderate meal two or three hours before you go, take something to eat and drink, not forgetting some brandy and water, some warm clothes, a good waterproof coat or two and an umbrella. And last though not least, don't forget a thick, warm pair of gloves."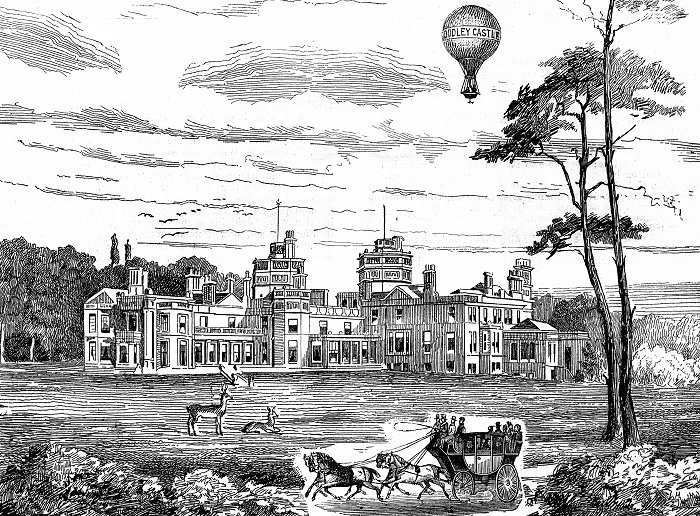 George Phoenix's drawing of the balloon and Tettenhall Towers.
Thomas's life was also in danger on another occasion. He was a passenger on board the ship "Russia" when it struck another vessel as it steamed towards New York harbour. The other vessel sank within five minutes, but luckily all the people on board were saved.

Thomas travelled to many other parts of the world including Canada, where he went salmon fishing and visited Niagara Falls. He also liked Spain.

The towers on the house were used for communicating with Thomas's workers in the grounds by the use of semaphore flags. He also invented flying machines that were flight-tested from the top of the towers.

Thomas loved horses and designed several carriages. He also enjoyed steeplechasing, was a member of the Albrighton hunt and greatly enjoyed going out with the hounds. He even wrote a hunting song. Another hobby was boating.


Thomas Thorneycroft.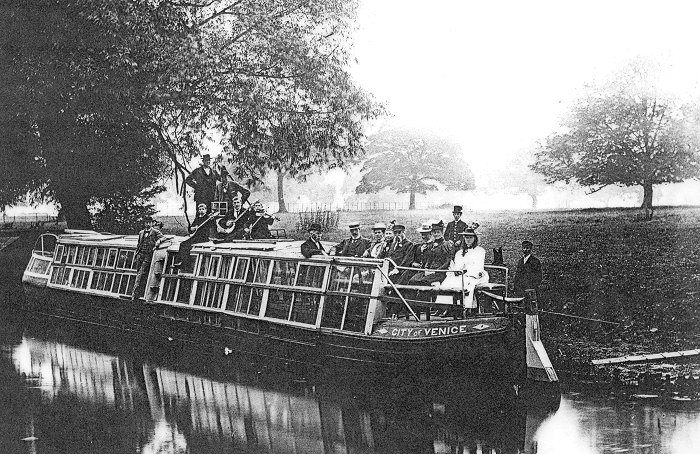 Thomas and his canal boat.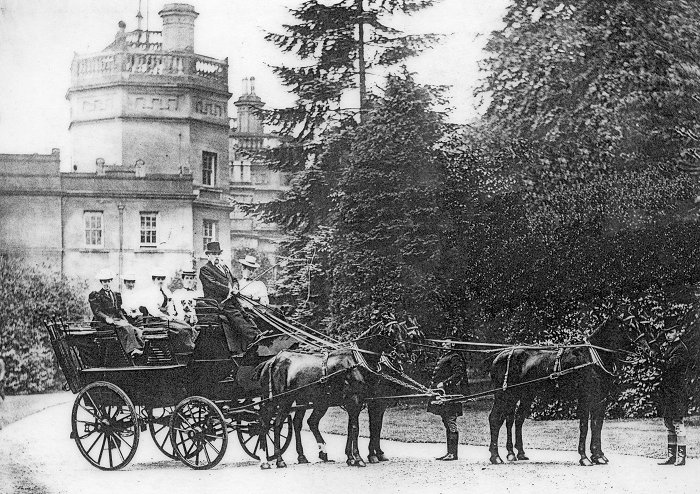 Thomas in his carriage with Miss Flossie Campbell, Miss Fussell, Miss Eleanor Thorneycroft, and Miss Florence Thorneycroft.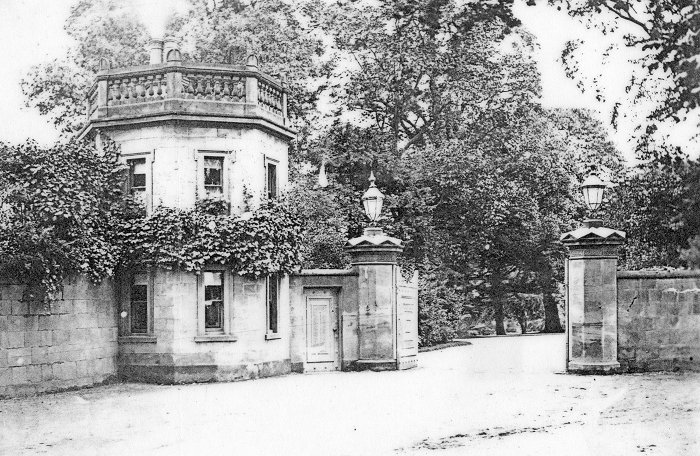 Tettenhall Towers gatehouse.
Thomas led a busy life and supported and worked for many good causes, including the Mining Accident Fund, the Prisoners' Aid Society and the St. John's Ambulance Brigade. He served as a magistrate in Wolverhampton and Shropshire and was Sheriff of Staffordshire and Deputy Lord Lieutenant.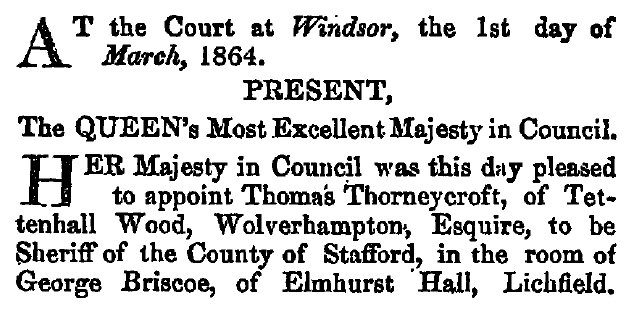 From the London Gazette, 4th March, 1864.

The inglenook fireplace in the theatre.

For many years he was Chairman of the Royal Hospital's Board of Governors, Vice President of the Royal Orphanage, and after the cholera outbreaks he campaigned for an improvement to Wolverhampton's public health facilities.

Thomas was an active member and great supporter of the Conservative Party and Chairman of the Kingswinford Conservative Association. Two Tory Prime Ministers, Derby and Disraeli asked him to stand for parliament, but he never did.

He was Ruling Councillor of the local branch of the Primrose League, which actively encouraged support for the Conservative Party and held meetings at the Towers. He was also Chairman of Mr. Staveley Hill's Election Committee.
Thomas ran and equipped a company of boys from the Boys Brigade, at his own expense, which were called the Thorneycroft Tettenhall Company.

He also collected £2,600 for beautifying and enlarging Tettenhall churchyard.

Much of the money was supplied by himself and the family and from various performances in his theatre.


The theatre, seen from the stage.

Thomas.

In 1889 Thomas and Jane celebrated their golden wedding anniversary along with their son Alexander, who had just returned from the South African War.

Bunting was hung in Tettenhall High Street and a 'Welcome Home' sign was placed over the entrance gate to the Towers.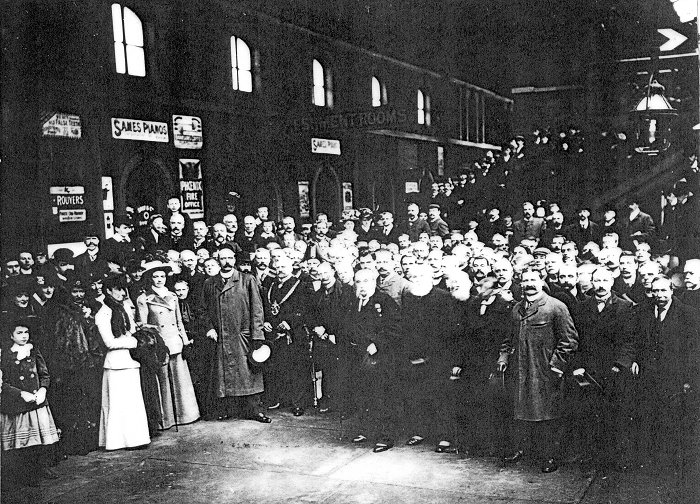 Alexander Whitelaw Thorneycroft's arrival at Wolverhampton Low Level station on his return from the South African War.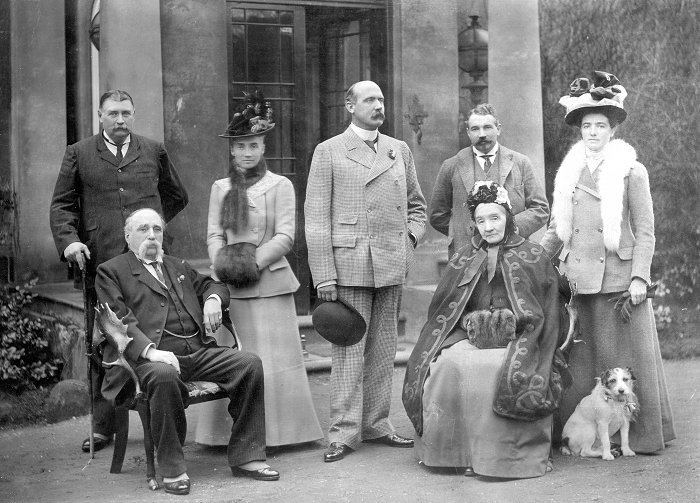 A Thorneycroft family group.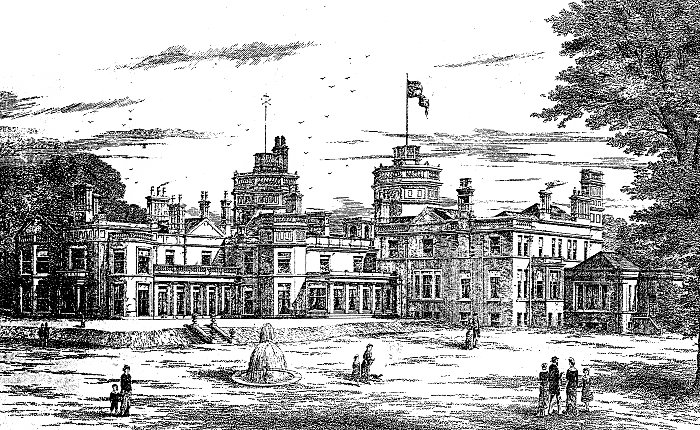 Tettenhall Towers.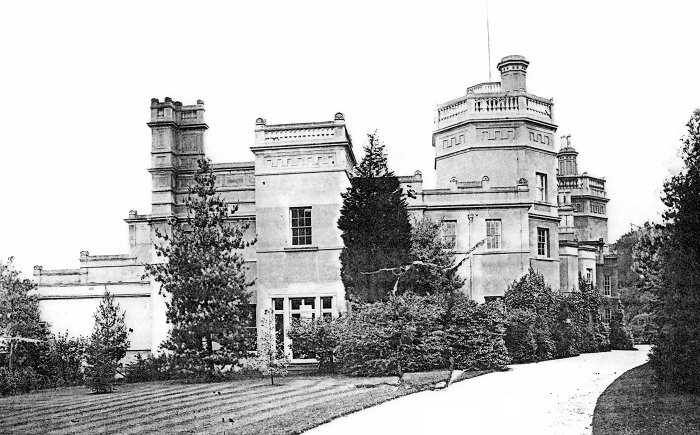 Another view of Tettenhall Towers.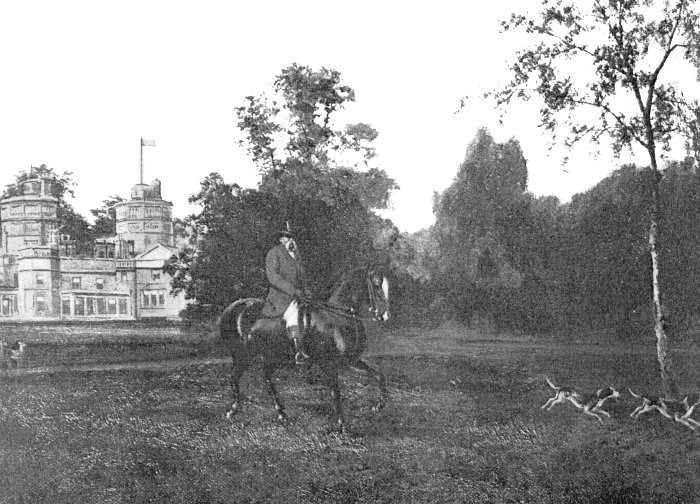 Thomas riding his favourite mare, called The Grand Duchess.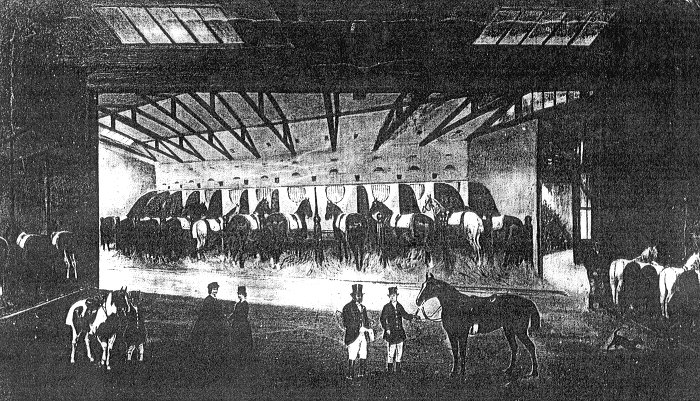 The stables at Tettenhall Towers.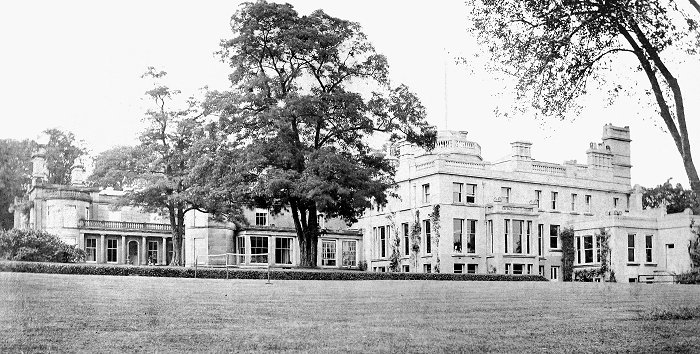 The back of Tettenhall Towers.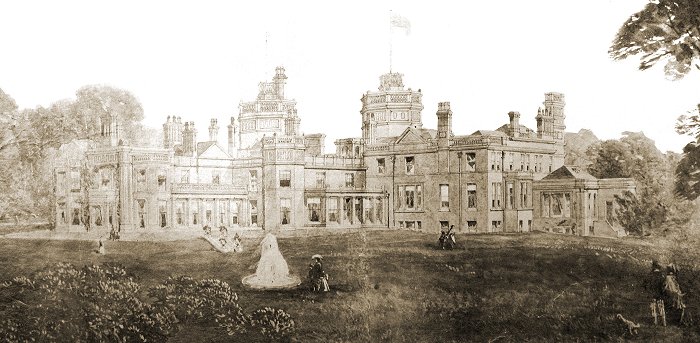 A final view of Tettenhall Towers.
Thomas's Death
In 1902 he visited the Wolverhampton Art and Industrial Exhibition and was fascinated by the great water chute in which boats were hauled to the top of an inclined plane, before plummeting downwards into the lake. He had to try it out for himself. On this occasion the boat hit the water slightly askew, and Thomas was thrown heavily against the side of the boat. He was badly shaken and became very ill.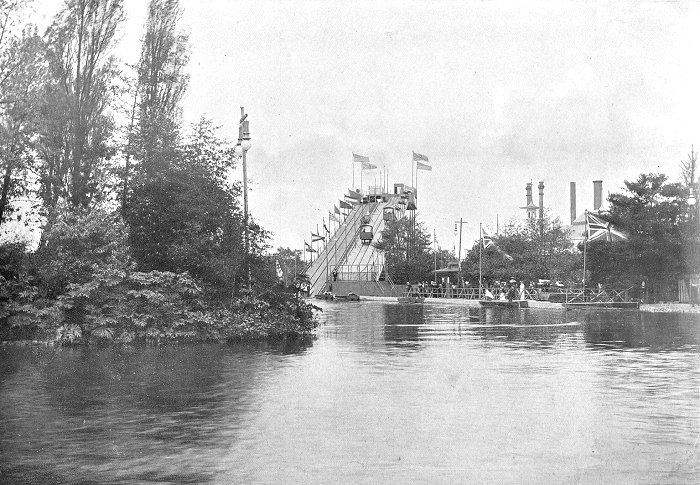 The water chute at the Wolverhampton Art and Industrial Exhibition.
He never recovered from the illness and died at home on the 6th February, 1903.

His funeral was held at St. Michael and All Angels Church in Tettenhall, on Tuesday, the 10th February.

Large crowds gathered to watch the procession as it made its way down The Rock to the church, in what must have been one of Tettenhall's most impressive funerals. He is buried in the graveyard at the church.

His wife died on the 29th September, 1908 at home and was buried alongside her husband, as was their daughter Eleanor, who died on 17th November, 1941.


Thomas's grave at St. Michael and All Angels graveyard in Tettenhall. He is buried with his wife Jane and daughter Eleanor.

Thomas, seated in a chair decorated with some of his trophies.

Lieutenant-Colonel Thomas Thorneycroft is well-remembered in Tettenhall, mainly because of his eccentricities and inventions. His generosity to many institutions and good causes is often forgotten.

Many tales were told about him, some possibly true, others possibly untrue. The stories will keep his name alive in the village for many years to come.

His name can now be seen again in Wood Road were a number of apartments have been built for the over 70s under the name 'Thorneycroft'.

Tettenhall Towers was purchased by Tettenhall College in 1943. On the 29th July, 1950 it was Grade II* listed.
During the First World War, Florence Thorneycroft became Matron, in charge of the Voluntary Aid Detachment Hospital at The Old Manor House, Old Hill, Tettenhall.

It was a Red Cross auxiliary home hospital that looked after wounded soldiers.

Florence helped with fundraising and encouraged donations to keep the hospital running.


Florence Thorneycroft. From a copy of a miniature painted by Margaret Edwards. Courtesy of David Parsons.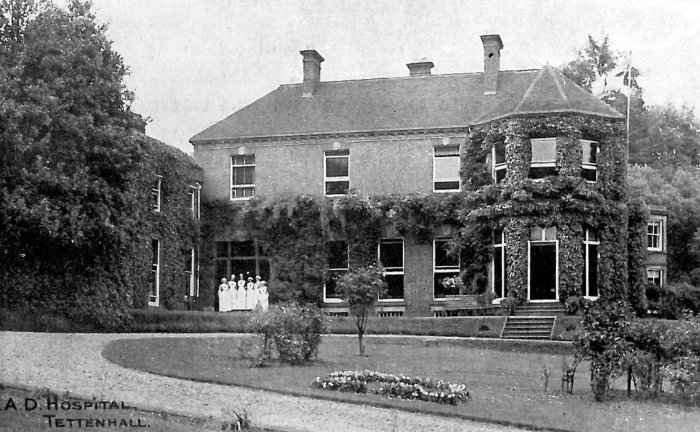 The Old Manor House. From an old postcard, Courtesy of David Parsons.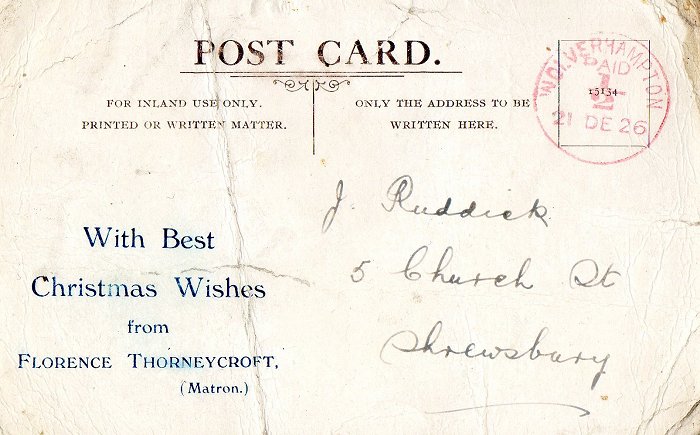 The back of the postcard. Courtesy of David Parsons.
Thomas's Inventions:
| | |
| --- | --- |
| 1. | Application of a stream of air to blow up large sitting-room or hall fires in houses. |
| 2. | Elastic dancing floors. |
| 3. | Burning sewer gas (in which microbes are found to exist), at a temperature of 400 degrees. |
| 4. | Cascades, as applied to his theatre. |
| 5. | Windows at the back of the stage in his theatre, thereby utilising one or two acres for a stage on his pleasure grounds, where river scenes and forests are arranged almost naturally, with lime, electric, and Bengal lights; real water is also used in these scenes, the cascade having a drop of 44ft. |
| 6. | Apparatus for warming clothes, boots, awl shoes in his dressing-room, which apparatus runs through his boot-case, thus keeping these articles of clothing in good condition. |
| 7. | Washing stand and dressing table in one. |
| 8. | New roof for racquet court, where there are also Turkish, swimming, and saltwater baths. |
| 9. | New water closet, where the lid lifts up, thus making it into a urinal. |
| 10. | New hot water and gas stove for his business room, which also warms shoes, boots, and socks. |
| 11. | Two mechanical horses trotting, with carriage behind. |
| 12. | New glass door wardrobe invented in 1846 (the year before he married), and now used in nearly all countries. |
| 13. | New corkscrew box for ladies' use, there being no danger of the cork bursting. |
| l4. | A warship made of bar iron, each side, with wood in the middle, so that at most cannon balls can only make a small hole, which can easily be plugged up. |
| 15. | A new apparatus that can steer a balloon to the extent of 250 yards in a drop of a mile, the idea being to avoid falling on trees or houses. This was invented by Colonel Thorneycroft after his experience of ballooning on the 11th September, 1882. |
| 16. | New mangers, to contain a supply of hot or cold water. |
| 17. | New Victoria-Clarence carriage. When open no glass can be seen; when shut it resembles a perfect Clarence. |
| 18. | New hansom brougham, invented in 1867. Now regularly used as a Court brougham. |
| 19. | A new charabanc, where a small brougham can be arranged behind the driver, if wet, and another sort of mail phaeton hood fitted up in two minutes behind. A staircase is also fitted to this carriage, so that ladies can get up safely and easily if the carriage is on the move. |
| 20. | An alteration in the stage coach, where the last seat but one is turned round, and an opening thus made in the roof for the legs, so that passengers ride facing the horses when they wish. Can be altered into its old state in two minutes. Also a set of steps for ladies to get up inside the coaches. A glass window fits in the front boot, so that the inside of the coach really forms a comfortable Court brougham, in which the view of the horses is not interrupted, while a good view of the country beyond can also be enjoyed. |
| 21. | Picnic wagon where 14 can dine comfortably. Under some canvas wings more can dine. Often used with three cobs abreast. |
| 22. | A small ash shovel, made of wire, to preserve the small ashes, yet allowing the dust to fall through, thus affecting a great saving in coals. |
| 23. | A new ballroom for moderate sized houses in London or elsewhere, on carriage wheels. Can be enlarged at pleasure, put up in the street in front of the houses in two hours, and taken down in two hours, only covering the area, footpath, and 10 feet of the street. It is necessary to obtain permission to use this. Usual size 50 by 20ft. |
| 24. | A fire escape of network on wheels. can be placed in front of houses on fire, for people to jump into, or be thrown into safety. Above 100ft. high. |
| 25. | A house canal boat, with a new sort of deck; a 72ft. long boat with deck, dining, bandsmen's rooms and kitchen, as well as two cabins. Gas is used from cylinders to cook and warm the rooms. |
| 26. | A brake that horses can, and do work themselves when going downhill, and take off when going along the level road or uphill. It applies to a one-horse cart or a pair-horse carriage or coach. |
| 27. | A galvanised thin sheet of steel in boot and shoe soles, to keep feet dry and warm, as no wet can get through. |
| 28. | A galloping horse, life size, on a magic lantern slide, with jockey. |
| 29. | Composed 16 songs, words and music, one march, two waltzes; all the words and parts of the music of an opera called the "Thorneycroft Cousins," which was performed for three nights at Tettenhall 'rowers, before 1,400 people. |
| | |