In the first half of the 19th century, town gas, initially for street lighting, was in great demand. Gas pipes were originally hand-wrought in short lengths that were expensive and slow to produce. This all changed thanks to Cornelius Whitehouse, who invented a quick, accurate and reliable method of cheaply producing tubes that could cope with higher pressures. His work revolutionised the tube-making industry. Widespread gas distribution now became a practicality, but unfortunately he received little in the way of financial reward, for his efforts.
Luckily for us, Frederick William Hackwood, Wednesbury's late19th century historian, wrote several articles chronicling Whitehouse's life. This short version is based on his article in the 1898 Ryders Annual, and his "Wednesbury Workshops" from 1889.
Cornelius Whitehouse was born in Oldbury on 22nd July, 1795. His father Edward became an expert sword maker, producing high quality swords at a time of high demand during the Napoleonic Wars. One day his products were inspected by a corrupt War Office inspector who said they were not up to standard. Edward lost his temper with the man and forced him to hold an approved sword at arm's length. He then cut the sword in two with a single blow from one of his own swords. From then on they were Government approved.
Cornelius and his brother worked for their father in his Birmingham workshop and became expert sword makers and gunsmiths in their own right. Cornelius became a recognised craftsman and was offered a job as a Government sword inspector, but turned it down.
After the Napoleonic Wars the demand for guns and swords fell and so the family moved to Wyrley where they worked for Gilpin, the edge tool maker. Four years later Cornelius moved to Wednesbury Forge to work for Edward Elwell making edge tools.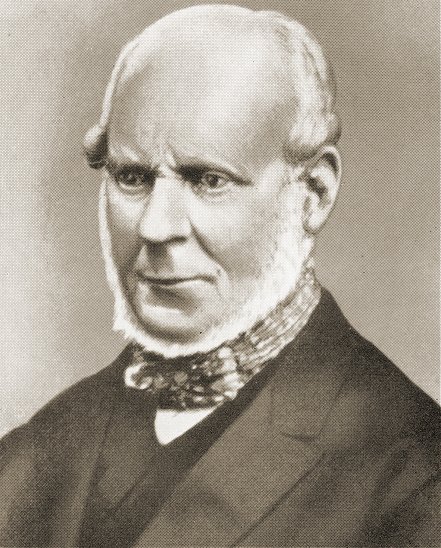 Cornelius Whitehouse.
While working at the forge his thoughts turned to tubes, and he began experimenting with new ways of producing them. At the time there was a great demand for gas pipes, which were made by an expensive and labour intensive process requiring very skilled workmen. Tubes were formed from an iron strip, or skelp, which was heated in small sections, a few inches at a time, in a conventional open hearth forge. After hammering each section into shape, each side of the seam was overlapped and hammered to form a weld. Many heatings were required for each length of tube which had a maximum length of 4 feet. The industry couldn't keep up with the demand and so there was a lot of interest in increasing productivity and also reducing the manufacturing costs.

Cornelius's solution, developed in 1824 and 1825 consisted of heating the whole strip in one go, in a hollow fire of the type used by the edge tool makers at the forge. The strip was then shaped and welded in one operation by drawing it out of the furnace by a chain attached to a drawer bench, and passed through a pair of semi-circular dies. The process produced an accurately shaped tube with smooth inside and outside surfaces. It is believed that he first offered it to Edward Elwell who suggested that he should take it to James Russell. With Russell's help he took out a patent for the process which was granted on 26th February, 1825.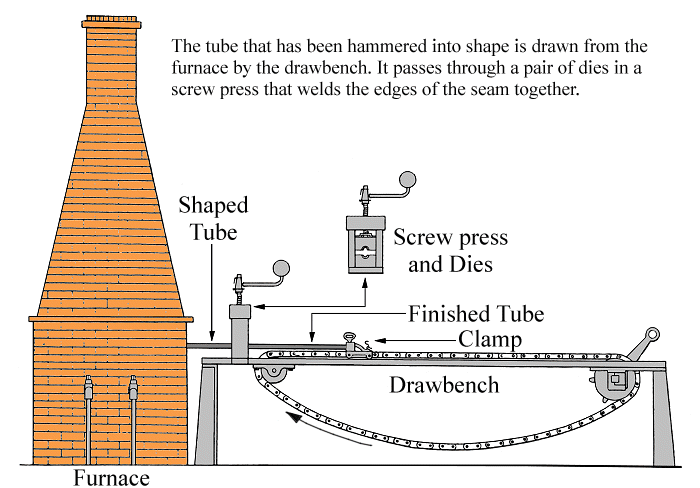 A drawing based on the 1825 patent.
Russell agreed to employ Whitehouse and pay him the sum of £25 annually for 14 years, the life of the patent. He soon increased the sum to £50 when Whitehouse assigned the patent rights to him.
The new tubes were twice as long and half the price of the older ones, and could withstand a higher pressure. Russell built a new factory at a cost of £14,000 and invented a way of screwing tubes together.

From the London Gazette, 11th December, 1835.

Large numbers of tubes were produced, but success came at a price. From 1830 until 1845 Russell was constantly in litigation with rival manufacturers who tried to infringe his patent. By 1838 the legal expenses amounted to approximately £4,000.

The new revolutionary process was seen as a threat by the traditional tube makers and Russell and Whitehouse went in fear of their lives. On one occasion Whitehouse even shot at the legs of a gang of men who were about to attack his house.

In 1842 he took out a patent for an improved process with one of Russell's sons; Thomas Henry Russell. Unfortunately Whitehouse had a disagreement with one of the sons which resulted in him leaving the company.

From then on he entered into a number of unsuccessful business ventures. The first, in partnership with a Mr. Chubb was a tube making factory at Globe Works, Wednesbury Bridge.

In Pigot & Company's 1842 National and Commercial Directory, Cornelius Whitehouse is listed under gun barrel manufacturers and gun manufacturers in the Wednesbury section.
In 1845 he took out another patent, this time for the construction of welding and hammering machines for the manufacture of tubes and gun barrels. By 1849 he was also manufacturing lathe and press tools. Unfortunately the business at Globe Works was not successful and resulted in Whitehouse loosing much of his capital. He then moved to Wolverhampton and went into partnership with Edwin Dixon, who had a tube factory at Monmore Green. Although the partnership lasted for 20 years it was not financially successful.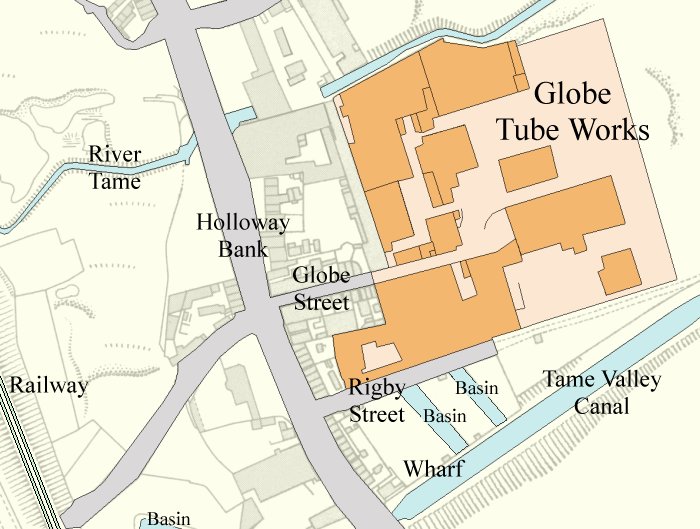 The location of Globe Tube Works.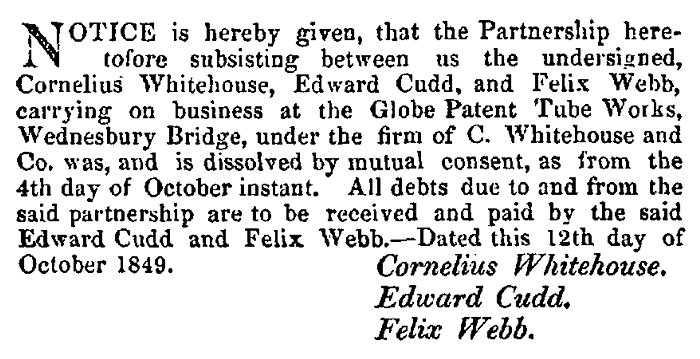 From the London Gazette, 16th October, 1849.
Jones Mercantile Directory of the Iron District, 1865:
Wednesbury
Whitehouse & Company, gas tube and gas fitting manufacturers, Globe Works.
Cornelius continued to run Globe Tube Works until the business closed in the depression that started in the mid 1870s. The factory closed and was acquired by John Spencer, who reopened it in 1882.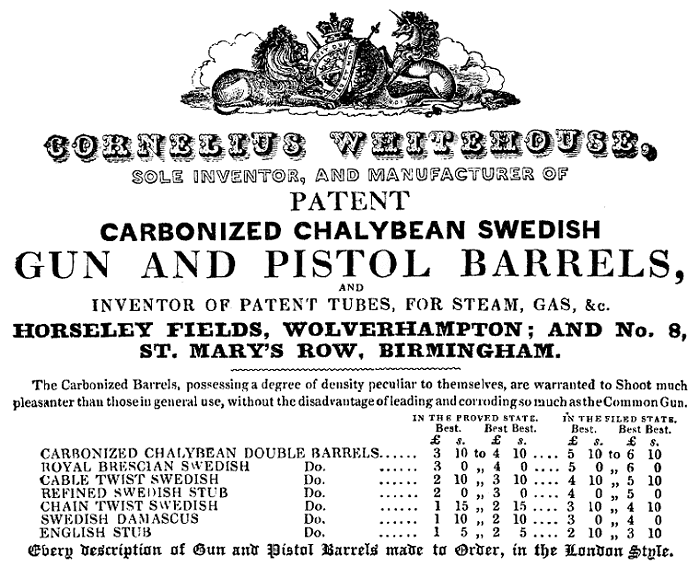 An advert from 1847.
Melville & Company's 1851 Wolverhampton Directory has the following listing:
Cornelius Whitehouse and Company, manufacturers of patent iron tubes for gas, water, and steam locomotive and marine, of any diameter or thickness, Monmore green.

Whitehouse Cornelius, patent gas tube manufacturer, Mount Pleasant, house Monmore Green Cottage.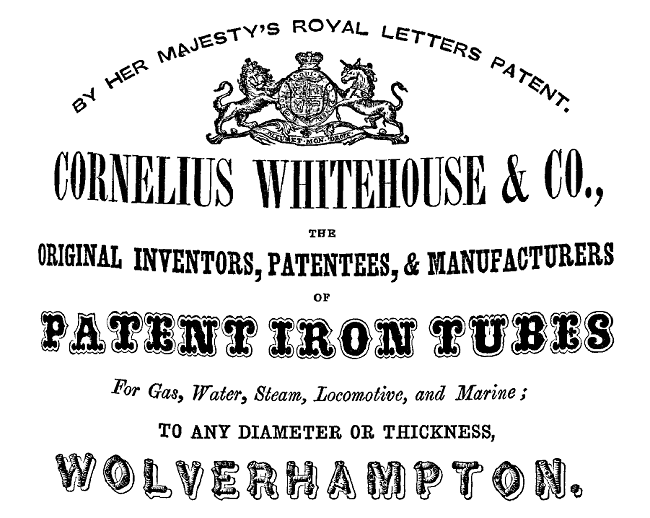 An advert from 1861.
Whitehouse's final venture, in a holloware manufacturing business at Birmingham ended prematurely in 1863 when a workman was crushed by a falling piston.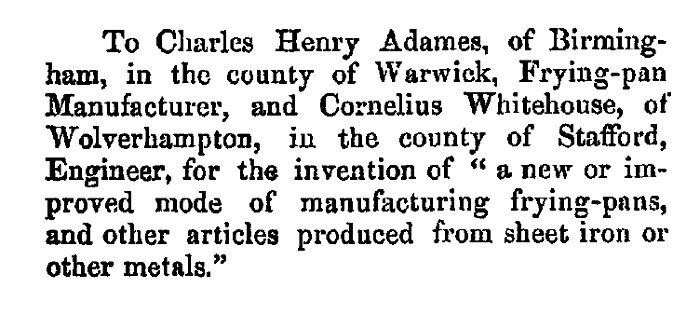 From the London Gazette, 4th January, 1861.
Cornelius married three times, first to Mary Peters in June 1821, who sadly died in 1822. They had a son who died at the age of three. Cornelius married again in January 1826, to Lucy Aston the widow of Richmond Aston of Bescot Hall. They had a son, Edward Searl Whitehouse, born in 1826. He became a gunmaker. Cornelius's last marriage in 1831 was to Charlotte Powers. Their son, Denham Whitehouse, born around 1840, is listed in the 1881 census as a window pulley maker, employing 16 men, 14 boys, 3 girls, and living with his family at 15 Great Brickkiln Street, Wolverhampton. Their other children were Emma Whitehouse, Charlotte Whitehouse, and Elizabeth Whitehouse.
Cornelius died on 7th August, 1883. At the time he was living at his son's house in Great Brickkiln Street. Two of his nephews worked in tube manufacturing. They both worked for him at Russells and at Monmore Green, and one of them, John Brotherton, founded Brotherton Tubes at the Imperial Tube Works in Wolverhampton and later became the town's mayor. The other, Thomas Pritchard, founded the South Staffordshire Tube Works at Wednesbury.
His obituary in The Engineer:
The Engineer. 24th August, 1883.
Cornelius Whitehouse
Those who remember the great patent of Russell v. Ledsam, which for many years dragged its slow length through the various courts up to the House of Lords, where it was finally decided in the year 1848, will regret to learn that Mr. Cornelius Whitehouse, one of the inventors whose patent was in dispute, died on the 7th inst. in the eighty-ninth year of his age. The invention was of the greatest importance, and may be said to have laid the foundation of the welded tube trade. Whitehouse was originally a workman in the employ of James Russell, tube manufacturer, of Wednesbury. As far back as the year 1825 he took out a patent for making tubes, according to which the skelp, previously bent up, was heated in a furnace, and was welded by being drawn, without a mandril, through a pair of semicircular dies; or through pincers, each jaw of which had a semicircular groove or aperture. It created quite a revolution in the trade, the price of tubes being reduced to one-half and for some sorts to two thirds, and a much longer length could be made.
The tubes were of greater uniformity, both internally and externally, and the trade came very soon almost entirely into the hands of Russell, to whom the patent had been assigned, the inventor receiving an annual sum of £300, together with a house and certain other advantages. Ledsam, the defendant in the action, was the assignee of a patent taken out by the late Richard Prosser, of Birmingham, according to which tubes were welded by drawing them through grooved rollers.
This was decided by the court to be an infringement of Whitehouse's patent, the grooved rollers being regarded as the mechanical equivalent of Whitehouse's die, but the litigation which was commenced in 1830 was not totally set at rest until 1848, long after the patent and its extension had expired. It was extended for six years in 1839, on condition that an annuity of £500 should be secured to the inventor. The defendants contended that the Crown had no power to insert such a proviso, and they further alleged that the application for extension had not been made in time, and that the annuity had not been duly paid.
Amongst the testimony to the great value of the invention given before the Privy Council was that of Perkins, the patentee of a well known system of warming buildings, who stated that no other tubes would have enabled him to carry out his invention. They would bear bending cold, and would stand a pressure of 5,000 lb. on the inch. Francis Bramah, son of the great inventor, also stated that the introduction of the improved pipe enabled him to dispense with the very expensive copper tubing formerly used in connection with hydraulic presses, which cost 10s. per foot, whilst Russell's pipe could be obtained of sufficient strength at 1s. 3d. per foot.
Mr. Whitehouse commenced business on his own account at the Globe Tube Works, Wednesbury, in 1845, which, however, he relinquished to Mr. John Spencer last year, as we reported at the time. He also took out several other patents in connection with the manufacture of lap-welded tubes, but none of such importance as his original invention. No one will be surprised, though it is much to be regretted, that in common with many other patentees, the benefits Mr. Whitehouse conferred upon all countries through his invention did not leave his latter days with such substantial means as the importance of the industry he created ought to have afforded him.
---
I would like to thank David Gardner for his help with this section.