SAMUEL GRIFFITHS
---
Election Poster 1865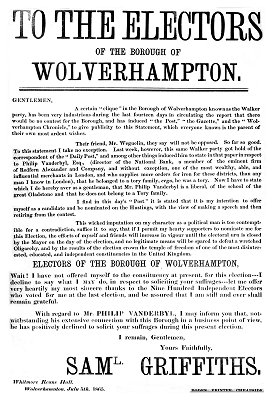 TO THE ELECTORS
OF THE BOROUGH OF
WOLVERHAMPTON.
GENTLEMEN,
A certain "clique" in the Borough of Wolverhampton known as the Walker party, has been very industrious during the last fourteen days in circulating the report that there would be no contest for the Borough, and has induced "the Post," "the Gazette," and the "Wolverhampton Chronicle," to give publicity to this Statement, which everyone knows is the parent of their own most ardent wishes.
Their friend, Mr. Weguelin, they say will not be opposed. So far so good. To this statement I take no exception. Last week, however, this same Walker party got hold of the correspondent of the "Daily Post," and among other things induced him to state in that paper in respect to Philip Vanderbyl, Esq., (director of the National Bank, a member of the eminent firm of Redfern Alexander and Company, and without exception, one of the most wealthy, able, and influential merchants in London, and who supplies more orders for iron for these districts, than any man I know in London), that he belonged to a tory family, ergo, he was a tory. Now I have to state which I do hereby aver as a gentleman, that Mr. Philip Vanderbyl is a liberal, of the school of the great Gladstone and that he does not belong to a Tory family.
I find in this day's "Post" it is stated that it is my intention to offer myself as a candidate and be nominated on the Hustings, with the view of making a speech and then retiring from the contest.
This wicked imputation on my character as a political man is too contemptible for a contradiction, suffice it to say, that if I permit my hearty supporters to nominate me for this Election, the efforts of myself and friends will increase in vigour until the electoral urn is closed by the Mayor on the day of the election, and no legitimate means will be spared to defeat a wretched Oligarchy, and by the results of the election crown the temple of freedom of one of the most disinterested, educated, and independent constituencies in the United Kingdom.
ELECTORS OF THE BOROUGH OF WOLVERHAMPTON,
Wait! I have not offered myself to the constituency at present, for this election --- I decline to say what I MAY do, in respect to soliciting your suffrages --- let me offer very heartily my most sincere thanks to the Nine Hundred Independent Electors who voted for me at the last election, and be assured that I am still and ever shall remain grateful.
With regard to Mr. PHILIP VANDERBYL, I may inform you that, notwithstanding his extensive connection with this Borough in a business point of view, he has positively declined to solicit your suffrages during this present election.
I remain, Gentlemen,
Yours Faithfully,
SAMl. GRIFFITHS,
Whitmore Reans Hall,
Wolverhampton, July 5th. 1865. RODEN PRINTER CHEAPSIDE
---