---
James Richard Morgan, known as Jim, was the son of another Jim Morgan. In addition to the young Jim, Jim senior had two other sons, Gordon and Aubrey George (known as Jack). Gordon was in the South Staffordshire Regiment but died, at the age of 17. Jack married Irene.
On his mother's side, Jim's grandfather was a Mr. Budd, who came to Wolverhampton from Ellesmere Port. His eldest son was David Budd, who kept a number of pubs, including the Grapes in Whitmore Reans, and the Posada and the George in Wolverhampton Centre. He became the steward of a club (but which one is not known, though it was certainly in Wolverhampton). Another son was Ernest (Ernie) Budd who, as the result of injuries received in the first World War spent the rest of his life in Clatterbridge Hospital on the Wirral.
Jim Morgan (junior) married Lillian Budd. Jim and his wife can be traced to a number of addresses in Wolverhampton and Bilston, mainly from membership cards of his clubs and personal recollection. In 1928 he is at 138 Alma Street. In 1929 he is at 9 Heath Street. By 1939 he seems to have been at 139 Alma Street. Later he is remembered as being at Clive House, Bulger Road; then at 75 Millfields Road, Bilston (opposite E. N. Wright's works), and then, sometime in the late 1980s, on account of heart problems, he moved to a ground floor flat in Tame Street, Bilston, where he died.
The Budd side of the family
Left: Jim's wife's Grandfather Budd.

Right: Jim's wife's father and Gradfather, with Jim's daughter.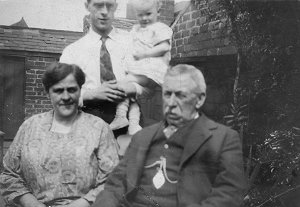 Jim holding his daughter, with his wife's Grandfather and Grandmother.
Pte. E. Budd, K.R.R.. 1914-18.

He was Jim's Uncle Ernie.
The photos below, which are interesting examples of WW1 military hospitals, presumably include Ernie Budd. He never properly recovered from his war wounds.
| | |
| --- | --- |
| | Military Hospital, 1914? |
| | |
| --- | --- |
| Military Hospital, 1914? | |
| | |
| --- | --- |
| | David Budd when he was a club steward. The club is believed to have been in Wolverhampton but which club it is, is not known. |
| | |
| --- | --- |
| Another scene in the club. There are people in Auxiliary Fire Service Uniform in both pictures. This may help with identifying the club. | |
The Morgan side of the family
| | |
| --- | --- |
| | Jim's father. This is a studio photo by A. B. Hart of Wolverhampton. |
Jim's father and mother.

A studio portrait but the photographer is not identified.
| | |
| --- | --- |
| | Jim's father and mother (left) with his Uncle Harold and Aunt Doris.Taken in Trafalgar Square, London, probably by a street photographer. |
Great Uncle Harold, about 1913.

A portrait photograph taken in a studio (unidentified) with an elaborate painted backdrop.
| | |
| --- | --- |
| | Jim's father, Aunt Mary, Mother, and Aunt Millie. |
| | |
| --- | --- |
| Uncle Joe Baker before 1914. | |
Tombstone of Joe Baker, his wife Hannah, their son James

Also recorded is Gordon Graham Morgan, who was in the RAF and died, aged 17.

How his death occurred is not known.
Jim Morgan and his immediate family
Left: Jim, his wife and daughter, 1926.

Right: Jim and his wife in later years.
Left: Gordon and Jim's daughter.

Right: Jim's daughter, aged10, in 1936.
Left: Gordon in a tinted photo of unknown date.

Right: Gordon the the Cadets.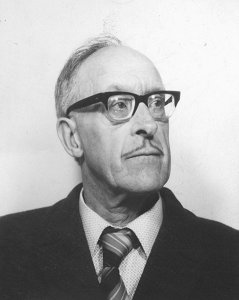 Jim Morgan.
| | |
| --- | --- |
| Jim in later years. Note the model ship on the cabinet behind Jim. This would have been one of the models he made. | |
| | |
| --- | --- |
| | Jim's daughter, who kept all the photos and captioned them. |
---