CIVIC TRUST AWARDS IN WOLVERHAMPTON
Ex-Clarkson's Store, Snow Hill
---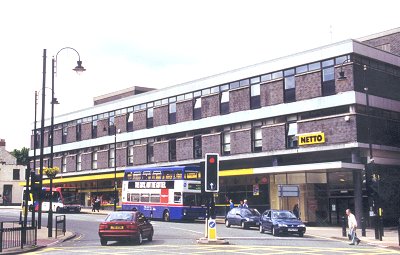 Note: This was written in 2008 before Wolverhampton Archives and Netto vacated the bulding.
This building received a Commendation when it was new in 1966. The citation says: "This store has been handled in a very simple, straightforward and dignified way. It makes an excellent contribution to the street scene both by day and night, and sets an excellent example that one hopes will be emulated by other shops and development in the area. The street elevations above the shop windows on the ground floor, are clothed with a curtain wall of pre-cast concrete grill of simple rectangular design. The storeys are expressed by high level horizontal strip windows. This treatment is functional and most successful. The commendably simple treatment of the rear elevation to the service yard and car park and the good placing of lettering deserves mention". The architects were C. H. Elsom and Partners, and the contractors were Higgs and Hill (Coventry) Ltd..
Clarkson's was an old established and successful department store, originated and operated by a local family but, by the time this new store was built, it had become part of the Army and Navy Stores Group. There followed a bewildering succession of names for the store. Eventually it was abandoned as a store, the ground floor being taken over by a Netto supermarket and the upper floors becoming offices. But for readers of this site the most important thing about the building is that the Wolverhampton City Archives are on the first floor - enter by the glass doors on the right, take stairs or lift to first floor.
The building is not generally regarded as one of Wolverhampton's more appealing pieces of architecture. But it is a decent, if not outstanding, piece of work. The upper floor fronts are an attempt to deal with the problem that department stores do not really need windows at upper levels and would rather have blank walls to maximise the internal display space. The result is a pleasantly ordered facade that probably does more for the view from outside than it did for the utility of the inside. Anyway the conversion to offices seems to have worked well enough.
---