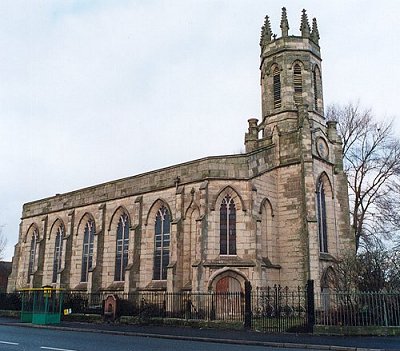 Listing: 1827-29. By Francis Goodwin. Early English style. The listing includes the Cooper memorial and the walls, railings and gates.
Literature:
Pevsner: This is .. a Commissioners' church and it is Gothic.

Jill Fellows, A History of St Mary's Church, Bilston 1830 - 1980, published by the church, 1980
Comment: Not a usual design at all. Its massing gives it an ark like quality. Contrast this with Goodwin in classical mode at St. Leonard's.
This is a genuine Commissioners' church in that they provided the whole cost of £7,749. Perhaps as a result of this there were 538 private pews but 956 free pews. (All the seats became free in 1905).
The petition to the Commissioners was presented in 1825. The site purchased was "Gozzard's Croft" and cost £907.10.0d. The foundation stone was not laid until 29th May 1829 and the furniture was not bought until well in to 1830. So the dates in the listing, 1827-29, perhaps ought to be 1829-30. The contractors were Samuel Buxton and Son.
The arrangement of the church is odd and the parishioners like to say that it was built back to front - and that the architect committed suicide when this was noticed! The tower is at the cardinal and liturgical east end; but the three doors there, which look as if they ought to be the main entrance, only give access to two vestries and a passageway which links the two behind the altar. Inside the east end is not apsidal, as the exterior would suggest, but presents a large flat wall to the congregation. The main entrance is where you would expect, at the west end, which end is also apsidal. It is all very odd but one can hardly suppose that an architect like Bidlake, closely watched by the Commissioners, made a mistake. It is made somewhat odder by the stained glass window above the west entrance, the text on which is arranged to be read from the outside of the church not, in the usual way, from the inside with the sunlight coming through.
The Rev. Henry Newbolt was the incumbent from 1860 to 1866. Thus Sir Henry Newbolt (1862-1938), the patriotic poet, was born in Bilston. He occasionally returned to Bilston and did so to open the centenary church gala in 1930.