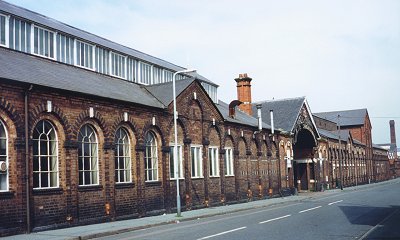 Listing:
Brewery: tower brewery, 1873, for William Butler. Interior noted as having cast iron frame and late C19 fermenting rounds and mash tuns.

Entrance canopy, lodges and Gates. 1880s.
Comment: Goodness knows why this building is listed in two parts - it only adds to the confusion as to exactly what is listed and what is not. Mitchells and Butlers took over the brewery from William Butler many years ago and ran it as a brewery for some time. When they stopped brewing on the site they used it as a distribution centre. The building and its area were ripe for redevelopment and these historic buildings would have to be incorporated into any scheme. (Some rather similar gates have been successfully preserved and used as an entrance to a residential development in the East Markets, Adelaide). The whole site was acquired by the Wolverhampton property developers, Simon Developments.
| | |
| --- | --- |
| | At the end of May 2001 it was reported that an application for outline planning permission was submitted by Simon Developments for the development of what was basically a boutique retail centre, with associated cafes and the like. The proposal met with the approval of the council's officers and of English Heritage but was refused planning permission because of the councillors' opinion that it would be a threat to the viability of the city's shopping centre. Simon Developments did not appeal and had to go away and think of some other way of saving this important building. |
Since then the buildings and the surrounding area have been included in a conservation area and the buildings have featured in council reports as being at risk - which, thanks to the council, they probably are. In the draft City Centre Strategy and Action Plan they come up with the bright idea of using it for "a new cultural conference centre" and a venue for large weddings, incorporating an "exhibition centre to act as a showcase for Wolverhampton's diverse communities, and for local artists, potentially supported by some specialist retail [sic])." The idea of holding large non-conformist and Hindu weddings in a brewery is certainly a remarkable one.
In 2004 the predicted risk duly occurred and the buildings caught on fire. Extensive damage was done to the tower and the buildings at the back and all the brewing equipment left inside was lost. So Simon Development had to have yet another think. They have now (late 2004) produced a plan for offices in the old offices, restoration of much of the rest and its conversion into flats, shops, restaurants; and housing on the back land. Presumably the council will abandon its ideas about Hindu weddings and give its blessing to a sensible and practical scheme. And then Simon Developments will, as like as not, carry out the scheme, unlike many other developers in this quarter of the town.
---