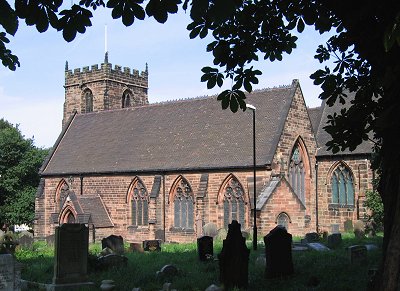 Listing: C14 with C15 tower but much restored in the mid C19 by Edward Banks.
Also listed: base of churchyard cross (probably C10/11); Bradburn Monument (1830s); Carter Headstone (Headstone to Rev. John Carter, Catholic Priest, 1803. An unusual example of a memorial to a Catholic priest in an Anglican graveyard, symbolic of the religious toleration of Wolverhampton); gravestone to W of S porch (probably late C13 or early C14); Hordern Tomb (chest tomb, dated 1813); group of headstones to E of S porch, late C17 and early C18); Jackson headstone (1680s).
Comment: for a full account, by the local historian, the late Alex Chatwin, of this venerable church, click here. The church lies almost on the edge of Wolverhampton and amidst fields. This ancient foundation tells us of Bushbury's separate and independent existence, from its days as an early agricultural parish until almost the mid-20th century, when industry and housing began creeping up from Wolverhampton in the south, until almost every field was taken over. But in this part of Bushbury there is still a lot of open space and views over rolling fields. Just beyond the church is Bushbury Hall and its farmyard outbuildings (all listed); and not far away is Northicote Farm; all are redolent of an agricultural past.
The extensive churchyard contains many interesting memorials, not all of them listed; and the church itself contains many more.
The base of the churchyard cross, probably 10th or 11th century. There is another cross base to the south of Wolverhampton at St. Batholomews, Upper Penn; and an almost complete cross at St. Peter's in the city centre.

These, and the collegiate churches at Wolverhampton and Tettenhall, suggest that around the time of the conquest this part of south Staffordshire was still regarded as needing missionary work.
This gravestone, in a favoured position close to the church beside the south porch, is listed as "probably" late 13th century or early 14th century.

The remains of carvings can be vaguely discerned on its surface.
The three upright stones, in a favoured position close to the church, are listed as "group of headstones to E of S porch, late C17 and early C18".

The dates on them, still discernible, are within a few years of 1700.
The tombstone of the Revered John Carter, who died in March 1803. Catholic priests had to be buried somewhere so it is not all that surprising to find one on a Church of England churchyard.

What is unusual is to find a paean of praise on the stone. At the time of his death Catholicism was tolerated in Wolverhampton and was almost the norm in Bushbury, with its local Catholic families and associations with Charles II's flight from Worcester.

It was only later in the 19th century, with a huge influx of Irish workers, that toleration broke down and religious riots took place in Wolverhampton.
The inscription on the Carter stone reads: "Beneath this stone repose the mortal remains of the Rev John Carter, 26 years the Pastor of the Catholic Congregation of Wolverhampton. He was a man of uncommon talents, comprehensive, energetic, splendid. In his principles independent, in his conduct unvarying, ingenuous and kind. And though possessed of little, with that little cheerfully content, and ever ready to divide his pittance with the poor. Steadfast in his religious belief, the duties of which he carefully impressed on the minds of his flock, and the tenour of his life was a comment on his doctrines. In the excellence of -?- eloquence he was truly great [then five lines not yet deciphered] May he rest in peace." The wording may seem a little odd but it is not as odd as the layout which has left justified lines of apparently random length.
| | |
| --- | --- |
| | Chest tomb of some members of the Hordern family, c.1813. There are other chest tombs in the churchyard but they are not listed. For Alex Chatwin's account of this family, click here. |
| | |
| --- | --- |
| The Bradburn memorial, of the 1830s. The memorial is signed "Jarratt, Wolverhampton". | |
This gravestone, for Thomas Whittall, is not listed but it is a fine piece of work and contains the curious inscription: "He was a truly honest and upright man.

As a proof of this, the last 56 years of his life were spent in the employ of the Birmingham Canal Compy".
The Jackson headstone of the 1680s, which is listed, has not yet been identified and photographed.
---