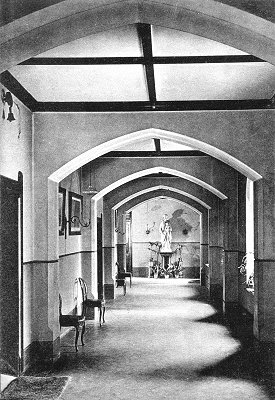 The Cloisters. These clearly were (and still are) an access passageway. They do not overlook an ancient garth.
Vanessa Evans, who was at Our Lady of Mercy school writes:

"The school was actually linked to the convent, which belonged to the Sisters of Mercy. In 1978 the school part of the building was demolished but the convent was left. That part of the building is still there but is now used for offices. The existing chapel still remains though. The actual school linked up with St Chad's boys college in Fallings Park. It was renamed Our Lady and St Chad's. I spent my final year there.

The Sisters of Mercy re-located to a convent in Penn. I managed to track down my former headmistress, Sister Dominic. She told me that it was opened by the Sisters of Mercy in 1849 as a
private school. It was re-organised as a direct grant school in 1925 and later became Voluntary Aided.

When I was a pupil at the school there were rumours of a haunting. These rooms were closed off to the pupils and I am not sure how true the story is".