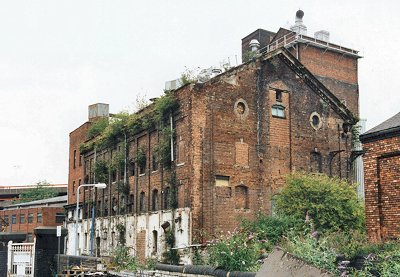 Listing: Corn Mill, now factory. Rebuilt after fire of 1851 by William Fairbairn and Sons of Manchester. ... cast iron framework.... The original mill was built here c.1800 on the site of a former windmill. This is an early example marking the second phase of building fireproof structures, by an important Manchester engineering firm. The former steam engine drove 18 stones.
Comment: A large corn mill like this combines both the agricultural and industrial past of the city. It stands in an area with many listed and interesting buildings, mainly connected with the canals and railways. On the other side of the road stands the single storey Sack Mill (not listed). There was once a structure across the road which transported the mill's products to the Sack Mill for putting into sacks for distribution.
The present structure replaces one which was built about 1800 but which burnt down - hence the interest in fireproof structures when it was rebuilt. There was a canal arm which came right into the building and the railway ran past the door. Originally there were 18 stones grinding corn and animal feedstuffs. These were steam driven and the building was known as the Old Steam Mill (or sometimes as Miller's Mill, after the firm of J. N. Miller, who owned and operated it).
The building has been empty since 1981 when Miller's closed own. It is understood that in 2000 this building was bought (for £1) by a local developer, Peter Maddox Commercial Developments Ltd., who, with the aid of local, central and European grants, proposed to restore it, primarily for residential use. But something went wrong. Nothing at all happened and the building deteriorated. In 2003 the building was sold (for considerably more than £1) to Country and Metropolitan Homes. They also propose to turn it in to flats - and are also seeking outside funding to help with it. They have applied for permission to demolish some late 20th century additions but nothing had been done when the building was hit by a great fire in August 2008.
| | |
| --- | --- |
| | Photo taken a few days after the fire. The exterior walls do not seem much affected - but the roof has gone. |
| | |
| --- | --- |
| This photo of the interior shows more of the extent of the actual damage. Not only has the roof gone but the internal structure has been reduced to a maze of twisted metal. | |
---