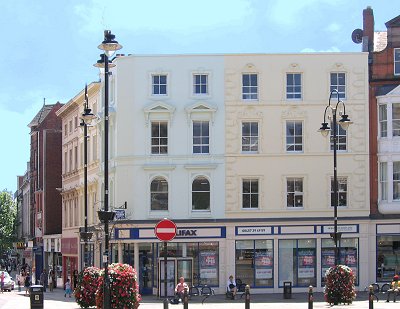 Listing: c.1860. Included for group value.
Awards: In the Civic Trust Awards for 1996 the restoration of this block for the Halifax Building Society received a Special Mention. The report reads: "These previously vacant grade II listed buildings facing the town square have been carefully refurbished to provide an extension to a building society branch office. New hardwood shop fronts have been designed to relate to the windows above and, together with the use of colour, help to restore the individual identity of the three buildings". The architect was Barton Fellows. The contractor was William Sapcote and Sons.
Comment: The remarkable red brick sort-of-arts-and-crafts building on the far right is part of the Halifax set up but is not included in the listing, as far as I can make out. If it isn't, perhaps it ought to be. I think the 6 bay building on the left is 61 and 62; it pretty much corresponds with the details given in the listing. The building on the corner is 12 Queen Square and the 3 bay building on the right is 13 Queen Square - but are the really as old as 1860?
These buildings occupy an important corner of Queen Square, look nice and are part of the old familiar scene. In the 1990s there was much concern at the replacement of shops in shopping centres with non-shop uses, especially the premises of building societies. Here Halifax may have replaced some shop uses - the tobacconist chain, Bewlay, used to be here, as well as Lyon's - but the refurbishment looks like a gain overall.
---