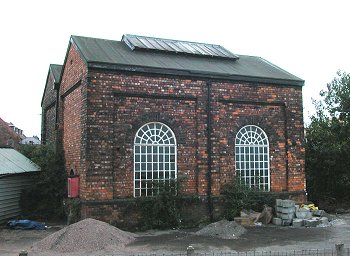 Listing: Hydraulic engine house. C. 1890, built as part of the London and North Western Railway Company's Wolverhampton High Level development. Flemish Stretcher bond: double-gabled Welsh slate roof with rooflights. Square plan, in two bays, with boiler end engine house in each bay: hydraulic accumulator was located next to the engine house, to the east elevation (north end), Single storey. All elevations each have two recessed panels, the side elevations having dog-tooth cornices in blue brick. West elevation, facing the Old Steam Mill (Grade II), has semi-circular arches to double leaf plank doors. North elevation has two similar arches cast-iron multi-panelled windows, with centre hung top radial lights. Infilled window to south elevation. Two segmental-arched openings to former boilers in east elevation. Interior has timber roof trusses.
History: An integral functional part of a very fine grouping of industrial structures around Corn Hill. The Interior housed two boilers and a cylinder steam engine, the hydraulic power thus produced (as water pressure) powering the cranes and ramps in the nearby Mill Street Goods Depot (listed Grade II).
Comment: A standard London & North Western Railway building designed at Crewe under Francis William Webb. The L.N.W.R. were always willing to save money where possible and self sufficiency was the byword. In the mid 19th century bricks were often made on a building site, especially when large buildings were under construction. In a large enterprise like a railway new buildings were regularly required throughout the country, all needing large numbers of bricks. Large scale brick making began at Crewe in 1862 using clay from the cutting between the south end of Crewe station and Whitmore. The company had been paying 24 shillings per 1,000 for bricks from outside suppliers whereas company-made bricks cost just 16s.2d per 1,000. The bricks were handmade and so a lot of labour was involved.
In 1872 Webb realised that the L.N.W.R. could make bricks more cheaply if the process was automated. At the time Crewe works were expanding and the clay spoil from the building site was dumped in a field where the clay sub-soil ran deep. Webb gave his Indoor Assistant and Assistant Steel Works Manager, John Aspinall, the task of building a 100ft diameter Hoffman kiln with a 114ft chimney. Two Pinfold brick making machines were driven by an old locomotive. Aspinall worked hard on the project and in the first eleven months about 4.8 million bricks were produced at the cost of 15 shillings per thousand. The brick making plant cost just £5,000 and gave a saving of 1s.2d per thousand, using mass production techniques. Aspinall described the final loading operation as follows:
Around the kiln is a line of rails, upon which the ordinary railway trucks run, and the finished bricks are loaded direct from the kiln into them, by two men who fill their barrows, wheel them to the trucks, and pile the bricks carefully inside, for 5.5 pence per thousand. One thousand bricks weigh three tons, and considering that this weight has to be moved twice and wheeled about fifteen yards, it is not a high rate.
Webb was so pleased with the success of the venture that he doubled Aspinall's salary.
The multi-coloured bricks are an attractive feature of most L.N.W.R buildings, and make them easily recognisable. They were a common site up and down the L.N.W.R. mainline, but most of the company's buildings are now long gone and only two remain in Wolverhampton, this one and the adjacent Mill Street Goods Depot.
---