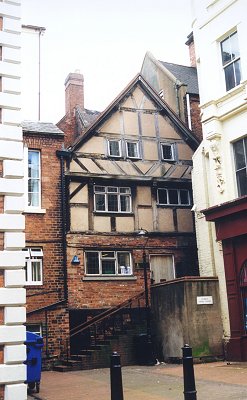 Listing: North end of west elevation [of 43 & 44 Queen Square] off Exchange Street has C16 timber framed gabled bay with brick underbuilding ... Interior of rear wing has chamfered beams and jointed cruck trusses. [This building is listed under 43 & 44 Queen Square, of which it forms a part; but, for reasons which will be apparent, it is convenient to deal with it on two pages of this site].
Literature: Anthony Perry, St. Peter's House, St. Peter's Collegiate Church, 1974.
Comment: One of the few half timbered buildings left in central Wolverhampton, this remarkable survivor was restored a few years ago by the Borough Council. The note from the listing is taken from the listing for 43 and 44 Queen Square, because this is the back of part of those buildings - which, when facing Lich Gates are pure early Georgian. This happened because that side of the building was refronted in a more fashionable style - when it was still the usual practice for the rich and status conscious to live in the town centre. The refronting is strictly symmetrical, with the result that some of the internal arrangements are a bad fit.
This side was left unimproved, presumably because it was on a less public frontage. Where Exchange Street now is there had been a narrow alleyway, called Bird in Hand Yard. It lead to this small courtyard space, with this building (which was part of Cope's Wine Lodge), and two pubs, the Bird in Hand and the Golden Ball, both on the left. In 1851 a consortium of 10 local men, who had entered into an agreement with the Borough Council for the improvement of this part of town, widened and straightened Bird in Hand Yard and carried it straight through to Cheapside, which they had also widened and straightened. In the course of this work the Golden Ball and the Bird in Hand disappeared and what is now known as St. Peter's House was built on the site.
This building was used by Copes along with their building fronting Queen Square. After Cope's left it seems that the tenants of that building did not use this building at all. But the courtyard to the front was used. A Mr. and Mrs. Hemmings bought the site in 1954 a built a small, single storey shop on it, which became famous for the sale of crockery. They remained there until the restoration of this building took place.
---