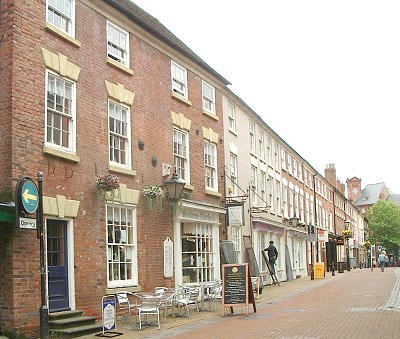 Listing:
2 and 3 King Street (Madame Clarke's): early C19, possible C18 core.
4-15 (consecutive) King Street: [each building is listed as:] late C18. One of a row of Georgian Houses in King Street, built after 1751.
Comment: King Street was a new street, created, in the late eighteenth century, to accommodate (and exploit) the expansion of the town and most of the buildings in it are of a similar date. The listing suggests a date after 1751 because that is the date of Isaac Taylor's map and the street does not appear on it. Madam Clark's (on the left of the photo) may be of a later date and the building next to it (off the photo to the left) has a commercial or industrial look about it. So that end of the street may be a bit earlier or a bit later than the rest.
Originally all the buildings were houses; but as Wolverhampton and its shopping centre expanded most of them became converted into offices, shops and the like. Madam Clarke's is so named after a lady who ran a coffee shop of ill repute on these premises.
| | |
| --- | --- |
| | This photo, taken from a publication of 1910, shows how all of the houses would have looked originally. Non-residential uses had already come in. This house, number 8, was occupied by Beardmores Ltd., who supplied artificial teeth. The dates when shop fronts were inserted into most of these buildings is not known. |
The photo above comes from an advertisement for Beardmores, as does this, showing the interior. There is a dentist's chair with a foot operated drill.

The man having his false teeth fitted has his hands in his overcoat pockets - presumably to indicate how relaxed he is.

There seems to be some form of artificial light bearing down on the patient but it looks as if natural lighting was the main source.
The whole street has been renovated in recent years. It makes one of the most attractive streets in the town, even though the opposite side is pretty horrible.
---