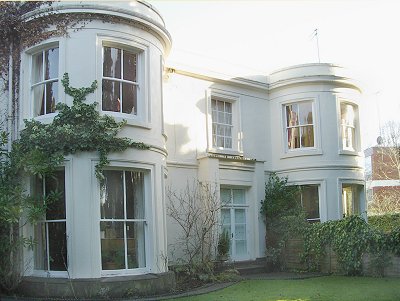 Thanks to the owners of Crescent Lodge for permission to enter and photograph, and for saying we can come back in the summer and try to get a better shot.
Local Listing: Locally listed in 2004. An early 19th century two storey house, which is now two houses. The building is white painted stucco with a parapet roof and stucco stacks. The building is symmetrical and includes two two-storey semi-circular bays with two-over-two paned sliding sash windows. The building is set within extensive grounds and set back behind the carriageway behind a stone wall topped with decorative iron railings.
Comment: The local listing details appear in the appraisal for the Tettenhall Road Conservation Area, in which this house stands. The owners of Crescent Lodge (one half of the original) have the date of 1820 for the building of the house (and 1920 for its division into two) which was once owned and occupied by Felix Blakemore and members of his family. He was the eldest son of Edwin Blakemore who had a retail grocery, tea and coffee shop in Salop Street and branches elsewhere. The family business closed down after World War II. The grounds - which are now considerably less extensive than they were - contain a two storey stable block (now converted to residential use) and the remains of a carriage house.
The house seems to be unique in Wolverhampton and to be of a much earlier date than anything nearby. Presumably it was first built as an out of town residence for one of Wolverhampton's industrialists.
The information on the Blakemore family was kindly supplied by John Egan who is married to Edwin's granddaughter.
---