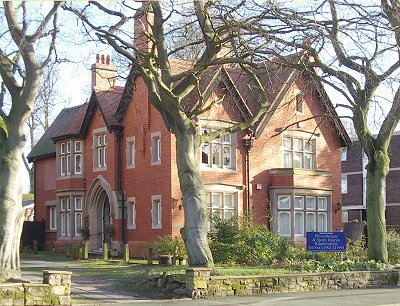 Local Listing: Locally listed in 2004. A large, two-storey, detached, purpose-built vicarage, built in 1897 to the design of W. J. H. Weller. Later works by this architect have been inlcuded in the statutory list .... Baron's Court on Goldthorn Hill ... has been added to the local list. It [this vicarage] is built of red brick with stone dressings and a red clay plain tile roof with brick stacks. The main entrance is facing the church beneath a gothic stone arch.
Comment: The local listing details appear in the appraisal for the Tettenhall Road Conservation Area, in which this house stands.
This building was mentioned on this site under our entry for St Jude's Church, as follows:
Dr. John Thomas reports that the vicarage next door (which is in plain red brick) was built in 1897. It is an early work of W. J. H. Weller. At that time he was apprenticed to John Weller II and seems to have lived opposite at 12 Tettenhall Road. It may be that Bidlake provided a rectory when the church was built and this one replaced it.
| | |
| --- | --- |
| | Since then this photo, in Eric Woolley's "Wolverhampton in Old Picture Postcards" has been noticed. The building on the right seems to be a very substantial vicarage and is presumably that which Bidlake provided. It is in brick with stone dressings. Why was it replaced? Were there structural problems? |
The building is no longer a vicarage and is in use as offices.
---