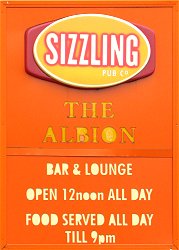 Listing: The Albion public house, Lichfield Road.

Comment: A handsome building in red brick, the front a strong composition with two big shaped gables at the ends. It has good details: brick voussoirs to doors, and iron balconies. The design is similar to Clark's Four Ways, Portway, Rowley Regis, also of 1937.
It has been poorly treated recently with what appears to be new weatherboarding to the upper floor between the gables, and an awkward porch, but its powerful form is still very recognizable. The former garden is now a car park.

The Albion is important in townscape terms, in a prominent position on the corner of Stubby Lane.