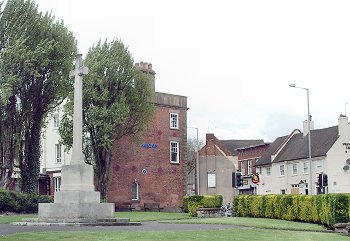 Listing: Locally listed in 2004. War memorial set in gardens bounded by decorative wrought iron railings. Memorial is of Portland stone with a simple elongated bronze cross applied to a slender shaft on a stepped plinth. Made by Messrs Dove & Co of London to a design by Sir Richard Blomfield. Names of the fallen are recorded on a plaque set into the brick wall forming the rear boundary of the gardens. Unveiled November 1921.
Comment: These memorial gardens stand on an important gateway into Bilston Town Centre with the Black Country route and Oxford Street behind them. They now, perhaps, look a little plain and not sufficiently prominent to do as much for the gateway as they might.
| | |
| --- | --- |
| | The decorative wrought iron railings (designer and maker unknown) are largely invisible in the enveloping privet. It would be nice to dig them out and restore them. |
The local listing says the cross was designed by Sir Richard Blomfield. But surely this is the Cross of Sacrifice (or the Great War Cross). It was designed by Sir Reginald Blomfield when he was with the War Graves Commission (where, amongst other things, he also designed the Menin Gate). The idea was that this cross would be used in all war graves cemeteries and in all war memorials in this country. In the outcome it was very widely adopted and this is one example of it. Bradley and Ettingshall both eschewed it in favour of a red granite Celtic cross and Wolverhampton produced one entirely of their own in red sandstone. Blomfield was a direct descendant of a man who came over here at the Norman Conquest and he was not inclined to forget it: "I for the hill on which I was born; France for the French; Germany for the German; England for the Englishman". He objected to what he thought of as elements of foreign design creeping in to English architecture. He is now best remembered as a garden designer - all the more reason for some refurbishment of these gardens.
---