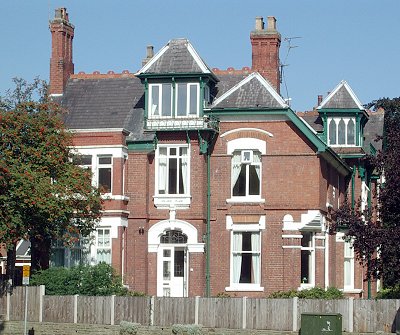 Listing: Pair of semi-detached villas, third quarter of C19. Gothic type detailing. Two storeys, with low towers over each doorway rising to the third floor. Tower tops are timber and glazed, with steep hipped roof detailing. Plate sash windows with painted stone sills, lintels and arches, also mullions. Complicated slate roof with crested clay ridge tiles, with a hipped gable turning the street corner.
Comment: A pair of the many, somewhat idiosyncratic, gentlemen's residences in Tettenhall. These lie at the north end of Upper Green. The lack of symmetry must be deliberate, not to say capricious; but it's the two little pseudo-towers under pyramid roofs which shout "Look at me, I'm different".
I have an idea that Major Buckley lived in one of these. If he did then many people will think that fact alone warrants statutory listing Grade I. Or was it Stan Cullis? It doesn't matter much, the same applies.
---