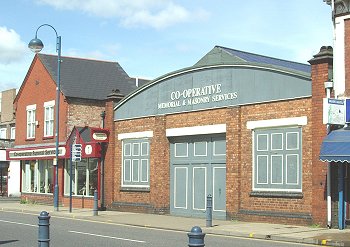 Listing: Locally listed in 2004. Co-op Funeral directors. Red brick with Belfast roof. Used to garage funeral cars but once used as stables.
Comment: An interesting reminder of the days when horses dominated the roads. This and the shop and accommodation next door may have been built as undertakers' premises. In 1914 it appears in a local trade directory as occupied by F. W. Collins, undertaker. A date stone on the shop says 1907, so this may be the date of the whole thing. By 1924 Collins are listed as here and at 50 Wellington Road. It is only in recent years that Collins moved out of here and the premises were taken over by the Co-op. F.W Collins & Son (Funeral Directors) Ltd now have modernised premises on Wellington Road. (Thanks to Reg Aston for information).
Once the Co-op was a dominant force in Bilston. It is said that committed Co-op members would get married on a Monday so that they got double divi on the reception held at the Co-op. What they did about funerals has not been noted.
---