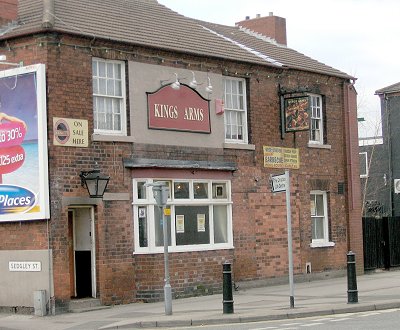 Listing: The King's Arms was originally built in circa 1850. The front elevation of the building had a central round‑headed doorway with shallow canted bays to each side at ground floor level with sliding sash windows above. The ground floor elevation has suffered subsequent alterations and the original roof covering replaced in concrete tiles. However, the building does have important historic associations in that it was the venue for the meetings of Wolverhampton Wanderers Football Club from its creation in 1877 until 1889 when they moved to the old Molineux ground.
Comment: This pub was one of many which served the Blakenhall area as it developed in the 19th century. It is of interest as a survivor in what became a very run down area and is well worth keeping as a reminder of the origins of an area which is now undergoing considerable upgrading. It contributes to an interesting, mainly Victorian, street scene.
Wolverhampton Wanderers are, as the name implies, a local football club. It seems to have originated from St. Luke's church or school nearby. That team combined, in 1879, with Blakenhall Wanderers Cricket Club, whose members wanted something to do to keep fit during the winter. From 1877 to 1879 they played at Windmill Field, off Grange Road, not far from here. Later they moved to John Harper's field, opposite the Niphon Works (qv), also not far from here. And then, in 1889, they moved to a field behind Molineux House, near the town centre, where they still play. One of the original players of the Wanderers was Charlie Mason, whose father owned this pub and allowed them to use it for meetings.
A little further along Dudley Road is Wanderers Avenue which was named to commemorate the club's winning the FA Cup (then known as the English Cup). The houses numbered 3-21, on the south side of the road, have name stones bearing the names of the members of the winning team.
---