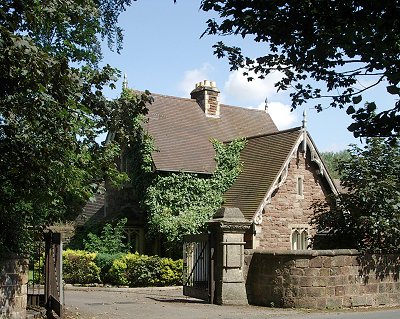 Local listing: 1864. Gate lodge to new demolished Danes Court. Stone faced, tiled roof with central stack. Gothic tracery.
Comment: Danescourt was built by Edward Perry, who owned a large japanning company in Wolverhampton and was Mayor of Wolverhampton. This house was designed by Joseph Hanson (of London cab and Birmingham Town Hall fame). Perry died shortly before he could move in. His company went to his nephews, who combined wit with their own firm, Richard Perry Sons and Co., which still has some fame as one of the firms known to have employed the Victorian industrial designer, Christopher Dresser. At some point Danescourt seems to have become a school. The name "Danescourt" is sometimes cited as evidence of Danish occupation of the area but it was, in fact, invented by Edward Perry, who thought the Danes had been in the area and wanted to provide an association with them. In reality there is no evidence of Danish occupation.
This lodge is important as the last remnant of the house and also for its contribution to the local scene.
---