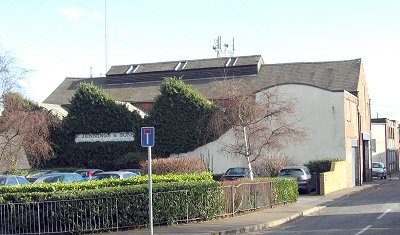 Listing: This is a simple gabled two storey rectangular brick building with six timber louvred openings in the East elevation. The slate roof has a large timber louver along its ridge, also slate covered. The upper malting floor and some of the original fixtures survive. Maltings were once common structures in most urban areas but are becoming increasingly rare. Thomas Williams, Maltster, is listed in trade directories for 1860 and 1873 and this building probably dates from the 1860s. It is currently now used as part of the premises of a funeral directors.
Comment: Even as late as the 1901 OS maps of Wolverhampton show a considerable scatter of malt houses but this might be the only one left. Keeping this fascinating reminder is vital.
The funeral directors who now own the buildings are Jennings and Sons, probably Wolverhampton's most distinguished funeral directors, who undertook most of the important public funerals in the area. Their story can be found here on this web site.
---