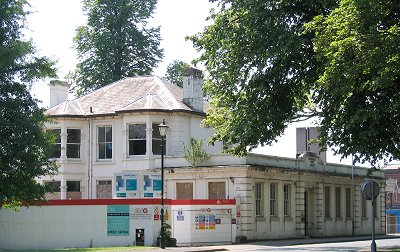 Local Listing: Smallish, late C18 villa, 4 pane sashes, painted and rendered, on a complicated plan. Shallow, hipped slate roof. Formerly offices of Tettenhall Urban District Council. Single storey Edwardian 'public' range to Regis Road. Flat roof, angles and main doorway pilasters with banded rustication. Tall sash-type windows under a heavy cornice and low parapet.
Comment: Tettenhall UDC was one of the new urban and rural district councils created in 1896. According to Geoffrey Hancock's "Tettenhall" (1991) the Tettenhall UDC "first met in rooms over the present Taylor's cake shop. The blocked out notice indicating this is still to be seen on the wall. Much later the offices moved to 'Oaklands', the home of the Lisle family, and now the village library". The UDC disappeared in 1966 when Wolverhampton's boundaries were enlarged in all directions.
Edward Lisle, who lived here, was the founder and owner of the Star engineering group who made Star Cars, Briton, Stuart and Starling cars, as well as having forays into motorbikes and aeroplanes.
Amidst much local protest the whole complex was sold off for residential development in 2005 and is now in the process of conversion.
---