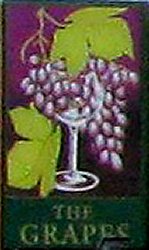 Listing: The Grapes public house, Moseley Road, Portobello.

Comment: A puzzling building, built for Butlers but not like the work of Twentyman, their normal architect at this period. It has a long, rather flat façade with mullion and transom windows and two Ionic porches with segmental pediments. The chimneys have corbelled tops, and the end ones rise from gablets, suggesting the same unknown hand as the Monkey House, Kent Street.

It is a landmark building in an area of modest sized housing, occupying a commanding position opposite and above a small park and pool.