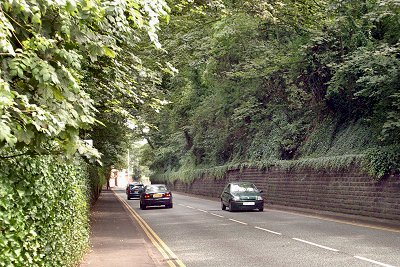 But oh! that deep romantic chasm which slanted
Down the green hill athwart a cedarn cover!
Local Listing: 1820s roadway engineered by Thomas Telford, as part of the Holyhead Road improvements. Deep, steep cutting through the Tettenhall escarpment, accessed by very substantial approach ramp from the east. Side roads are also ramped to connect. Flanks of the cutting lined with a stone retaining wall. A major example of late Georgian civil engineering.
Comment: Everyone likes a nice avenue especially when, as here, the trees meet in an arch over your head. It wasn't just Coleridge who got the bug. Brooke was one of many others but he wrote about "a tunnel of green gloom" as he was feeling a bit miserable at the time. The sandstone ridges round here tend to lend themselves to these sorts of cuttings and this one provides an unexpected approach to an old industrial city.
But its origins are far from romantic, stemming from a very practical dispute between Telford and the Wolverhampton Turnpike Commissioners. Telford was appointed by Parliament to re-design the Holyhead Road. His plan for dealing with Old Hill was to make a new line of road out of Wolverhampton to Aldersley and then on to the Wergs, thus by passing this ridge altogether. Telford had to act through the local turnpike trusts and parishes. The turnpike trustees rejected Telford's scheme and then rejected another which would have created a short tunnel rising through the ridge. They then put up their own plan which, since Telford disapproved of it, they had to build themselves. It was this scheme which created the present road: a deep cutting was created at the top of the ridge and the spoil from the cutting was used to make a rising embankment at the bottom of the ridge. This cutting and the embankments were not actually engineered by Telford at all. The work was completed in 1823 and Telford agreed, somewhat grudgingly, that it was at least an improvement.
So this cutting and the embankment beyond are important reminders of our history and significant to the nation's transport history.
---