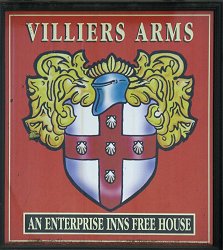 Listing: The Villiers Arms, Villiers Square, Bilston.

Comment: A seven bay Neo-Georgian pub in maroon and blue brick, with a hipped roof. A single story wing is recessed on the left with an effective tall chimney.

All the details are in Hutchings' attractive manner: chimneys with vertical recesses and corbelled tops, sash windows, and a rich doorcase with fluted Tuscan pilasters, a segmental pediment on ornate consoles, and a shell hood. Raised brick quoins.

There has been a small alteration to the left end of the ground floor, where one window has been widened.