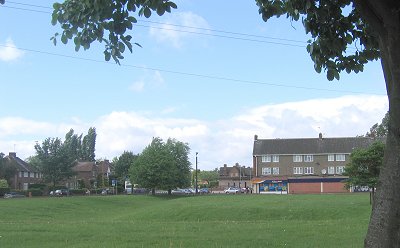 Listing: Medieval moated site. Only surviving visible moat in the borough. Locally Listed, approved March 2000.
Comment: You can just make out, in the photo above, the moat (quite dry, of course) as a depression in the grass. On the ground its much more obvious. All that is left is what you can see and a return arm to the left.
According to WCC's leaflet, Ashmore Park was one of the estates which Lady Wulfruna gave to St. Peter's at Wolverhampton in 994 and a moated farmhouse was built here, probably in the 13th century. They also speculate that the house may have been used as a summer retreat for the Dean of Wolverhampton or as a hostel for visitors. Both of these were quite common medieval uses for outlying estates but there is no actual evidence of such use here. The old farmhouse was probably taken down when a new one was built in the early 19th century; that new one was demolished in 1957 and a pub built on its site.
The site is only just within the city - Ashmore Park was a council estate built, in the 1950s, by Wolverhampton Borough Council outside its own boundaries; the boundaries were later stretched a bit to incorporate the estate into the borough. It needs a lot of imagination to visualise the medieval moated farmhouse, standing roughly where the shops now are, but the interpretation signs provide a cheerfully imaginative rendering.
The Campaign for Ashmore Park Enterprise managed to get £50,000 from Heritage Lottery funding to promote this site.
---