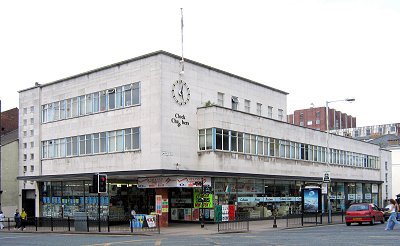 Listing: Former showroom and company offices for the Wolverhampton Gas Company. 1938 - Lavender and Twentyman. Locally Listed, approved March 2000.
Comment: This site is remembered for the classically styled gas board showroom and offices that was on it before. The present building is another example of the high class work of the local architect, Twentyman: - note that the date is 1938. But the main point of this style is the clean lines and ordered geometry and this would be much better seen if someone would clean the stonework.
The building's name drives from the clock and the fact that there are barristers' chambers within.
---