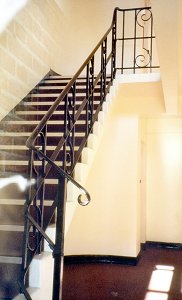 Compton Court, like St. Jude's Court, was designed by the local firm of S. D. W. Timmins.

It is a fine example of the 30s style and it is, apparently, intact throughout.

External characteristics include the way it is set back from the road, allowing space for the forecourt, trees and grass; the handsome brick construction, with stone trimmings for effect; the strong horizontals of the windows and the stone string course; the symmetry, combined with strong 3-D geometrical design in volumes as well as shapes; and, on the sides, the highly characteristic windows which "go round the corner".